Comments for Sunday, October 1, 2023, thru Sat., Oct. 7, 2023:

October 2, 2023 - Hmm. The Donald Trump trial that started today seems long overdue. As I understand it, he's being tried for doing things he's been doing for decades. He overstates his net worth by billions of dollars when asking for a bank loan, and he understates his net worth by millions when it comes time to pay his taxes.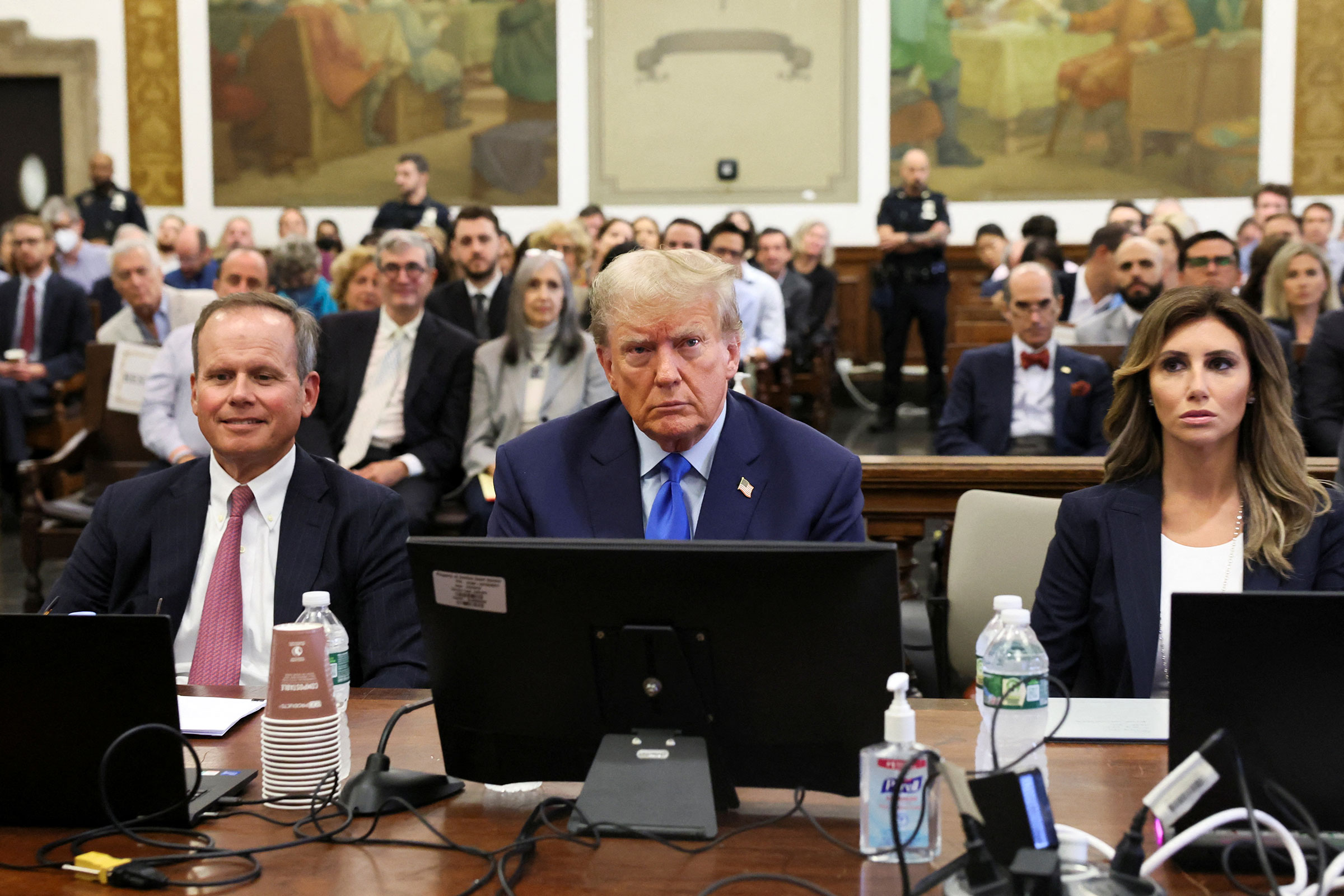 The trial is taking place in Civil Court, and it is only about him overstating his net worth, so there is no chance that Trump might end up in jail. We'll have to wait for his stolen government documents trial for that.

Meanwhile, I've got my DVR set to record The Late Show with Stephen Colbert, Late Night with Seth Meyers, The Tonight Show staring Jimmy Fallon, and Jimmy Kimmel Live tonight. I'm really looking forward to watching them all tomorrow evening. It should be a much better way to learn about the Trump trial than just watching the news. And they should all have a lot of other things to talk about, too.

October 1, 2023 - While eating lunch yesterday, I finished reading another book on my Kindle. The book was "Blowback: A Warning to Save Democracy from the Next Trump" by Miles Taylor.



As it says at the top of the cover above, Miles Taylor was also the author of "A Warning," which I reviewed on August 20. That book, however, was published anonymously. Taylor served under President Donald Trump in various roles, mainly as Trump's Chief of Staff of the Department of Homeland Security. Previously, Taylor had served in similar roles under President George W. Bush. While working for Trump, Taylor was witness to countless security violations by Trump, including Trump's mishandling of Top Secret documents. Most of Trump's actions were documented in other books I've read about Trump. This book, however, gives some NEW insights. I'd never before read about Trump's attempts to dismantle the Veterans Administration. Trump "wanted to push veterans into the private healthcare marketplace, a move that would potentially have left millions of vets out in the cold or abandoned amid a monumental bureaucratic transition. The White House ignored the warnings of medical personnel and agency leaders." Another quote from the book:

"He [Trump] held off on 'gutting' the VA until he could win reelection. 'Trump talked about veterans, veterans, veterans,' one former VA leader commented. 'But at the end of the day, he thinks they are lazy malingerers.' In a second term, the former official speculated, a MAGA White House 'wouldn't care about flipping them out on the street.""

I think this will be the last book I'll ever read about Trump (unless someone someday writes a book about Trump's years in prison).

Comments for Sunday, September 24, 2023, thru Sat., Sept. 30, 2023:

September 29, 2023 - I've come to realize that I haven't been listening to podcasts in the proper way. This partial comment from Monday about watching TV shows on DVDs may have helped me understand the issue:

Watching 5 or 6 episodes of "Bones" or "The Closer" each evening can be an interesting way to pass the time, but, because I have to make a record of which shows I've watched, I always feel that the objective is to finish watching the series. If I enjoy watching some episode, that is just a bonus. Also, while I have some comedy TV series on DVDs, there's nothing like watching new comedy shows about current topics.

Every morning I download all the interesting new podcast episodes I see on the Internet. There could be 10 or 15 of them. I download them onto a hard drive. But I only transfer them to my MP3 player when my MP3 player is empty. That may be every two or three weeks, when I may have a hundred or two hundred podcasts in the batch. The problem is: many or most of the interesting shows I noticed and downloaded no longer seem as interesting three weeks later.

This morning I did things a bit differently. I made a note of the interesting episodes while downloading about 15 of them onto my hard drive, and then I immediately transferred the 3 episodes that seemed particularly "interesting" into my MP3 player. And I listened to them.

Two of them were from the "What Next" podcast. The one that seemed most interesting is from September 20 and is titled "How Wisconsin is a 'Laboratory for Destroying Democracy'."

Wow! I live in Wisconsin, but I've never had Wisconsin's political situation spelled out so clearly before. Here's the blurb for the episode:

Wisconsin has been something of a model for Republicans looking to entrench themselves in the state legislature, and one key move has always been to draw the electoral map as favorably as possible. But now, the state Supreme Court has swung to the left – for the first time in 15 years. The GOP is scrambling to keep this battleground state deeply gerrymandered — and keep power in their own hands.

Republicans are in power because of gerrymandering, i.e., they created voting districts that are guaranteed to put more Republicans in power than Democrats. In spite of that, a liberal judge was recently elected to the state supreme court, Janet Protasiewicz. So, what the Republicans are now trying to do is "impeach" Judge Protaziewicz before she even has a chance to judge anything.

The second podcast episode I downloaded is from September 26, three days ago, and is about the writer's strike being over. It also contains a lot of interesting information I didn't really know about before. The 3rd podcast I downloaded is on the same subject, but from a different show.

September 25, 2023 - Numerous on-line sources indicate that the writers strike is over or will be over shortly. It may take weeks or months for TV drama shows to start airing new episodes, but late night talk shows could start airing new shows as early as sometime this week. These are the shows that I routinely record on my DVR and then watch the next evening:

The Daily Show
The Late Show with Stephen Colbert
Late Night with Seth Meyers
The Tonight Show staring Jimmy Fallon
Jimmy Kimmel Live

I might start recording them again as early as Wednesday. Watching 5 or 6 episodes of "Bones" or "The Closer" each evening can be an interesting way to pass the time, but, because I have to make a record of which shows I've watched, I always feel that the objective is to finish watching the series. If I enjoy watching some episode, that is just a bonus. Also, while I have some comedy TV series on DVDs, there's nothing like watching new comedy shows about current topics.

September 24, 2023 - This morning is another one of those Sundays when I have absolutely nothing prepared for my Sunday comment. Even worse, I've been sitting at my computer for over an hour trying to think of something to write about, and I've come up with next to nothing.

Right now, in the evenings, I'm watching Season 2 of "Bones." It's a TV show about solving crimes via forensics. Coincidentally, while driving around during the day, I'm listening to an audio book about the invention of crime solving forensics.

I suppose it is no coincidence that I also listen to a lot of podcasts about collecting evidence to solve science mysteries.

And that's all I can think of to write about this morning.


Comments for Sunday, September 17, 2023, thru Sat., Sept. 23, 2023:

September 22, 2023 - Yesterday, I listened to a really interesting podcast from RadioLab. The episode, which was from May 12, was titled "The War on Our Shore." The first half of the episode is about 9,000 balloons that Japan released during WWII to float over America. The large, paper balloons were made by Japanese school children, they were released from Japan from November 1944 to April 1945 after the Japanese military added multiple small bombs to hang from them, and about 10% made to to America. Since the balloons had no guidance systems, they mostly ended up falling into fields and forests around the West Coast. The bombs would explode if anyone tried to move the balloons. It was against the law in America to write any news stories about them, since that would have the effect of telling the Japanese where the balloons landed and help them refine their targeting.

The news stories about a Chinese spy balloon floating over America earlier this year made the podcast more interesting.

The second part of the podcast was about German prisoners of war in the United States during WWII. I think I may have written about that before. Hundreds of thousands of German prisoners, mostly captured during the battles in North Africa, ended up in prison camps in the US. And since there was a severe labor shortage, volunteers were allowed to work in farm fields for a small salary (about 80 cents per day). This caused a lot of anger from conservatives who felt the prisoners should be treated the same way European and American prisoners were treated by the Germans. It's an interesting point of view, since the conservatives were arguing that we should have been as evil as our enemies.

September 21, 2023 - The writers strike may end as early as today, according to CNBC. I'm really really looking forward to the return of late-night talk shows.

Meanwhile, I have a different kind of problem that may need solving soon. My car has a CD player, which is now generally considered to be obsolete. As I've mentioned many times, I use the CD player to listen to audio books I downloaded from my local library years ago. Four days ago I finished another audio book and wrote a comment about it. The next book I started listening to turned out to be terrible. It's the first time that has happened with an non-fiction audio book.

So, I had to quickly burn 12 CDs for another book. That left me with just 7 blank CDs. I visited some local stores, but all they had was packs of 10 CDs for $7.99.

I'm not going to spend $9.60 to burn a book onto 12 CDs! The stack of 100 blank CDs I bought some time ago cost just $25, or 25 cents per CD. So, it costs $3 to burn a book onto 12 CDs. And I've got several pending audio books that consist of 23 CDs.

So, yesterday I did an on-line search to see if there was anywhere I could still buy a stack of 100 blank CDs for about $25. Walmart had 1 stack left. I bought it, but when I drove over to Walmart to pick it up, they said they couldn't find the one they were supposed to still have in stock. So, they're going to mail it to me -- if they still have one somewhere.



There's at least one other on-line company that also stocks them. So, I should be able to listen to CD versions all the remaining audio books I have.

The "normal" way to listen to audio books these days is to listen to them on a "smartphone" or an MP3 player. I don't have a "smartphone", and using my MP3 player while driving would require me to leave it and the speaker in my car when I park the car in some parking lot.

Who cares? Probably no one. But it's something to write a comment about.

September 18, 2023 - The writers strike is showing no signs of ending any time soon. The problems seem unsolvable. Fortunately, I collect DVD versions of most of my favorite TV shows, so there's no real problem in finding something worthwhile to watch each evening. Here's a photo I took of part of my collection years ago:




I also keep computerized record of when I last watched a TV series (or a movie I have on DVD), and I have a printed listing in order by the last date watched. Back on Sept. 1, 2018, I bought copies of Seasons 1 through 6 of "The Good Wife" for $4.99 each at Best Buy. I watched Season #1, finishing on October 14, and I thought it was pretty good, but evidently not good enough to cause me to watch the other seasons. Here's how the IMDB describes the show:

Alicia Florrick has been a good wife to her husband, a former state's attorney. After a very humiliating sex and corruption scandal, he is behind bars. She must now provide for her family and returns to work as a litigator in a law firm.

So, I watched other things. This was long before the writer's strike, so just watching the nightly talk shows occupied my time 4 nights per week. Then the writer's strike began in May, and suddenly my DVD collection became my main source of entertainment. On August 27, 2023, I finished watching Season #2 of "The Good Wife," on September 1, I finished Season #3, on September 5, I finished Season #4, on September 10, I finished Season #5, and on September 14, I finished Season #6. Wow! It's really an interesting look at courtroom battles and the lives of lawyers.

I don't have Season #7 (the final season), and it costs $42.92 on Amazon, so I moved on to watching "The Closer". I've got Seasons 1 - 4 of the 7 seasons. I'm still on Season 1. If it doesn't keep me interested, I might move on to "Mad Men." I have the first 3 seasons of that one, and I've never watched them.

Of course, there are also a lot of shows on cable that I could watch. I guess I'm just too lazy to go hunting for things to watch when I can see row after row of interesting shows (and movies) right in front of me.

September 17, 2023 - I'm still suffering a very bad case of "writers block." But fortunately, I'm still reading a lot, while also listening to audio books while driving. So, I have something to write about this morning. Yesterday, I finished listening to CD #7 of the 7-CD audio book version of "The Age Of Living Machines: How Biology Will Build the Next Technology Revolution."



It's an audio book I "borrowed" from my local library years ago, when you could download a copy of a book into your computer (or into your Kindle), and then "return" a copy of that book the next day, while retaining a copy to read when time permits - in this case, 3 or 4 years later.

I didn't particularly enjoy the book. While I enjoy reading about science and technology, biology isn't one of my interests. This book is about how biology is becoming part of technology: Virus-built batteries. Protein-based water filters. Cancer-detecting nanoparticles. Mind-reading bionic limbs. Computer-engineered crops.

And it seems clear that bio-engineered machines will become even more important in the future. Computer engineered crops already allow us to grow 177 bushels of corn per acre of land. A hundred years ago, it was difficult to get 17 bushels per acre. We're going to need a lot more corn and other foods as our population continues to increase.


Comments for Sunday, September 10, 2023, thru Sat., Sept. 16, 2023:

September 10, 2023 - Going through the on-line list I recently found of the Top 50 podcasts I didn't find any that seemed worth adding to my list of favorite podcasts. My on-line list contains less than 50 podcasts. My work list contains 54 podcasts, and I have a supplementary list of another 116 podcasts that sometimes have something I consider worthwhile. Only 12 podcasts are on both the "Top 50" list and on my lists.

"Crime Junkie" is #2 on the Top 50 list. I checked it out, and it's just a show about the latest crime news. Every evening I listen to the NBC Evening News on TV, and that's about all the general news I need. "This American Life" is #4 on the Top 50 list, but to me it is a podcast about nothing in particular.

The explanation can probably be found in how I look for podcasts. I look for science podcasts, podcasts about history and technology, astronomy, space exploration, psychology podcasts. And I've occasionally looked for podcasts about politics, particularly if they had a recent show about Donald Trump.

The Top 50 list contains lots of crime shows. Crime is clearly a more popular subject than science. Shows where 3 or 4 people just sit around talking and joking with one another are also very popular.

I download episodes that look like they might be interesting. Generally speaking, I do not listen to most podcast episodes in their entirety. The episode has to keep me interested, otherwise I'll just delete it and move on to the next episode in the queue. For every 20 episodes I download, there is probably no more than 1 or 2 that I listen to all the way through.

Yesterday I listened to just 1 show all the way through. It was an episode of the "99% Invisible" podcast. The 42 minute episode was about sand. I suppose I listened because I couldn't imagine how anyone could talk about sand for 42 minutes. But it was absolutely fascinating! Do you know we're running out of sand? Yes, there is a nearly endless supply of sand in the Sahara desert, but that sand cannot be used to make concrete. Those sand particles are round, like tiny marbles. Winds created them. In order to make concrete you need irregular shaped particles, like those created by moving water, like rivers and waves.
And when we remove sand from rivers and lakes, we create all kinds of new problems. Listen to the episode. It's fascinating!

And now I'm done with today's comment. So, it's time to listen to some more podcasts.


Comments for Friday, September 1, 2023, thru Sun., Sept. 9, 2023:

September 7, 2023 - I sometimes think I may be the last person on earth who does not own a smart phone. It also seems that I am the only person I know who listens to podcasts. And, yet it appears that podcasts are created for people to listen to on a smart phone. When I see people listening to their smartphones without talking, they are almost always listening to music.

This morning I researched the subject and found this graph:



So, I don't see people listening to podcasts because they mostly listen while driving and while doing chores around the house. Some also listen to podcasts while just sitting around and doing nothing else. I fall into that category.



I also found the graph above, which confirms that I do not do things in any "normal" way. It appears that listening to podcasts on an MP3 player falls into the last category, "In-home audio systems," which is the method used by just 5% of people who listen to podcasts.

I also found that the #1 favorite podcast is the "Joe Rogan Podcast." That was my favorite, too, when you could listen to it for free. I stopped listening when it changed so that you had to pay to listen. This morning, I found a list of the Top 50 podcasts. I've only checked out about 15 of them, so I now have 35 additional podcasts to check out that I never heard of before. Hmm. I've already got more podcasts to listen to than I have time to listen. So, I'm falling farther and farther behind. And now I've got 35 new podcasts to check out. Some may belong at or near the top of my list of favorites, so I won't be able to just ignore them.

Sigh. So much to do, so little time in which to do them.

September 3, 2023 - I'm not only suffering a case of "writers block" when I try to work on my book, I also seem to suffer another case of "writers block" whenever I try to write a comment for this web site. I'll sit for an hour or more just staring at the computer screen, unable to decide what to write about, and then I'll give up, turn off my computer, and go into the other room to listen to podcasts. That's what I did yesterday, but, while listening to podcasts, I felt I should write a comment about what I was hearing.

I began by listening to some episodes of the "Something You Should Know" podcast, which has been moving upward on my list of favorite podcasts. Then, on one of the episodes, they discussed the "Into the Impossible" podcast. So, I moved on to listen to the episode of that podcast that they had discussed, "Why Professor Dave Thinks Our Scientific Integrity Is at Jeopardy." Professor Dave? His full name is Professor Dave Farina, and he has a podcast called "Professor Dave Explains." He also has one of the largest YouTube channels. I checked out the YouTube channel and found that it has a whole bunch of episodes that I definitely want to watch. It appears he has 10 YouTube videos in which he debunks Flat Earthers, another 5 videos in which he exposes "The Discovery Institute," and another 12 videos in which he debunks someone named James Tour. So, for awhile, instead of (or in addition to) listening to podcasts, I'm going to be watching YouTube episodes.

Or maybe not. Just browsing through the YouTube video lists for "The Discovery Institute" and "James Tour" tells me that watching just part of one episode could tell me all I want to know about what is in the other episodes. The general topic is Religion versus Science. They might be interesting, but odds are that they will also be repetitious.

September 1, 2023 - While I was eating breakfast this morning, CNN News on TV was talking about the writers strike. There appears to be absolutely no sign of any resolution. I really really miss watching Stephen Colbert, Seth Meyers, Jimmy Kimmel and Jimmy Fallon each evening. As I've mentioned many times, I would record all four shows and watch them the next evening. It really really helped me understand what was going on in the world.

These days, I can get some of that understanding from listening to podcasts, but podcasts usually do not provide the humor that came with the late night talk shows. It would be interesting to see how any humor could be found in recent news. Two Trump supporters who were arrested for attacking the Capital and attempting to overthrow the government were just sentenced to 15 and 17 years in prison. And election workers who were falsely accused by Trump of changing election results have just been awarded damages. It also appears that Rudy Giuliani won't be able to pay his legal bills or the damage claims filed against him. It would be interesting to see all that discussed on late night talk shows.

On the positive side, it certainly looks like Trump will be facing some very serious charges, and he won't be able to delay things forever as was his practice so many times in the past. Plus, he's finding it more and more difficult to find any lawyers who will help defend him. Meanwhile, lawyers who are willing to work pro bono, are seeking out people who have good legal cases to sue Trump.

We definitely live in interesting times.