Comments for Sunday, November 1, 2015, thru Saturday, Nov. 7, 2015:

November 7, 2015 - Hmm. Yesterday, I had 114 visitors to this site - an all-time (a.k.a. 10 month) record. The previous record was 100, which occurred on October 22. I have absolutely no idea what caused the "surge." I looked at the logs for yesterday and found a lot of people in the U.S. visiting for the first time, so it wasn't a surge in Ukrainian hackers or Asian search engines.

I'm fairly certain it's not the result of anything I did. That would require some time of "word of mouth" spreading of the news. And that would probably show up on my logs as links coming from some blog somewhere. There are no such links showing in the logs.

So, it's just another one of life's non-ending mysteries.

Today, NASA provided a picture I'd been looking for. (See my October 25 comment.) It's a picture of the earth from space, with the Milky Way in the background (Click HERE) for the NASA web page):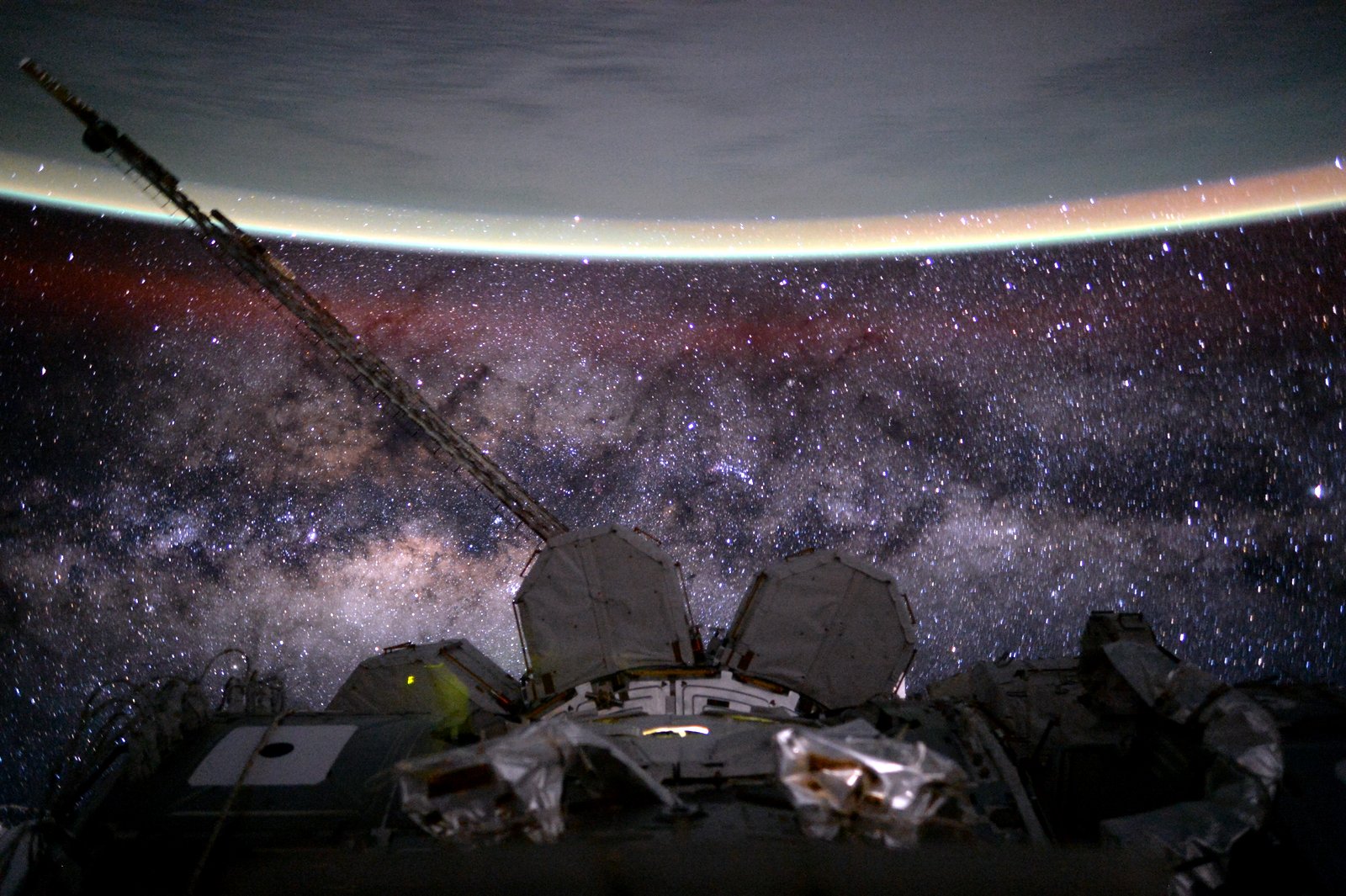 The picture was evidently taken on August 9, 2015, when the International Space Station was in the shadow of the Earth (i.e., at night), and that helped keep the brightness of the Earth from preventing exposure of the stars. The NASA Flicker page for this photo indicates it is a 5-second time exposure using a Nikon D4 camera with an 8000 ISO rating, and the aperture was wide open. Photographs taken during Apollo moon trips used film with much lower ASA or ISO speeds, probably in the 500 to 800 ISO range. The higher the ASA/ISO speed, the less light that is needed to register on the film or digital recorder, therefore the more likely stars will be seen. It simply takes a long time for the light from a star to register on relatively slow speed film like that used during the Apollo missions. That's why the picture taken on the moon show no stars in the background. It's not because the moon pictures were all faked in a Hollywood studio.

November 6, 2015 - I don't have anything to say about this video I found on The Huffington Post showing two guys with "jet packs" strapped to their backs flying in coordination with a jet airliner, except "Wow! I didn't even know that was possible."



November 5, 2015 - I never cease to be amazed by what is available via the Internet. This morning I was skimming through The Huffington Post and came across an article titled "NASA Releases Stunning New Images Of 2014 Antares Rocket Disaster." The article features this image:



The article shows several additional "stunning" images, but provides no link to where the full size originals can be found. I tried hunting for them on NASA's Flickr page, but that was too time consuming. So, I searched the NASA Flickr page for "Antares," and that search provided me with all the pictures that were in the Huffington Post article and more. Eventually, I also found that the pictures are all in an album titled "Orb 3 Mission." Here's another "stunning" image taken a few seconds earlier than the shot above (I show it 580 pixels wide, the original is 4,256 pixels wide by 2,661 pixels high):





I save these pictures as if they are as valuable as gold, even though I know they are free and instantly available to anyone and everyone on the Internet. The only advantage to saving them is that if I want to view them again, I don't have to hunt for them again.


November 4, 2015 - Okay. I now own an MP3 player. I was totally surprised to find out that the one I wanted weighs only one ounce. I was accustomed to seeing people at the gym with iPods and iPhones strapped to various parts of their bodies or falling off equipment and crashing to the floor as the owner exercised. In the package, the MP3 player that best suited my needs looked to be about the size of a postage stamp. When I got it home, it turned out to be about the size of a cigarette lighter. (It also cost a fraction of what an iPod costs.)



Yet it has the capacity to hold "up to 3,000 songs" or presumably dozens of books. It can play for "up to 25 hours" without recharging the battery, and it can also tune into FM radio.

I borrowed a Jack Reacher short story titled "Deep Down" from my library and used it to find out how it works. It works great! So, I added a science book and a humor/history book to the "Audiobooks" folder in the player, and I'm all set to start listening. I just need to find the time. The short story is 1 hour and 43 minutes long, the science book is 8 hours and 25 minutes long, and the humor/history book is 15 hours and 31 minutes long. (I also found a free copy of the Peter Gunn Theme and put that in the music file in my MP3 player. It's 3 minutes and 47 second long.) Maybe I'll have time to listen later today. If not, I'll definitely start listening to the science book while at the gym tomorrow.

November 3, 2015 - I spent nearly all day yesterday browsing through audio books on my local library's web site just to see what they have available. They have thousands of audio books available. A lot of the time was spent listening to the 5-minute "samples" they provide for each book. There were dozens that seemed to be very interesting. I also spent nearly an hour burning 8 CDs for a book titled "What Einstein Told His Barber" because I really liked the 5-minute sample. I could also put the book on an MP3 player -- if I owned an MP3 player.

The idea was that I could play the CDs while making breakfast and lunch, in addition to listening while eating breakfast and lunch. That would be after I finish reading the book I'm currently reading, of course. I can't read while making meals, only while eating meals. If I had an MP3 player, I could also listen while on the treadmill and Exercycle at the gym. I probably couldn't do it while doing the various exercises that require I count repetitions. Can I count reps and listen to someone reading a book at the same time? I don't know.

It looks like I'm going to have to buy an MP3 player. I see many people using them while exercising at the gym, but I think they are usually just playing music. Some evidently listen to music while they read hardcover paper books. Others seem to use an FM tuner on their MP3 player to listen to what's on the dozen flatscreen TVs that are located on the walls in the same gym area where they have the treadmills and Exercycles.

Too many options. What I need to avoid is just sitting around listening to books being read to me while I should be writing a book of my own. On the other hand, listening to a novel being read to me might help stir up those writing urges. I need something to unblock my "writer's block."

Looking around the Internet, I see some interesting articles on "reading versus listening." One article (HERE) indicates that you can get a lot more out of a book by listening to it, instead of reading it:

It is true that reading aloud is slower than reading silently. On the other hand, I can listen to audiobooks while doing things that I can't do while reading.

But I've also discovered another advantage to the slower pace of audiobooks: I get more out of the book. When reading a book, especially fiction, I tend to read faster and faster as I get toward the end of the book, excited to see how things come out. Of course, this speed sacrifices some comprehension. I didn't realize how much comprehension until I listened to an audiobook that I had once read before. The pace of the book is the same throughout. It means that instead of racing at the end, I am continuing on at the same pace as before, and I get more out of the book than I did when I was reading it.
I noticed while listening to samples of novels being read that I paid a lot more attention to descriptions of things. That's probably because I tend to speed-read through descriptions when I'm reading. But, another article (HERE) has a somewhat different explanation:

The type of book can also influence how well the information gets absorbed. When the material is difficult, for example, physical reading provides an advantage because the individual can re-read and look to surrounding words for context clues, said University of Memphis professor Arthur Graesser, who studies learning and cognition. In fact, he points out that the studies finding a high correlation between listening and reading comprehension might have had different results had they used complex texts rather than easy ones.And yet in some cases, listening offers major advantages over reading, even with material as tough to parse as Shakespeare. That's because an audio book pre-determines an aspect of language called prosody, or the musicality of words. Prosody is how we known that someone is being self-reflective when they ask aloud if they left the gas on (or when Hamlet asks whether "to be or not to be").

"Someone who knows the meaning can convey a lot through prosody," Willingham said. "If you're listening to a poem, the prosody might help you."

Moreover, we are more likely to stick with a book that we're listening to than one we're reading, Graesser said, which would also improve our chances of retaining what's in it.

"The half-life for listening is much longer than for reading," he said, because we are pre-conditioned to listen to an entire conversation out of politeness. Generally, people keep listening until there is a pause in an idea, but (especially in today's information-overload age), we stop reading at the slightest suggestion that something more interesting might be going on elsewhere else.
Another article (HERE) argues that retention is better when reading than when listening. But what about enjoyment? When do you enjoy listening more than reading? And the research in the article seems bogus, since if you are asked to read something that is of no interest you will almost certainly retain more of it than if you are asked to listen to something that is of no interest. Reading requires more effort than listening. But what if it is something that is of great interest? Is reading better than having something explained to you?

There's one big disadvantage, of course, to listening to non-fiction books. You can't highlight passages or easily quote them when writing a comment for a web site. That would seemingly require playing that part of the book over again as you transcribe it. Then you need to be able to return to where you left off when you were listening.

I think I just need to do it and see what happens. I'll buy an MP3 player this afternoon.

ADDED NOTE: During lunch I finished reading Michio Kaku's book "Physics of the Future: How Science Will Shape Human Destiny and Our Daily Lives by the Year 2100." It ends with this quote:

Mahatma Gandhi once wrote: The Roots of Violence: Wealth without work, Pleasure without conscience, Knowledge without character, Commerce without morality, Science without humanity, Worship without sacrifice, Politics without principles.

I don't know if I fully understand the "Worship without sacrifice" part, but, otherwise, I couldn't have said it better myself.

November 1, 2015 - I forgot to set my clocks back last night in order to bring an end to our mutually agreed upon period of "Daylight Savings Time." I changed the clocks this morning. So, now my clocks should be in agreement with all others in the "Central Time Zone" where everyone has agreed that "noon" is the same for all of us, regardless of the position of the Sun in the sky. In reality, however, I am nearly certain that Time is different for every single one of us.

Or maybe I'm just reading too many books about science.

Every day during breakfast and lunch since September 10, I've been reading Michio Kaku's book "Physics of the Future: How Science Will Shape Human Destiny and Our Daily Lives by the Year 2100." I've highlighted some very interesting passages. Here's one:

if electricity is flowing inside a copper loop, its energy dissipates within a fraction of a second because of the resistance of the wire. However, experiments have shown that electricity within a superconducting loop can remain constant for years at a time. The experimental evidence points to a lifetime of 100,000 years for currents inside a superconducting coil. Some theories maintain that the maximum limit for such an electrical current in a superconductor is the lifetime of the known universe itself.

I had to highlight that passage because it seems to support my analysis of "What is Time?" I haven't yet completed the analysis, but it appears that the universe is like some wind-up gizmo that somehow came into existence fully wound, and it is slowly winding down. Nearly everything (and everyone) in the universe is "winding down" at a slightly different rate, depending upon local conditions of gravity, speed and temperature. And that means that "Time" is slightly (albeit imperceptibly) different for you than it is for me. The problem I'm having is to lay out the logic and supporting evidence in a meaningful and understandable way. I think I have all the pieces in my head, but every time I try to write it all down, it seems like it can be explained in a much simpler and more convincing way. I'm still looking for that simpler way.

Here's another passage I found to be very interesting in Michio Kaku's book:

So far, the world record for these new ceramic superconductors is 138 degrees (Kelvin) above absolute zero (or -211° F). This is significant, since liquid nitrogen (which costs as little as milk) forms at 77° K (-321° F) and hence can be used to cool these ceramics. This fact alone has drastically cut the costs of superconductors. So these high-temperature superconductors have immediate practical applications. But these ceramic superconductors have just whetted the appetite of physicists. They are a giant step in the right direction, but still they are not enough. First, although liquid nitrogen is relatively cheap, you still have to have some refrigeration equipment to cool the nitrogen. Second, these ceramics are difficult to mold into wires. Third, physicists are still bewildered by the nature of these ceramics. After several decades, physicists are not quite sure how they work. The quantum theory of these ceramics is too complicated to solve at the present time, so no one knows why they become superconductors. Physicists are clueless. There is a Nobel Prize waiting for the enterprising individual who can explain these high-temperature superconductors.

I just love the idea of physicists knowing how to make ceramic superconductors but not understanding how they work. It appears too complicated for the human mind to comprehend -- probably until someone has a "breakthrough" and views it from a different angle. Meanwhile, there's a whole raft of things they can do that has them standing around scratching their heads, puzzled over why things work the way they do. The solutions could open up all kinds of new possibilities.

Here's another passage from the book the shows some of those possibilities:

Without any extra input of energy, room temperature superconductors could produce supermagnets capable of lifting trains and cars so they hover above the ground. One simple demonstration of this power can be done in any lab. I've done it several times myself for BBC-TV and the Science Channel. It's possible to order a small piece of ceramic high-temperature superconductor from a scientific supply company. It's a tough, gray ceramic about an inch in size. Then you can buy some liquid nitrogen from a dairy supply company. You place the ceramic in a plastic dish and gently pour the liquid nitrogen over it. The nitrogen starts to boil furiously as it hits the ceramic. Wait until the nitrogen stops boiling, then place a tiny magnet on top of the ceramic. Magically, the magnet floats in midair. If you tap the magnet, it starts to spin by itself. In that tiny dish, you may be staring at the future of transportation around the world. The reason the magnet floats is simple. Magnetic lines of force cannot penetrate a superconductor. This is the Meissner effect. (When a magnetic field is applied to a superconductor, a small electric current forms on the surface and cancels it, so the magnetic field is expelled from the superconductor.) When you place the magnet on top of the ceramic, its field lines bunch up since they cannot pass through the ceramic. This creates a "cushion" of magnetic field lines, which are all squeezed together, thereby pushing the magnet away from the ceramic, making it float.

So, we've not only got this wind-up gizmo called a "universe" that we all live in, but we've also got what seems to be an endless supply of mysteries that we need to solve if we want to fully understand what's going on. And the biggest mystery may be why anything can be figured out. Why do things make perfect sense once you understand the scientific principles? Why are there all these rules that we need to figure out before we can understand what's going on? It's like we're all part of some gigantic experiment going on in some super-scientist's lab. That's probably one reason I got into discussions with the Rationalized Semantic Methodists. They claim they know it all, but they know nothing. And they like it that way! How is it possible to be incurious in such an amazing universe?

Here's another quote from Michio Kaku's book that isn't about our amazing universe, but is instead about the amazing complexity of our human civilization:

On the World Wide Web, for example, 29 percent of visitors log on in English, followed by 22 percent in Chinese, 8 percent in Spanish, 6 percent in Japanese, and 5 percent in French. English is already the de facto planetary language of science, finance, business, and entertainment. English is the number-one second language on the planet. No matter where I travel, I find that English has emerged as the lingua franca. In Asia, for example, when Vietnamese, Japanese, and Chinese are in a meeting, they use English to communicate.

I hadn't really thought about people logging onto the Internet in Chinese. There are tens of thousands of Chinese characters, since each character represents a thing or idea instead of just a letter of the "alphabet." Here's a tiny sample:




Here's what a Chinese computer keyboard looks like:



I have no idea how they can write in Chinese with that keyboard.

At one time, I could read, write and speak Japanese fairly well. Long ago, the Japanese found Chinese writing to be too complex, so instead they now use three alphabets. They use some Chinese characters (which they call "Kanji"), plus two phonetic alphabets: Hiragana for phonetically spelling out Japanese words, and Katakana for phonetically spelling out foreign words. A person can write everything in Hiragana if they want, since Katakana is just a visual aid to let the reader know the word is not a Japanese word. The problem is that there are a large number of homophones or homonyms in the Japanese language (and in Chinese), so, without the Chinese characters, it can be difficult to understand the correct meaning of a written word. (Look up "seikou" in a large Japanese-English dictionary and you are likely to discover a dozen homonyms, with meanings as diverse as: "success" 成功, "steel manufacture" 製鋼, "western suburbs" 西郊 and "sexual intercourse" 性交. All are very different spellings using Chinese characters, but they are identical when spelled phonetically.)

Looking at the Japanese keyboard shown below, it appears that (as one might expect) they use the 46-symbol Hiragana phonetic alphabet when they access the Internet in Japanese. They can also use the Roman alphabet ("Romanji") if they need to write a foreign word.



It seems highly likely that both the Japanese and the Chinese shift to the English alphabet when they access my web site. China was #5 on my list of visitor "hits" for the month of October, as shown in the chart below. (One "hit" is one "GET" command for one thing, such as a picture or a page of text. A typical "visit" involves about 7 "hits.") My logs show the "hits" from the Ukraine, the Russian Federation and from China are almost entirely from spammers and hackers.


| | | | | |
| --- | --- | --- | --- | --- |
| Location | sym | pages | hits | bandwidth |
| United States | us | 620 | 2,916 | 336.37 MB |
| Ukraine | ua | 444 | 444 | 97.09 MB |
| Unknown | zz | 173 | 533 | 76.06 MB |
| Russian Federation | ru | 110 | 131 | 21.24 MB |
| China | cn | 96 | 96 | 20.64 MB |
| France | fr | 44 | 57 | 10.88 MB |
| Spain | es | 37 | 312 | 38.36 MB |
| Israel | il | 33 | 90 | 12.73 MB |
| Canada | ca | 27 | 62 | 9.34 MB |
| Brazil | br | 25 | 215 | 25.95 MB |
| Romania | ro | 21 | 45 | 7.01 MB |
| Great Britain | gb | 20 | 68 | 10.00 MB |
| Germany | de | 19 | 50 | 7.86 MB |
| Italy | it | 12 | 33 | 4.56 MB |
| Indonesia | id | 8 | 18 | 3.06 MB |
| India | in | 7 | 30 | 4.07 MB |
| Ireland | ie | 7 | 9 | 1.94 MB |
| Czech Republic | cz | 7 | 42 | 5.18 MB |
| Netherlands | nl | 6 | 8 | 1.36 MB |
| Seychelles | sc | 5 | 5 | 1.00 MB |
| Japan | jp | 5 | 5 | 1.14 MB |

Looking at other statistical information I get for this web site on a daily basis, I can see that the number of visitors and visits has been slowing growing since I started this web site on January 1, 2015.



The increase in visitors makes me want to write about things that are more interesting. It would probably help if I focused on one topic instead of starting by writing about Time and then about science, and then shifting to writing about using the Internet in Japanese and Chinese, and then shift to writing about visitors to my web site.

I'm sure it won't help by shifting to writing about my "writer's block" problems right now. So, maybe I'll save that for another day.