Comments for Sunday, Sept. 4, 2016, thru Saturday, Sept. 10, 2016:

September 8, 2016 - Hmmm. I did several searches of the ArXiv.org article files yesterday and this morning, looking for the terms "time dilation" and "speed of light" and articles where the words "reality" and "relativity" are both used. I found about 2,500 articles that contain those terms. Looking through the titles of those 2,500 articles, I found a few hundred that seemed of interest. I downloaded each one and skimmed through the first page or two to see if they were actually about topics of interest to me. I found 81 articles that seemed of interest. I saved copies of all 81 articles.

The next step is to do a more detailed examination of the 81 articles, to make a computerized list of them, and to make some notes on the list as to whether the article is worthy of closer examination and study. Some of them seem of great interest. Others may contain information I need. And, of course, I'm also looking for authors who might be willing to read and "endorse" my article when I submit it to ArXiv.org.

Meanwhile, I learned that a reader can give a "negative endorsement" for an article. If I get a "negative endorsement," that means I have to get at least two "positive endorsements" before ArXiv.org will accept the article.

I can already see that I need to change my tactics. My article on "Time Dilated Light" mentions two earlier articles I wrote but never tried to get published. Now it seems clear and certain that I need to go back to the first article I wrote on "Time Dilation Re-Visualized," I need to revise it to also be about "relativity versus reality," and I need to try to get it published first. In other words, I need to "lay a foundation" for people to read my article on "Time Dilated Light." "Time Dilated Light" contains too much that is new and different for a typical reader to accept it without prior conditioning.

After I've described what is real about Time Dilation, and after I've described how Time Dilation needs to be understood by itself before complicating matters with Relativity, I then need to go to the next step, which is to get my second paper, "What Is Time?" onto ArXiv.org (and maybe into some scientific journal). I'll undoubtedly have to revise and rework that paper, too, before attempting to get "endorsers" to read it and before I try to submit it to ArXiv.org.

If I can get my "Time Dilation Re-Visualized" article onto ArXiv.org, I will have also gotten at least one "endorser." I theory, I can then try to enlist the aid of that endorser (or those endorsers) to get "What is Time?" onto ArXiv.org.

If I can get both articles on ArXiv.org, then and only then I can think about getting "Time Dilated Light" onto ArXiv.org and getting it published in some journal.

Meanwhile, I should probably work on a book about it all. If I can't get all three articles onto ArXiv.org, and if I can't get "Time Dilated Light" published in a scientific journal, I will undoubtedly have to self-publish the book. But, at least it will be out there for anyone to read who has the interest.

But, the first step in all this is to examine those 81 articles, to see what they have to say, and to see if any of their authors are possible endorsers for "Time Dilation Re-Visualized." I see articles which question the "universal speed of light," I see articles which point out scientific findings and observations which indicate that the speed of light is not a universal constant, and I see articles which question what is real and what is just "perceived" about Time Dilation.

And I see articles which say you are very likely to get crucified if you try to publish an article that attacks main-stream thinking. Fortunately, crucifixion is only a concern for professional scientists who have to worry about keeping their jobs. That's not something I have to be concerned about.

September 6, 2016 - DAMN! I was all set to submit my nicely typeset paper to a scientific journal. So, I started going through the steps for submitting it. Then I found that I have to first submit it to ArXiv.org. And then I learned I can't submit it to ArXiv.org until I have someone to "endorse" it. The instructions for getting an "endorsement" are as follows:

If you need to be endorsed by someone, it is best for you to find an endorser who

you know personally and
is knowledgeable in the subject area of your paper.

A good choice for graduate students would be your thesis advisor or another professor in your department/institution working in your field.

Alternatively this is the recommended way to proceed.

Start by finding related articles in your field. Your preprint surely has cited works that are already posted in the arXiv, some of these works will be particularly relevant.
Bring up these abstracts from the arXiv page.
You can find somebody qualified to endorse by clicking on the link titled "Which of these authors are endorsers?" at the bottom of every abstract page.
Using that information, you can then find the email address of the submitter on the abstract page just under the "Submission history" heading.

It is a good idea to send eligible endorsers a copy of your proposed submission along with the endorsement request.

So, it looks like I'm going to have to try to find an "endorser." At first, I thought this was a setback of some kind.

However, after studying what the process is all about, I learned that this is probably where I should have started in the first place. ArXiv.org contains about 1,100,000 scientific papers on file, written by thousands of scientists from all over the world. ArXiv.org provides a way to search for articles in the scientific area where my paper belongs, and when I find an article on a similar subject, ArXiv.org shows whether or not any of the scientists who authored the paper are willing to read and endorse papers written by others. So, in effect, I have a list of thousands of scientists from all over the world who are open to people asking them to read their articles, and those scientists may be prepared to give me their thoughts about my paper.

Here's more information from the ArXiv.org web site:

It is a good idea to send eligible endorsers a copy of your proposed submission along with the endorsement request. Please note, however, that it is inappropriate to email large numbers of potential endorsers at once, or to repeatedly email the same endorser with a request for endorsement.

At least one positive endorsement is required per endorsement domain to be considered endorsed for that domain. The number of positive endorsements, however, must exceed the number of negative endorsements. In other words, you must maintain a net positive endorsement per domain to be considered endorsed. Therefore, you should consider carefully to whom you make endorsement requests.
So, there's nothing wrong will sending out emails to four or five per day and having them all read it and give opinions. I just have to be careful about getting "negative endorsments." And, presumably, if I get multiple positive "endorsers," that might enhance the chances of me actually getting published. But, I only need one positive endorser to become eligible to submit my paper.

Live and learn.

September 5, 2016 - I think my paper on "Time Dilated Light" is correctly typeset and ready for submission. I'll submit it tomorrow morning. Every time I think I'm done, however, I notice some missing apostrophe or something that should be italicized but isn't. But I'm noticing fewer and fewer such problems.

Meanwhile, I just received a copy of an email addressed to my alter ego, Ralph Maggio, advising him that someone posted this message to the "Quantum Physics" Facebook group:

Besides, nobody here is mistaking the map for the territory, except for you. Let me simplify this to a more condensed form. The current mathematical model matches experimentation, so what difference does it make? Why are you trying to fix something that isn't broken? What practical use do you expect us to be granted with your allegedly more practical viewpoint (which has repeatedly not matched experiment, by the way)? Instead of screaming about "imaginary light clocks" and the supposed dense skulls of mathematicians, why don't you get to your point? What magically changes if we all agree with you, Ralph?

The first question highlighted in red assumes that things are not "broken," when they really are broken. And there have been no experiments to compare the speed of light at different locations where time is known to tick at a different rate. The second question in red is a much more interesting question. My paper really only describes one "change" that acceptance of the theory would cause: calculations for red-shifting. Equipment which determines how much "red-shift" (or "blue-shift") there is in a wave of light coming from outer space is constructed to assume that all light in the universe is traveling at the same speed as light is measured in a lab here on Earth. So, the equipment cannot tell how much a light wave is red-shifted (or blue-shifted) because the object is moving away from (or approaching) the Earth and how much the light wave merely appears red-shifted (or blue shifted) simply because the light measuring equipment is incorrectly calibrated.



That would mean that objects in the distant universe are closer than is currently believed. And the expansion of the universe is slower than is currently believed. And all calculations about "dark energy" will have to be redone. It may even turn out that "dark energy" is simply a mathematical error resulting from using an incorrect number for the speed of light.

There could be massive changes in other areas that I cannot foresee because I know so little about those areas.

The biggest change I would like to see is to have physics teachers stop teaching crap to their students about how time and relativity work. Albert Einstein and Carver Mead have both pointed out the problems with mathematics and mathematicians taking over science. Learning that the speed of light is not a "fixed universal constant" just might teach mathematicians that they need to learn what the numbers they are using really mean. They have to stop assuming that because the math works, everything must be correct.

September 4, 2016 - Yesterday, on the "Quantum Physics" Facebook group, someone provided a YouTube video which uses another "light clock" to explain the same nonsense that Prof. Greene explained in his course (see last Sunday's comment). Here's the video:



So, naturally, I had to go to the YouTube page and add a comment after the video. Here's what I wrote:

A "light clock" is just nonsense. First, if there was such a thing as a "light clock," it would DISPROVE gravitational time dilation and Einstein's General Theory of Relativity.

Since a "light clock" uses a fixed speed of light, it would tick at the same rate on Earth as on Jupiter and as in empty space. Gravitational mass would not affect its tick rate, thereby disproving gravitational time dilation. Any REAL clock would tick slower on Jupiter than on Earth, and on earth it would tick slower at the bottom of a mountain than at the top of the mountain.

Secondly, in our real world, light travels in a straight line, so moving the clock would simply cause the light to miss the mirror. The further apart the mirrors are, the easier it would be for the mirrors to move out of the way as the photon travels from one mirror to the other. What magic would cause the photon to follow the mirror? What the guy on the space ship would see is that his "light clock" stopped working as soon as the rocket ship moved.

If the speed of light is fixed, then moving the clock requires that light bounce up and down at "light speed" while ALSO moving LATERALLY at a different speed. Why not turn the clock on its side? That way the light would travel faster than the speed of light when going in the same direction as the rocket, and at a different speed when going in the opposite direction.

The part of the video about trains is just trying to add relativity into a situation where relativity doesn't belong. What we see on a train and off a train is about RELATIVITY. It illustrates how two observers see the same thing differently. It has NOTHING to do with time dilation. Distorting it to involve a "light clock" just creates a situation where the "light clock" wouldn't work at all with Special Relativity and it would DISPROVE General Relativity.

The video is JUST PLAIN WRONG. It's not only WRONG, it's SILLY.

Time dilation needs to be understood by itself before complicating it with relativity. An atomic clock will tick at a slower rate if you lift it by just one foot. You don't need a second observer, and it has NOTHING to do with the speed of light. Check this link: http://tf.boulder.nist.gov/general/pdf/2447.pdf

Maybe it will start some kind of discussion. The posting of the video to the "Quantum Physics" Facebook group started a long argument, but it was all pointless, since the people arguing with Ralph Maggio (who argued my point of view) mostly refused to answer any of Ralph's questions, and when they did make comments, the comments were distortions of what Ralph said, combined with personal attacks and a lot of mathematics-based gibberish. It proved once again that there is no way to have an intelligent conversation with a True Believer -- including a lot of mathematicians who seem to truly believe that mathematics and science are the same thing.

I really wish I could find someone who can discuss this topic in layman's terms. If all they can do is argue mathematics and argue that I need to learn the math in order to understand what they are saying, that just means they cannot understand or discuss the science involved. Math is "garbage in, garbage out." And the mathematicians are proud of the fact that if you put garbage into an equation and get garbage out of the equation, that proves that the math is right. They don't care about the garbage. That's for non-mathematicians to worry about.

Will I ever find anyone (except Ralph) who fully agrees with me? I dunno. I still see a lot of people "liking" what I post on Facebook, but few of them join the conversation to add additional points to my arguments. If I'm wrong, why is it so difficult for the mathematicians to explain in simple terms where I am wrong. I keep showing them this quote from Einstein:



Hmm. While looking for the link to the above quote, I found the quote below in a web site about Einstein quotes:



It seems to be the same argument I am having with mathematicians! Unfortunately, the site doesn't provide any information about the context of the quote and where it came from. Then I found this quote: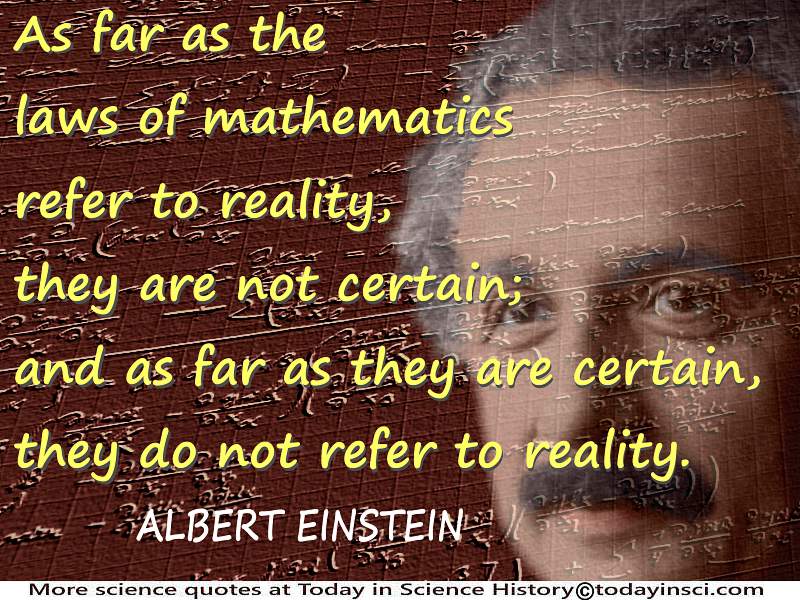 That quote is from an address Albert Einstein gave to the Prussian Academy of Sciences in 1921. It's a long talk which I didn't find until this morning as I was typing this comment. I'll have to study it in detail to see exactly what Einstein was talking about. Here's another quote from the first part of the talk:

All linear measurement in physics is practical geometry in this sense, so too is geodetic and astronomical linear measurement, if we call to our help the law of experience that light is propagated in a straight line, and indeed in a straight line in the sense of practical geometry.

I don't know if it was a coincidence or not, but I awoke this morning with the realization that I might have to write another scientific paper about a "Reality Check." As illustrated by Professor Greene's lectures and by the video at the top of this comment, according to mathematicians, a person on a fast moving space ship who bounces a beam of light straight up and down will see no effect of movement. The mathematicians claim the photon will appear to go straight up and down no matter how fast the rocket is moving. Meanwhile, some mythical stationary observer outside of the space ship will see the light traveling at angles to keep up with the moving mirror.

But, according to me, and I think according to Einstein, just the opposite is true. The person on the space ship will see the light clock stop working because light travels in a straight line, and on a moving space ship the light will appear to travel at angles until the mirrors move fully out of the way. And the mythical stationary observer will see the light traveling in a straight line at all times -- just the opposite of what the mathematicians claim.

Most interestingly, I think a "reality check" can be performed to see who is right and who is wrong.

All that is needed is to perform the same tests I proposed in my paper on "Time Dilated Light," but include one additional test. On or near the Equator, in some place like Singapore or at the space station in French Guiana, they should measure the speed of light traveling vertically. At those locations, the light measuring equipment would be moving at about 1,000 miles per hour as the Earth spins on its axis. Unfortunately, we might need some mathematicians to tell us how far "out of plumb" light will travel if we emit a photon of light from equipment on the floor of an assembly building, bounce it off a mirror straight up at the top of the building, and record its impact as it hits a detector next to the emitter on the floor. Will the photon travel in a straight line as Einstein and I claim and thereby, as a result of the movement of the earth, appear to travel at angles as it goes up and down? Or will the photon go straight up and down as the mathematicians claim?

If the photon goes straight up and down, as mathematicians predict, that will prove that light does not travel in a straight line. It will show that light somehow magically follows the mirror. It will prove the mathematicians are right.

If the light seems to travel at a slight angle toward the west due to the spinning of the Earth around its axis at 1,000 mph, then Einstein and I are right.

Easy peasy. We just need someone to perform the tests.

This whole subject gets more fascinating every day.