Comments for Sunday, April 2, 2017, thru Saturday, April 8, 2017:

April 6, 2017 - This afternoon, while returning home after my regular workout at the gym, I finished listening to CD #16 of the 16-CD set I burned some time ago for "Sapiens: A Brief History of Mankind" by Yuval Noah Harari.


WOW! What a terrific book! It may be the best book I ever listened to while driving from place to place in my car. I'd never heard of it before I "borrowed" it from my library, but it was evidently a New York Times bestseller in 2015.

It's got a lot of interesting material worth quoting in it, so I decided to reserve a Kindle copy from my library. Then a few days after reserving it, I wondered if there might be a pdf copy available on the Internet. I did a search and, sure nuff, I found a copy. So, I cancelled the reserve. The pdf copy I have says that it was first published in Hebrew in 2011, and then translated into English and published in England in 2014. For some reason, it has no page numbers, but Chapter 14 is titled "The Discovery of Ignorance" and begins on page 212 of the pdf file. It has this on the first page:

The last 500 years have witnessed a phenomenal and unprecedented growth in human power. In the year 1500, there were about 500 million Homo sapiens in the entire world. Today, there are 7 billion. The total value of goods and services produced by humankind in the year 1500 is estimated at $250 billion, in today's dollars. Nowadays the value of a year of human production is close to $60 trillion. In 1500, humanity consumed about 13 trillion calories of energy per day. Today, we consume 1,500 trillion calories a day. (Take a second look at those figures – human population has increased fourteen-fold, production 240-fold, and energy consumption 115-fold.)

I thought it was just a history book when I started reading it, but it is much more than that. It's also a philosophy book, since it examines how humans have changed over the years as we've made one discovery after another, as we started organizing ourselves into larger and larger groups, and as our priorities and daily needs have changed. Here's another quote from the next page:

Prior to the sixteenth century, no human had circumnavigated the earth. This changed in 1522, when Magellan's expedition returned to Spain after a journey of 72,000 kilometres. It took three years and cost the lives of almost all the crew members, Magellan included. In 1873, Jules Verne could imagine that Phileas Fogg, a wealthy British adventurer, might just be able to make it around the world in eighty days. Today anyone with a middle-class income can safely and easily circumnavigate the globe in just forty-eight hours.

The book delves into how the formation of companies changed the world and how we all started out knowing how to do just about everything we needed to do, we were hunter-gatherers who knew how to hunt, how to make tools for hunting, and how to stay alive as long as possible. Today we have no clue how to make most of the things we use every day, and we cannot survive without the work done by others. Here's another quote, this one from page 301 of the pdf file:

In European medieval cities there was usually a single clock – a giant machine mounted on top of a high tower in the town square. These tower clocks were notoriously inaccurate, but since there were no other clocks in town to contradict them, it hardly made any difference. Today, a single affluent family generally has more timepieces at home than an entire medieval country. You can tell the time by looking at your wristwatch, glancing at your Android, peering at the alarm clock by your bed, gazing at the clock on the kitchen wall, staring at the microwave, catching a glimpse of the TV or DVD, or taking in the taskbar on your computer out of the corner of your eye. You need to make a conscious effort not to know what time it is.

The book is also about all the damage we are doing to our world and how we are wiping out one species of animals after another while we also destroy land and pollute waters. It's a book I highly recommend.

April 4, 2017 - Ah! This morning I found an email in my inbox from the chief editor at the scientific journal to which I sent my paper on "Time Dilation without Relativity." He told me I could "rest assured" that he had received my revised paper and that he had turned it and my comments over to the peer-reviewer who had commented favorably about it. Hmm. I hadn't expected that. I'd assumed that he would turn the paper over to both peer reviewers, including the one who didn't think it would be of interest to the readers of their journal.

I'm not sure what will happen next, but I assume the peer-reviewer will make some additional suggestions for improvement. Or the peer-reviewer will - for some reason - decide that the paper should be rejected. Or, possibly and hopefully, the peer reviewer will say it is ready for publication. Time will tell. I cannot ask any further questions for 3 months - until June 27.

This morning, I was also expecting an email from my health club. When it didn't arrive, I checked my filter logs to see if it may have been rejected by one of the filters I have in place for the email address I show at the top of this site. I didn't find the email I was looking for, but I did find that someone had sent me an email about something related to my quest for scientific answers. The email was rejected because it had an equal sign (=) in the subject. That is generally an indicator of a spam email. In the past 6 days, 16 emails were rejected because they had an equal sign in the subject. Here's that part of the log:



I used a red pen to blot out part of the guy's email address, but it's clear that the email said something about "Fascination_of_Physics" and that is followed by the name "Jacquelin." There's no way for me to un-delete the email to get a better look at it. So, I did a Google search for - Fascination of Physics Jacquelin - and found a book titled "The Fascination of Physics" by Jacqueline D. Spears and Dean Zollman. I also found a web site where I could download the entire book in pdf format for free. And I did so.

It turns out to be a book I'd seen pieces of before, but I'd only seen certain chapters and was unable to find the title and author. I mentioned that in a comment here on March 28. And the guy who sent the email may have simply been providing the information I was looking for. If so, I thank him. However, he's a guy who generally disagrees with me and viciously attacks me and everything I write, so his email may have included some kind of attack. Either way, he did me a favor and I appreciate it. (He's a regular reader of this web site, so he'll read this comment. I'm not about to respond to him via email. I gave up on that kind of contact a decade ago.)

Unfortunately, the book is in image form and cannot be searched for key words. But somehow Google finds key words in the book if you search for them. That's how I found the chapters from the book in the first place. It's got a lot of great illustrations and looks like a good read. And it might make a good reference in my paper about Einstein's Second Postulate.

Meanwhile, if anyone knows the name of the author and what book the Chapter 3 at this link is from, I'd appreciate getting an email with that information (and without an equal sign in the subject).

April 3, 2017 - I just sent off an email to the scientific journal that has my paper on "Time Dilation without Relativity" to see if they received the updated version I sent them a week ago. I assume they most likely did, but they didn't send any acknowledgement of receipt. However, I cannot live with that assumption while also knowing that they may not have received the paper, and I could end up waiting for three months for a response that is never going to arrive.

Meanwhile, I've concluded that the screwball interpretation of Einstein's Second Postulate that I wrote about in yesterday's (B) comment may just be that one author's misunderstanding. It could be that every author who misinterprets or disagrees with Einstein has own unique reasons for disagreeing. If I tried to include descriptions of their misunderstandings in my paper about the Second Postulate, it would turn into a psychology paper as I try to psychoanalyze what they were thinking when they made their mistakes.

So, I'm not going to dissect their misunderstandings. I'll just show that they are wrong and display and describe the proof that they are wrong.

Maybe someday, when I write a book about all this, I'll dissect the various misinterpretations and try to categorize them. Maybe.

April 2, 2017 (B) - I spent a couple hours this afternoon trying to put together a better version of this graphic from page 148 of the book "Relativity and Its Roots" by Banesh Hoffman:



That's the actual size of the image in the book, apparently. If I try to enlarge it, all the lines and the printing get blurry. So, I had to try to create a version that can be more easily seen. Here's what I got on my first attempt:


Obviously, it needs work. But, it's good enough for me to use here to explain how the author of the book uses his illustration to describe his interpretation of Einstein's First and Second Postulates to the Special Theory of Relativity.

The illustration is supposed to show that even though Spaceship-A is moving toward the star at 20% of the speed of light, and Spaceship-B is "at rest" (not moving relative to the star), if they measure the speed of light they create on their spaceships, and the speed of light coming from the star, all the waves of light will appear to move at the same rate.

The author says on page 148:

The principle of relativity applies to the interior experiments and requires that similar interior experiments in your spaceship and mine will give similar results.

So far, so good. His space ship is B, and mine is A. He then writes:

I light a lamp in the forward part of my spaceship and measure the speed of the light waves as they move toward the rear. You perform the same sort of experiment in your spaceship. By Einstein's second principle, which says that the motion of light is independent of the motion of its source, the light waves from the star, the light waves from the lamp in my spaceship, and the light waves from the lamp in your spaceship will all keep abreast of one another as they move toward the rear. So when I measure the speed of the waves from my lamp, I am also measuring the speed with which the light waves from the star go by me. And the same holds for you.

That is absurdly untrue. Since he is not moving relative to the star, he will measure the speed of light he emits as being the same as the light from the star. However, I'm moving at 20% of the speed of light, so while the light I emit will be measured by me as moving at c, the light coming from the star will travel past me at c + 20%.

The author believes otherwise. He explains:

Since you are rushing toward the star at one-fifth the speed of light, we are likely to conclude that you will find the light from the star, and thus also the light from your lamp, rushing toward you not at the speed of light as measured by an observer stationary with respect to the star—me—but with that speed augmented by your own speed of approach to the star. The light from the star would then pass you with a speed one-and-one-fifth times the speed with which it passes me. Therefore the interior light from your lamp would also pass you with a speed one-and-one-fifth times the speed with which the interior light from my lamp passes me. But this conclusion has to be false. It conflicts with Einstein's first postulate, the principle of relativity. For in measuring the speed of the light from our respective lamps, you and I are performing identical interior experiments and should therefore get identical results. If I find the speed of waves from my lamp to be c kilometers per second, so too must you. And, because of the exterior aspect of the experiment, you must therefore find the light waves from the star passing you at this same speed c—despite the fact that you are rushing toward the star.

He's saying that according to Einstein, because we get identical results in tests we perform aboard our different spaceships, the light from the star must also show the same speed. I.e., light from the star must pass him at the same speed it passes me, even though I am moving and he is not.

In reality, Einstein wrote nothing about the light from the star. What Einstein wrote was that the author and I do indeed get identical results when we measure the speed of light we create aboard our ships. He measures it at c aboard his space ship and I measure it as c aboard my space ship, even though he is "at rest" and I am moving at 20% of the speed of light. Why? Because, when light is emitted it travels at the speed of light at the location where the light was emitted. Here's Einstein's Second Postulate:

Light is always propagated in empty space with a definite velocity c which is independent of the state of motion of the emitting body.

The "empty space" is the vacuum chamber in which our light travels during the experiment. The "emitting body" is the "lamp" that created the light.

There's nothing in the Second Postulate about how light from a star would be measured as it passes by my moving space ship. The author just interprets the First Postulate as having some meaning there. Here, once again, are his last two sentences from the last time I quoted him:

If I find the speed of waves from my lamp to be c kilometers per second, so too must you. And, because of the exterior aspect of the experiment, you must therefore find the light waves from the star passing you at this same speed c—despite the fact that you are rushing toward the star.

What "exterior aspect of the experiment"? Evidently, the author believes that the "experiment" also involves the star. He compared the speed of light he emitted to the speed of light from the star and got identical results. Both traveled at c. Therefore, he believes the FIRST postulate says that I must get the same results when I measure the speed of light I emit and compare it to the speed of light from the star - even though I am moving.

Einstein was talking only about the simple experiment within the ship. The author is including the light from the star as part of the experiment. That's a complete misunderstanding of Relativity. The point of Relativity is that we think everything is normal and measure the same in our own Frames of Reference, but when we make comparisons we find that things are very different.

I can see how he got an incorrect understanding of Einstein's postulates, but how many others made that same absurd mistake? Unfortunately, the others generally do not explain themselves the way Banesh Hoffman did. So, I cannot be certain that they arrived at their wrong answers by the same route.

But I find it very interesting, nevertheless. I just don't yet know how I can use it in my paper about Einstein's Second Postulate. I'll have to think about it.

April 2, 2017 (A) - Uh oh. It is Sunday morning, and I am supposed to have a comment ready to display on this web site, as I have every Sunday for the past two years - and for 13 years before that on my anthrax site. But, I don't have anything ready. So, I'm going to have to "wing it." Here goes:

Every morning when I get on my computer, before I do anything else (such as writing comments) I check, view and file my web site statistics and access logs, I check the statistics for my anthrax blog and my current blog, and then I see what is new on various web sites. One of the web sites I check every day is NASA's Astronomy Picture of the Day Archive site. This morning's photo was particularly awesome: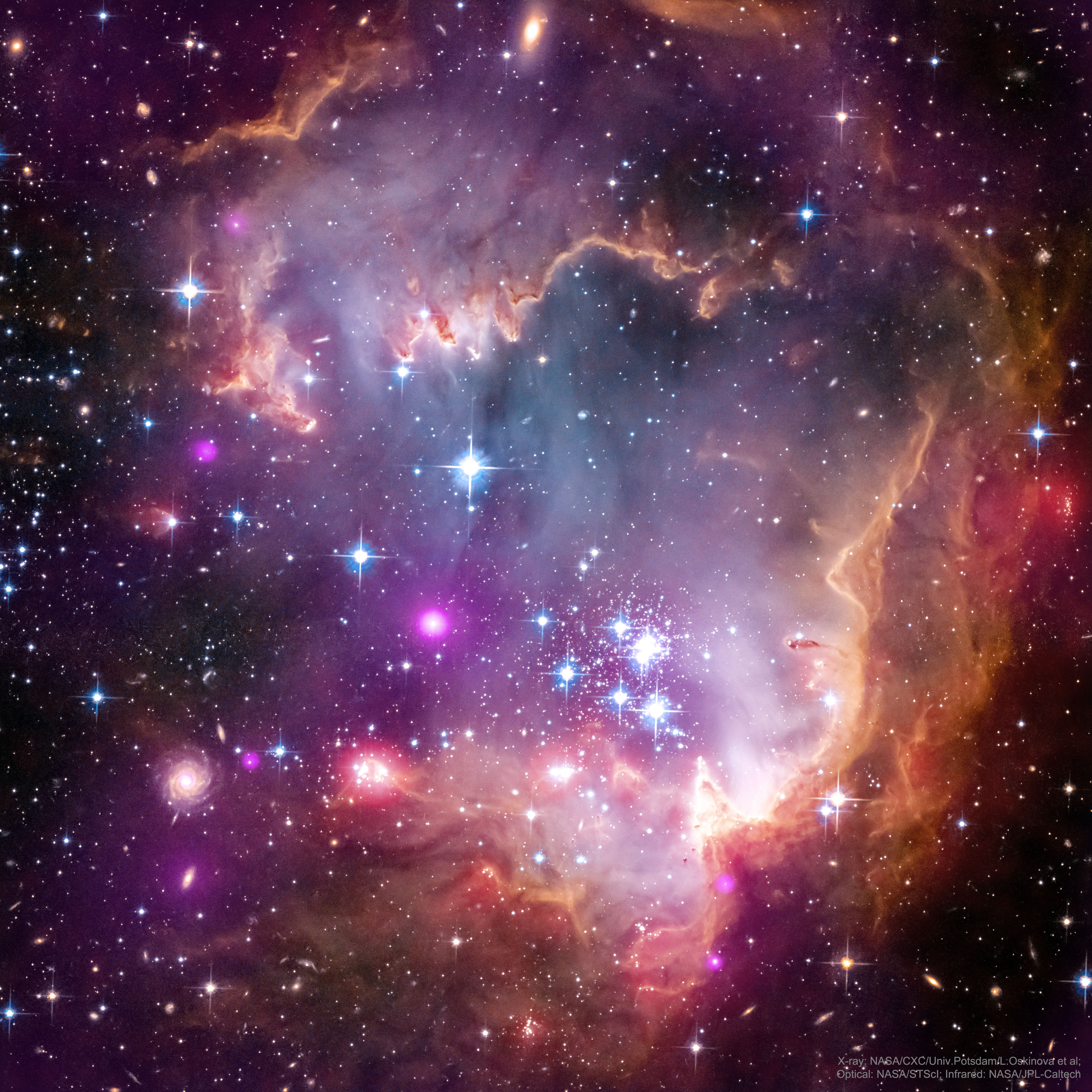 If the picture is a good one, I save a copy. The above picture is the 1,070th I've saved.

I also check The Huffington Post web site to see what crazy things are happening in the world. This morning I noticed that a judge has approved a civil law suit claiming Donald Trump incited a riot during his presidential campaign. The Huffington Post web site is a great place to find out what's happening with the Trump Presidency.

I also check to see if anyone has read any of my scientific papers in the past 24 hours. And the last routine task I've been doing each morning for the past month or so is check the Google Science, Physics & Relativity discussion forum to see what new topics they may be discussing since I stopped posting there.

This morning I noticed a new thread titled "The Simplest Refutation of Einstein's 1905 Light Postulate." It was created by someone named "Pentcho Valev," who has a screwball notion about Einstein's theories and constantly posts links to new places where he has found things which he believes support his beliefs. They don't support him, but some of the things he finds are interesting nevertheless.

This morning, he found a book titled "Relativity and Its Roots" by Banesh Hoffman. And he produced a long quote from it, which Valev believes supports his beliefs.

The book looked interesting, and it has apparently been around since 1983. So, I did a search to see if there was a free pdf copy available on the Internet. Yup. Found one. And I found a terrific illustration and section which I can use as a very good reference in my paper about Einstein's Second Postulate. I'd like to show the illustration and quote here, but the illustration needs work to make it clear, and the quote would have to be several pages long. So, I decided against it.

Pentcho Valev also cited a source I already had in my files, an article titled "How Did Einstein Discover Relativity" by John Stachel. It has a quote that is similar to the one in the book, but shorter, so I can show it here:

Einstein seems to have wrestled with the problems of an emission theory of light for some time, looking for a set of differential equations describing such a theory that could replace the Maxwell-Lorentz equations; and trying to explain a number of optical experiments, notably the Fizeau experiment, based on some version of the emission theory. He could not find any such equations, and his attempt to explain the Fizeau experiment led him to more and more bizarre assumptions to avoid an outright contradiction. So he more-or-less abandoned this approach (you will soon see why I say more-or-less), after perhaps a year or more of effort, and returned to a reconsideration of the Maxwell-Lorentz equations. Perhaps there was a way of making these equations compatible with the relativity principle once one abandoned Lorentz's interpretation via the ether concept.

But here he ran into the most blatant-seeming contradiction, which I mentioned earlier when first discussing the two principles. As noted then, the Maxwell-Lorentz equations imply that there exists (at least) one inertial frame in which the speed of light is a constant regardless of the motion of the light source. Einstein's version of the relativity principle (minus the ether) requires that, if this is true for one inertial frame, it must be true for all inertial frames. But this seems to be nonsense. How can it happen that the speed of light relative to an observer cannot be increased or decreased if that observer moves towards or away from a light beam? Einstein states that he wrestled with this problem over a lengthy period of time, to the point of despair. We have no details of this struggle, unfortunately.
Like the book that Valev cited, this article goes through the logic the author uses to explain Einstein's First and Second Postulates, NOT the logic Einstein used. And the author says:

I cannot ask you to accept my conjectures after all of my warnings at the outset of this paper, but will be content if you say "Si non è vero, è ben trovato," "If it isn't true, it's well contrived."

I don't know if it is "well contrived," but it is certainly "contrived" in a way that agrees with many other sources from authors who could not understand Einstein's First and Second Postulate to his Special Theory of Relativity and just "contrived" their own interpretations. When their versions turned out to be illogical, they blamed it on Einstein.

So, the morning has been productive (and it's only 10:20 a.m.!). I've got a new book to use as a reference, and I've now completed what is probably at least my 676th Sunday comment. (If I get some free time someday, I may figure out the exact number.)