Comments for Sunday, August 26, 2018, thru Friday, August 31, 2018:

August 31, 2018 - Grumble grumble. While doing research this morning I stumbled across something I wrote about on December 3, 2017. At that time I also showed this image from page 17 of the April 19, 1921 issue of the The New York Times: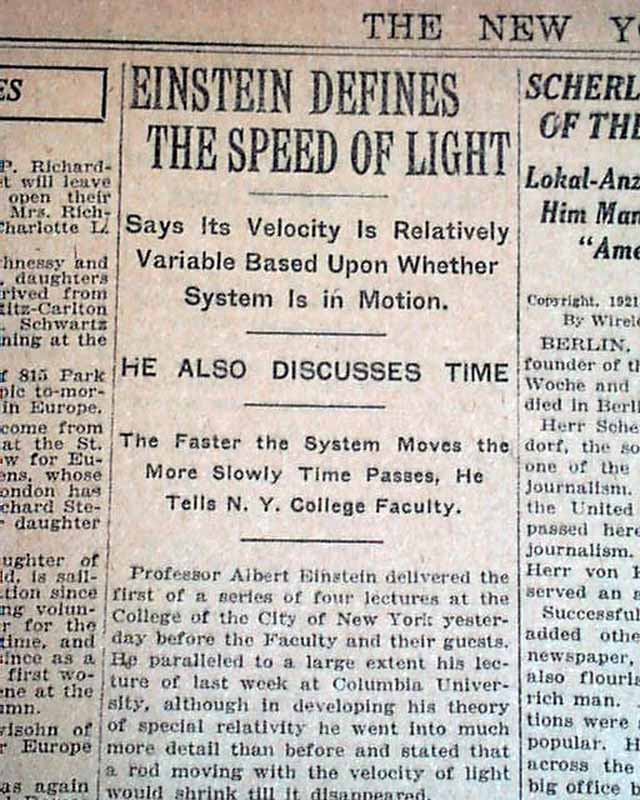 How could I have failed to include that news story as a reference in my article about "Variable Time and the Variable Speed of Light"?! And why didn't I use it in my arguments on the sci.physics.relativity forum? Somehow I'd forgotten about the NYT article, which more clearly than any other source explains why the speed of light is variable. The image is from a web site HERE, which also includes images of the rest of the article, and the entire article was also included in a book titled "Albert Meets America," which I have in my collection.

August 30, 2018 - The discussion about my paper on "Variable Time and the Variable Speed of Light" that I started on August 15 is continuing even though I haven't posted any comments to the sci.physics.relativity forum since August 25th. I don't think the discussion is about my paper anymore, since my name is not being mentioned. I'm not sure what it is about, since it is arguments between mathematicians, and half of each argument consists of mathematical equations with most of the rest referring to various theories and theorists.

I'm still trying to describe the workings of an atomic clock in layman's terms for the revision to (or overhaul of) my paper on "What is Time?". But, I've run into an unexpected problem. Here is the official definition of a second:

The second is the duration of 9 192 631 770 periods of the radiation corresponding to the transition between the two hyperfine levels of the ground state of the cesium 133 atom.

When I first read that definition, I thought it meant something totally different from what it now seems to say. I thought it had to do with the creation of light photons. I thought it was some kind of measurement of how fast two cesium 133 atoms can toss an excess light photon back and forth, or how fast one cesium 133 atom could reject light photons shot at it from a laser. But, I now see that an atomic clock doesn't do anything like that.

Understanding the term "corresponding to" is the trick. It's all about how a microwave photon oscillating at the rate of 9,192,631,770 cycles per second corresponds to a "transition between the two hyperfine levels of the ground state of the cesium 133 atom." You need a microwave photon of that frequency to cause a "transition of hyperfine levels" in a cesium 133 atom.

I had to create illustrations to make sense of what is meant by a "transition of hyperfine levels." It is also very different from what I'd thought. It's not about changing orbits, it's about flipping an electrical or magnetic charge from positive to negative. I won't go into details here, since I could spend all day on it, I still don't fully understand it myself, and I need to get back to doing research to make sure I do truly understand the process.

The problem is that most of the books and articles on the subject of how atomic clocks work do not really explain how atomic clocks work, they just repeat or rephrase what the author read somewhere was an explanation. So, they are usually just a lot of buzzwords which generate unanswered questions. This morning I found two books which have sections which go into great detail about how atomic clocks work. "The Physics of Metrology" has just five pages on the topic, but the number of pages isn't as important as the clarity of what is said. It seems very clear. I just need the time to study it. "The Quantum Beat" has 25 pages on the subject, and seems to go into great detail about every step and how each piece of equipment works. Again, I just need time to study it.

I just hope that when I finish all this research and studying of atomic clocks I'll have something I can use to disprove the claims by some mathematicians that time does not slow down or speed up, claims that time passes at the same rate everywhere, and claims that it is just an illusion when we think we measure time as slowing down or speeding up in another "frame of reference."

August 28, 2018 - While driving around doing chores this afternoon, I finished listening to CD #10 from the 10-CD set for "A Higher Loyalty: Truth, Lies and Leadership" by James Comey.



I found it to be a very interesting and enjoyable book, unexpectedly so. I'm not sure exactly what I was expecting, but what I got was a book about management and ethics. and a book about how "tribalism" seems to be creeping back into American life. It's a book about how respect for the law is what keeps us from going back to tribalism, where everyone is subject to the whims of the chief who leads the tribe. And that is what Donald Trump wants (or wanted) to be - some kind of Chief of some kind of White American Tribe. Or the head gangster in some nation-wide gang.

The book is an autobiography, so James Comey spends a lot of time going through all his experiences before be became the head of the FBI during the Obama administration. Early in the book Comey describes how he and his younger brother were at home alone one night and a burglar broke in, not expecting anyone to be home. So, the Comey brothers (both less than 13 years old) had to figure out how to deal with a man pointing a gun at them. They convinced the burglar to lock them in a room in the cellar where they knew how to escape via a window high on the wall. But, when they escaped, the burglar was outside waiting for them. That resulted in a lot of screaming and yelling, which attracted neighbors, and the burglar finally ran away. It was the kind of story that you do not want to hear while driving, since when you reach your destination you either have sit in your car and listen to the rest of it, or you have to turn your car off right in the middle of the story. I turned it off, but it was still fresh in my mind the next day when I got back in my car to hear how things ended. (It is the reason why I do not listen to novels while driving.)

Comey's book doesn't really get into the Trump Presidency until nearly 3/4ths of the way through. But there's still plenty of interesting stuff there. I also borrowed the Kindle version from my library, so I can quote passages of interest, such as the time (after Trump was elected, but before he was sworn in) when Comey had to advise Trump of some things that Trump needed to know about:

After Trump finished with his opening monologue, which lasted for a minute or so, I explained the nature of the material I was about to discuss and why we thought it important that he know about it. I then began to summarize the allegation in the dossier that he had been with prostitutes in a Moscow hotel in 2013 and that the Russians had filmed the episode. I didn't mention one particular allegation in the dossier—that he was having prostitutes urinate on each other on the very bed President Obama and the First Lady had once slept in as a way of soiling the bed. I figured that single detail was not necessary to put him on notice about the material. This whole thing was weird enough. As I spoke, I felt a strange out-of-body experience, as if I were watching myself speak to the new president about prostitutes in Russia. Before I finished, Trump interrupted sharply, with a dismissive tone. He was eager to protest that the allegations weren't true. I explained that I wasn't saying the FBI believed the allegations. We simply thought it important that he know they were out there and being widely circulated. I added that one of the FBI's jobs is to protect the presidency from any kind of coercion, and, whether or not the allegations were true, it was important that he know Russians might be saying such things. I stressed that we did not want to keep information from him, particularly given that the press was about to report it. He again strongly denied the allegations, asking—rhetorically, I assumed—whether he seemed like a guy who needed the services of prostitutes.

Trump certainly acts like he's afraid that Putin might put that "filmed episode" on YouTube if Trump ever does something to cross Putin.

There are other interesting things about Trump I hadn't really noticed before, but when they are mentioned you realize they are correct. For example, Trump almost never laughs. And the only time he does laugh is when something cruel happens to someone he dislikes.

The part of the book where Trump fired Comey is fascinating. Comey was in California talking with perspective FBI agents when everyone saw it appear on the news that Comey had been fired. The room had TVs on the back wall. But then things got really nasty, and we can see how petty Trump can be. Trump wanted Comey to have to find his own way home from California, but the FBI flew him back.

President Trump, who apparently watches quite a bit of TV at the White House, saw those images of me thanking the cops [who escorted him to and from the airport] and flying away. They infuriated him. Early the next morning, he called McCabe and told him he wanted an investigation into how I had been allowed to use the FBI plane to return from California. McCabe replied that he could look into how I had been allowed to fly back to Washington, but that he didn't need to. He had authorized it, McCabe told the president. The plane had to come back, the security detail had to come back, and the FBI was obligated to return me safely. The president exploded. He ordered that I was not to be allowed back on FBI property again, ever. My former staff boxed up my belongings as if I had died and delivered them to my home.

The book ends with some of Comey's thoughts about Donald Trump. An example:

Donald Trump's presidency threatens much of what is good in this nation. We all bear responsibility for the deeply flawed choices put before voters during the 2016 election, and our country is paying a high price: this president is unethical, and untethered to truth and institutional values. His leadership is transactional, ego driven, and about personal loyalty.

and:

I say this as someone who has worked in law enforcement for most of my life, and served presidents of both parties. What is happening now is not normal. It is not fake news. It is not okay. Whatever your politics, it is wrong to dismiss the damage to the norms and traditions that have guided the presidency and our public life for decades or, in many cases, since the republic was founded. It is also wrong to stand idly by, or worse, to stay silent when you know better, while a president brazenly seeks to undermine public confidence in law enforcement institutions that were established to keep our leaders in check.

I could go on and on, but I recommend you read the book.

By the way, while I was working out at the gym this afternoon, a news show on one of the gym's TVs was interviewing an author whose new book came out today. The book is titled "The Shadow President: The Truth About Mike Pence," by Michael D'Antonio. As soon as I got home, I made a recommendation to my local library that they buy the book. It looks like it could be an interesting read.

While I think Trump is a total jerk and by far the worst President this country has ever had, I do not want to see him impeached. Trump may be stupid and sleazy and even a criminal, but if he was impeached he would be replaced by Mike Pence. And Mike Pence is just plain evil.

August 27, 2018 - Uh oh. This morning I started overhauling my April 19, 2016 paper titled "What is Time?" While doing so, I noticed this on page 3:

The speed of light is not only fixed, we know of nothing that can move faster than the speed of light. That suggests that Time Dilation must be caused by some kind of "conflict" with the speed of light. Time, or something that controls or causes Time, is forced to slow down because it cannot exceed the speed of light.

It appears there is only one "thing" that can cause Time to slow down when it conflicts with the speed of light, and that is "particle spin." That observation seems to indicate that particle spin IS Time, and Time IS particle spin.

Hmm. At that time I thought, like most other people, that the speed of light is fixed. My most recent paper, however, says that the speed of light is variable, and so do all other recent papers of mine. The turning point seems to have been my paper about Einstein's Second Postulate. Beginning with the first version of that paper in April 2017, I began to see that if time is variable because of how fast atoms and particles spin or oscillate, the speed of light must also be variable, since atoms create light.

Needless to say, my overhaul of the "What is Time?" paper will eliminate any suggestion that the speed of light is fixed. In 2016, I wasn't thinking about how light is created. I don't know if I'd ever even looked into the subject.

I imagine mathematicians will see this as a "mistake," even though, at the time, I agreed with them on this subject. They'll just see it as proof that I make mistakes and therefore cannot be trusted. If I were to just recite memorized dogma as they do, then I could never make such a mistake.

I see it as proof that I have an open mind, I can recognize my mistakes, and I will correct my mistakes when I see them.

August 26, 2018 - Because I want people to understand that I am not alone in siding with Albert Einstein in his arguments with mathematicians, I am always looking for other people who agree that mathematics is more like a religion than like physics or science. Retired Caltech Professor Carver Mead agrees with that, and yesterday I found another quote from him:

Most of us took mathematics courses from mathematicians—Bad Idea!



Mathematicians see mathematics as an area of study in its own right.

The rest of us use mathematics as a precise language for expressing relationships

among quantities in the real world, and as a tool for deriving

quantitative conclusions from these relationships. For that purpose, mathematics

courses, as they are taught today, are seldom helpful and are often

downright destructive.



The quote is from the "Forward" that Prof. Mead wrote for a book titled "Street-Fighting Mathematics: The Art of Educated Guessing and Opportunistic Problem Solving," written by Sanjoy Mahajan.

Further research led to a quote from the book "The Evolution of Physics" by Albert Einstein and Leopold Infeld:

The formulation of a problem is often more essential than its solution, which may be merely a matter of mathematical or experimental skill. To raise new questions, new possibilities, to regard old problems from a new angle, requires creative imagination and marks real advance in science.



And, I also found another relevant quote expressing that same idea. It is by Carver Mead and from the "Forward" to his book "Collective Electrodynamics":

Many phenomena that in the past were seen as separate are now understood to be the same: Fire is a chemical reaction, not a separate element; temperature is energy; light is electromagnetic radiation; molecules are aggregations of atoms; mechanical forces are electromagnetic in origin; . . . Each of these equivalences represents a major unification and simplification of the knowledge base. Ideas formerly occupying separate conceptual spaces now occupy the same conceptual space. Each unification was made possible by a deeper understanding of existing facts, often triggered by the discovery of a crucial new fact.

I've been arguing about time and time dilation for over two years, trying to convince people that those subjects are a lot simpler than they seem and much simpler than how they are typically taught. In the past week, those discussions and arguments have caused me to realize that I need to know exactly how atomic clocks work. They seem to work in a way that clearly and undeniably answers the question: Is the frequency of a photon determined at the time of emission, or does the frequency of a photon change as it moves up or down through a gravitational field? Mathematicians believe the latter, the facts seem to support the former.

If the oscillation frequency of photons changes when you raise or lower an atomic clock, that says that the mathematicians are wrong. Mathematicians claim that the photon oscillation frequency changes as the photon travels from a high location to a low location, or from low to high. The basic idea of an atomic clock, however, says that the atoms and photons change frequencies when they are raised or lowered. There is no traveling up or down by photons involved.

As I wrote in my August 22 comment, the term "atomic clocks" is a somewhat of a misnomer. An actual "atomic clock" would tell time by the oscillations or spinning of an atom - such as a cesium-133 atom, using those oscillations instead of a pendulum or balance wheel to measure time. Atomic clocks do not do that. Instead, an atomic clock that utilizes the cesium-133 atom consists of a regular quartz-crystal clock that does the oscillating and time keeping, and then there is a lot of extra equipment that adjusts and corrects the quartz-crystal oscillations if the quartz-crystal clock is not oscillating at the same rate that a cesium-133 atom oscillates.

Quartz-crystal clocks usually have the word "quartz" on their face:



The problem is that any normal clock, even a quartz-crystal clock, will "drift" and lose or gain time depending upon temperature changes, fluctuations in its power source, etc. After a few months or years, you may note that the time it displays is no longer the exact time as provided by the "Naval Observatory" or the "Bureau of Standards" or from wherever you obtained the exact time when you set the clock. It has become a minute or two off. Or more.

If you do not want your clock to "drift," you can buy a radio-controlled clock, which will automatically check with the Naval Observatory every day or every hour and automatically reset your clock to that standard.

A cesium-133 atomic clock does the same thing, except it doesn't check with the Naval Observatory, it checks the spin rate of cesium-133 atoms at your location. It makes certain your quartz-crystal clock is ticking at the same rate as local cesium-133 atoms. And, it appears that the atomic clock doesn't check and compare every hour or every day, it apparently checks every second.

By design, an atomic clock will NOT keep the same time as the U.S. Naval Observatory clock or a clock at the National Institute of Standards and Technology (NIST). Atomic clocks aren't for "keeping time." They are for "measuring time." "Keeping time" is keeping in sync with some other clock that is a "standard." "Measuring time" involves measuring how fast time passes at your location. If you have two atomic clocks, you can measure how fast time passes at your location versus some other location.

Maybe things will become more clear when I try to describe how an atomic clock works in a planned revision to my 2016 paper on "What is Time?". I'm going to have to describe the process in a way that makes perfect sense to me, while at the same time trying to avoid conflict with all the articles I've read. The problem I'm having is finding some source that makes clear exactly how the atomic clock adjusts to the correct tick rate or frequency. I've read many different articles and papers on the subject, but they just say the clock "fine tunes" the frequency.

It's probably a very simple process, but I'll have to make certain I fully understand it by going through each of steps described in the articles, making sure I fully understand each step before going on to describe the next step.

It's become my #1 priority because I think it could contain irrefutable proof that photons oscillate at the rate they have when they are created and do not increase their oscillation rates as a result of "falling" toward the Earth or slow their oscillation rates as a result of " struggling against gravity" to move away from the Earth - as so many mathematicians believe.

What I cannot understand is: if scientists know and proclaim that the atomic clocks they have built can measure differences in altitude of just a foot or so, why don't they describe exactly how that is done? The articles describe how atomic clocks work, but they do not describe how a change in altitude affects the workings of the clock. They do not clearly state that atoms and particles change oscillation rates when raised or lowered to different altitudes. They just say that atom oscillation rates are used to correct the time measured by a quartz-crystal clock. I cannot find a single article that says, "atoms change their oscillation rates when their altitude or motion changes." It is vaguely implied, but it is never clearly stated. And if it is never stated, then mathematicians will argue that there is no article which states such a thing. They claim that anyone who believes time ticks at different rates at different altitudes is simply wrong and those people need to take the physics courses the mathematicians took and read the books the mathematicians have read so that they will believe as mathematicians believe.

I also cannot help but wonder if scientists do not state that time changes when the oscillation rate of an atom changes because that would directly conflict with Einstein's theory that time is related to length and distance. Einstein's theory that time is related to length and distance seems to be the only Einstein theory with which mathematicians fully agree. So, when you describe how an atomic clock works, and how time is related the spin or oscillations of atoms, you cannot state or even imply that Einstein was wrong.

I'm still searching, but so far I've found eight articles and 1 book describing how atomic clocks work. The book, which was written by scientists from the NIST in 1999, argues the mathematician's argument that Einstein claimed that time dilation is reciprocal, which is just plain absurd. Seven of the articles, HERE, HERE, HERE, HERE, HERE, HERE and HERE, do not mention Albert Einstein at all. The eighth article was written by NASA and says,

If all goes as planned, a laser-cooled clock named PARCS will be installed on the ISS in late 2004 or 2005. Experts expect it to be the most stable clock ever, keeping time within 1 second every 300 million years (1 part in 1016).

According to Einstein's theory of gravity and space-time -- called "general relativity" -- clocks in strong gravity tick slower than clocks in weak gravity. Because gravity is weaker on the ISS than at Earth's surface, PARCS should accumulate an extra second every 10,000 years compared to clocks ticking on the planet below.

The idea of having an atomic clock on the ISS seems terrific. So, this morning I researched PARCS. I found this:

The Primary Atomic Reference Clock in Space or PARCS was an atomic-clock mission scheduled to fly on the International Space Station (ISS) in 2008, but cancelled to make way for the Vision for Space Exploration.

Sigh. I just found another NASA article about PARCS from May 1, 2009, which says,

The purpose of the PARCS project is to place an advanced laser-cooled cesium atomic clock in orbit and utilize it to test a variety of predictions of the Theory of Relativity. One of these predictions, made by Albert Einstein in 1915, is that clocks tick slower in strong gravity than they do in weak gravity. An orbiting satellite might place PARCS at an altitude of 220 miles (360 kilometers), where gravity is slightly weaker than that found at the Earth's surface. Thus the PARCS clock aboard the satellite ticks faster than a clock on the surface of the Earth by about 1 second in every 10,000 years.

I cannot find any article which says that PARCS was ever launched to the ISS.
Maybe NASA gave up on the idea of putting PARCS in orbit because they just didn't want to get into a lot of arguments with mathematicians. They certainly would have.

Further research this morning indicates that another atomic-clock-in-space program is literally having trouble getting off the ground. ACES (Atomic Clock Ensemble in Space) has had launches postponed and is currently scheduled for launch by the Japanese some time this year. Another such project, RACE (Rubidium Atomic Clock Experiment) was scheduled for launch in 2006 or 2007, but now seems to have been totally forgotten about. The same with SUMO (Superconducting Microwave Oscillator).