Comments for Sunday, September 23, 2018, thru Sunday, Sept. 30, 2018:

September 30, 2018 - I'm still spending most of my computer time arguing with people on the sci.physics.relativity forum instead of working on my book. Over and over again, just when I think the discussions have reached a point where they are no longer of any value, something will be said that causes me to perk up because it is an argument I never heard before. Or something is said that makes me feel that it might be possible to get some agreement. Or something is said that suggests it might be possible to show beyond any doubt that the person I am arguing with has no understanding of Relativity or time dilation.

Things got a bit bizarre the other day when one "Paradoxer" (i.e., someone who believes there is a "paradox" if observers in different reference frames experience different clock tick rates) gave these as Einstein's First and Second Postulates:

1. The laws by which the states of physical systems undergo change are not affected, whether these changes of state be referred to the one or the other of two systems of co-ordinates in uniform translatory motion.

2. Any ray of light moves in the "stationary" system of co-ordinates with the determined velocity c, whether the ray be emitted by a stationary or by a moving body.

When I argued that those were NOT Einstein's postulates, the Paradoxer argued that I was misunderstanding Einstein's paper and that what was written earlier in the paper was just a lead-in and of no importance.

After doing some research, it turned out that the two items above are from page 4 of Einstein's 1905 paper on Special Relativity. The real postulates are on page 1 and are highlighted below in red:

Examples of this sort, together with the unsuccessful attempts to discover any motion of the earth relatively to the "light medium," suggest that the phenomena of electrodynamics as well as of mechanics possess no properties corresponding to the idea of absolute rest. They suggest rather that, as has already been shown to the first order of small quantities, the same laws of electrodynamics and optics will be valid for all frames of reference for which the equations of mechanics hold good.1 We will raise this conjecture (the purport of which will hereafter be called the "Principle of Relativity") to the status of a postulate, and also introduce another postulate, which is only apparently irreconcilable with the former, namely, that light is always propagated in empty space with a definite velocity c which is independent of the state of motion of the emitting body. These two postulates suffice for the attainment of a simple and consistent theory of the electrodynamics of moving bodies based on Maxwell's theory for stationary bodies.

I highlighted the uses of the word "postulate" in purple. Those 3 uses of the word "postulate" are the only times that word is used in the entire paper. The two items at the top of page 4 are described as "reflexions .. based on the principle of relativity and on the principle of the constancy of the velocity of light."

The Paradoxer then argued,

The used verb (will raise) has a very clear meaning in English, right?
It means that from there on the words "principle" and "postulate" are the same.

My jaw dropped open when I read that. He was referring to this part of what is on page 1:

We will raise this conjecture (the purport of which will hereafter be called the "Principle of Relativity") to the status of a postulate

To me, Einstein was just saying he was going to "raise a question" or change a "conjecture" into a question. But, somehow, the Paradoxer was interpreting it to mean that Einstein was making the words "principle" and "postulate" mean the same thing!! Google search for definitions of those words, I found:

A principle is: a fundamental truth or proposition that serves as the foundation for a system of belief or behavior or for a chain of reasoning.

A postulate is: a thing suggested or assumed as true as the basis for reasoning, discussion, or belief.

One is a "fundamental truth," the other is "a thing suggested or assumed" in order to start a discussion. To argue that they are the same is just plain NUTS. So, after I provided the above definitions of the words, I wrote the following explanation:

Einstein was trying to explain something. So, he created two POSTULATES, which are things ASSUMED for the sake of discussion. What he wanted to discuss was "a simple and consistent theory of the electrodynamics of moving bodies based on Maxwell's theory for stationary bodies."

His new theory did "not require an 'absolutely stationary space' provided with special properties." It's a theory based upon the movement of objects.

It's a theory that says time moves at different rates for objects moving at different speeds. So, you do not NEED any "absolutely stationary space" to measure movement from. You can measure movement by the different rates at which time passes for different objects.

And then they all argued that I couldn't read, that my understanding was wrong, and that postulates and principles are the same thing. It was all very bizarre, and it made me remember that about a year ago I wrote a paper about this exact same argument. It was titled "Relativity: The Theory vs The Principle."

And it made me realize that what Einstein was merely setting out as a subject for discussion was being interpreted by Paradoxers as Holy Writ! And that is why they believe that, if anyone claims that time passes at different rates when traveling at different velocities, they are creating a "paradox," because the Paradoxers interpret the First Postulate as a "First Principle," which means it is an unquestionable truth that everything works the same within and between all frames of reference.

Holy crap!!!

This morning, everyone seems to have jumped on the bandwagon and agreed that the two items at the top of page 4 are the true "postulates." One Paradoxer even found the original German versions and posted them along with a Google translation into English. The word "postulate" doesn't appear in the translation, only the word "principle." Even so, another Paradoxer then declared:

Yes. These are the ACTUAL postulates Einstein used to derive the theory we now know as Special Relativity. Not the paraphrases he gave in his Introduction.

I have dozens of college text books which provide different versions of Einstein's First and Second Postulates, and I don't think a single one of them uses the "principles" from page 4 as his postulates. I also have Einstein's 1905 paper in its original German. I ran the material from page 1 though Google's German to English translation program and got this:

Examples of a similar kind, as well as the experimental attempts to state a movement of the earth relative to the "light medium", lead to the conclusion that the concepts of absolute calm not only in mechanics, but also in electrodynamics do not correspond to properties of phenomena but rather for all coordinate systems, for which the mechanical equations apply, also the same electrodynamic and optical laws apply as this has already been proved for the first order. We want this conjecture (its content in the following, principle of relativity") and, besides that, introduce the only apparently incomplete assumption that the light is in empty space always with a certain, from the state of motion of the emitting body independent speed Y propagate. These two conditions are sufficient to become a simple one and to achieve consistent electrodynamics of moving bodies on the basis of Maxwell's theory for resting body.

Interestingly, while it seems to be gibberish, the word "postulate" never appears, but instead is translated to "conjecture," "assumption" and "conditions."

While this is all very interesting to me, it also shows that it is a side issue. The only "postulates" mentioned in college textbooks are the postulates from page 1 of Einstein's paper. So, now I suppose I have to go through a bunch of those textbooks, cite what they say, and post an argument to the Paradoxers that they are claiming Einstein's postulates are different from what everyone else in the world sees as Einstein's postulates.

It all reminds me of when I was arguing with "True Believers" during the anthrax investigation. True Believers truly believe they are right, so they'll state their beliefs as if they are facts, they'll make stuff up when they need to, and they'll just twist and distort everything you say to show that you are wrong, because, as they see it, there is absolutely no possibility that they could be wrong.

September 27, 2018 - Yesterday, someone on a discussion forum for my web site maintenance software advised me on how he thought I could recover my emails. This morning I did as he instructed. It involved me deleting a lot of email files with a suffix of .msf. The idea was that those files would be automatically regenerated when I restarted my maintenance software, and that should or might solve my problem.

The first try accomplished nothing. Everything was the same. But then I decided to shut down my computer and do a total restart it to see if that would change the results. When I restarted my computer I saw right away that things were different. Previously, ever since September 13, the startup screen was a Microsoft image of blue windows on a black screen, but this time I saw the startup screen I created about 4 years ago:



And when I started up my browser by double-clicking on the bluebird icon in the middle of the second row from the top, everything returned to the way it was back on September 12! All my emails were back, all my bookmarks were back, and the only difference was that I had 25 emails waiting in my inbox that I needed to file away. WOW! What a relief! I'm not sure what happened. I cannot recall if ever I did any total restarts since the "disaster." Maybe that was all I had to do to get things back to normal.

So, now I will make sure I backup my bookmarks, and then I'll go through them to see which ones can be deleted. I have about 150, but I think less than 30 are the ones I need. The other are just bookmarks I created in case I wanted to go back to that site again, but I never did. I saved my emails a couple days ago. I should probably go through them to see what can be deleted. Do I really need all the bills and payment receipts from my web site host? Each one is a pdf file, and they go back all the way to December 29, 2014.

Meanwhile, the arguments with the "Paradoxers" on the sci.physics.relativity forum have tapered off. I managed to get one "Paradoxer" to declare:

If clocks actually ticked at different rates, as you FANTASIZE, GR and SR would have been refuted long ago.

That is a statement that clocks ticking at different rates in different frames is a violation of Einstein's First Postulate. In other words, it creates a "paradox," which is defined as: "a statement or proposition that, despite sound (or apparently sound) reasoning from acceptable premises, leads to a conclusion that seems senseless, logically unacceptable, or self-contradictory."

Another "Paradoxer" argued something different, but it was essentially the same argument, that things CANNOT be different in different inertial frames without violating the First Postulate. When I told him that that means he would see it as a "paradox," he argued that it wasn't a paradox, it was just wrong.

With the email and bookmark problems solved, maybe I can focus on writing a book about Time Dilation and Relativity as I understand it. I don't know who would want to buy such a book, but I'd really like to get all my understandings down on paper just for my own education. Writing things down makes me see things more clearly.

September 25, 2018 (C) - As I was pulling out of my garage to head to the gym this afternoon, the audio book I'm currently listening to informed me of something I never knew before. The book is about Australia, and it says that Australia has earthworms that grow to be 12 feet long and 6 inches in diameter. So, as soon as I got back home I did a Google image search for large Australian earthworms, and I found these images (among many others):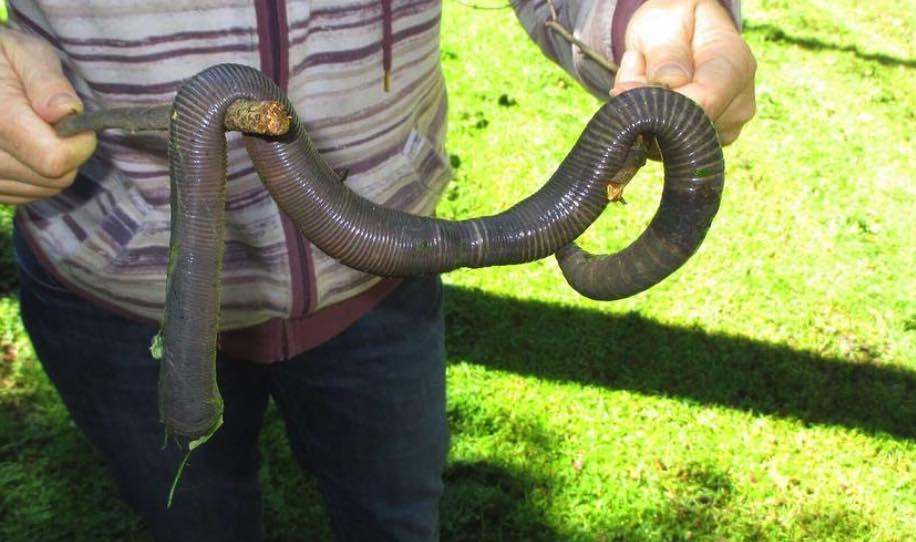 Live and learn. They really exist. The one on the bottom was probably a lot longer, but it may have gotten torn apart when they tried to pull it out of the earth. So, what you see is only the part they could pull out.

September 25, 2018 (B) - Hmm. I'm making some progress in recovering from the September 13 computer disaster. I remembered how to find "hidden" files in my computer. I turned on that option and PRESTO! I was able to locate all of my email files. I still cannot access them in a normal way, but I was able to make a copy of them onto my external hard drive. So, now I can experiment without fear of losing all those emails.

September 25, 2018 (A) - Yesterday, I tried an experiment. I used that filelocatorlite program I mentioned in yesterday's comment to look for the word "Family" in my computer. All my emails from my relatives were filed away in a folder I had titled "Family." The program found it. I was able to copy it and paste it to a folder I have set up for saving all my findings related to the "disaster." I was then able to look at the contents of that file using Notepad, which views everything in .txt format. That enabled me to see that the first email in the folder was dated December 8, 2014 (which is shortly after I bought the laptop computer I am now using and stopped using my desktop computer), and the last was dated September 12, 2018 (the day before the "disaster"). I can read the text in the emails, but pictures cannot be decoded, and the text gets very difficult to read when there are older messages as part of the email. Only the new email is easy to read.

As far as I can tell, no one knows how to recover those emails. There might have been a way, but that way was lost when I lost all my "profile" data," i.e., the names and codes in my "cookie" file that would be automatically be filled in when I accessed something I accessed many times before. And no one knows how to decode my old bookmark files, either.

I guess I'll just have to live with it. I still cannot understand what happened and how thousands of others didn't have the same "disaster."

Meanwhile, I have been arguing once again on the sci.physics.relativity Google forum, and it is becoming clear how some "Paradoxers" think. Unfortunately, here is no hope of changing their thinking. And, it sometimes seems that every one of them has a slightly different view on how Relativity works. But some of their arguments should make good material for a book.

September 24, 2018 - When I turned on my computer this morning, there was an email from my local library in my inbox advising me that a copy of "Fear: Trump in the Whitehouse" by Bob Woodward was available for downloading into my Kindle. Yesterday, I was number 41 on a waiting list for 14 copies. I'm not sure what happened, but I now have the book in my Kindle, and I'll start reading it at lunchtime. I'll set aside the science book I was reading.

Meanwhile, yesterday I checked the support forum for my web site maintenance software and found that someone had posted instructions for checking to see if I can recover my lost bookmarks. The instructions were as follows:

Seamonkey makes regular backups of your bookmarks, in files that that starts with bookmarks, have a date and a bunch of numbers, and end in the extension .jsonlz4. You can use a file search utility, here is one https://www.mythicsoft.com/filelocatorlite/download/ to look for all files on your computer that end in .jsonlz4. Once you find them, look for ones dated before the "event" that lost data. Then copy that file somewhere you can find it such as the desktop. (X) Within Seamonkey's CTRL-SHIFT-B window, first backup whatever bookmarks you currently have from the menu bar in that window, and also "export" them from that same menu. Then, restore the .jsonlz4 file you found one dated before the data loss using options in that menu bar. Import and export do not work with jsonlz4 files, only restore works. Restore does replace/overwrite your current bookmarks with the ones from the file you have found.

Wow. To me that looked something like instructions for defusing a bomb. Make one mistake and BLOOEY! But I started going through the steps very slowly, one by one, getting as far as the red (X). That "file search utility" mentioned in the third line with the link in the fourth line worked very well. It's something that used to be available as part of Windows XP but was no longer available after that. You can search for a word or string of letters and the software will go through your entire computer to see where that string of letters appears. Here are the results I got when I searched for ".jsonlz4":



The list shows that I have 14 automatic backups of my bookmark file in my computer. Ten of them are from before the "disaster" (when the file was 24 KB in size), and four are from after the disaster. Those four are at the bottom of the list, and you can see how the file increased in size as I found some of the lost bookmarks and re-bookmarked them.

So, now I just need to focus and go through the rest of the steps (after making sure I understand what each step does).

There were no new messages for me on the sci.physics.relativity forum, but it is what I keep thinking about, and it is what breaks my focus on recovering from the September 12 "disaster." I keep thinking that a quiz of just a few questions can determine if you are a "Paradoxer" who misunderstands Einstein's theories, or if you are a "Relativist" who understands Einstein's theories. But, I also realize that no amount of questions or arguments will convince a "Paradoxer" that he is the one who is mistaken.

Added note: Ah! I figured out how to get back into my outlook.com email files! There was just one email waiting in the server inbox, and it was a carbon copy of an email that someone sent to my newsguy.com address. So, I missed nothing. It's just an email account I set up for some reason and never really used.

September 23, 2018 - I've been talking about the Hafele-Keating experiments for years, yet somehow I'd either forgotten or I had failed to notice and realize why Hafele and Keating did their experiments back in 1971. Most articles on the subject do not mention why they did the experiments, and I basically just assumed it was to confirm that time dilation is real and can be demonstrated with atomic clocks. That is certainly true, but the papers Hafele and Keating wrote make it clear that they did their experiments to prove to the mathematician naysayers that time dilation is real. They were having the same arguments I'm having today. The mathematicians believe that motion is reciprocal and velocity time dilation is reciprocal. I.e., if Observer-A is stationary and watches Observer-B move away at high speed, Observer-B can also consider himself stationary and he can watch Observer-A move away at high speed. Or as the mathematicians sometimes put it, "physics cannot determine if the car hit the wall or if the wall hit the car."

It's a screwball misinterpretation of Einstein's First Postulate. It is also #1 on my list of the 10 DUMBEST beliefs in Physics.

Here is what Hafele Keating wrote at the beginning of their first paper as their explanation for doing the time dilation experiments:

One of the most enduring scientific debates of this century is the relativistic clock "paradox" (1) or problem (2), which stemmed originally from an alleged logical inconsistency in predicted time differences between traveling and reference clocks after a round trip. This seemingly endless theoretical debate, which has flared up recently with renewed vigor (2, 3), begs for a convincing empirical resolution with macroscopic clocks. A simple and direct experimental test of the clock problem with portable atomic clocks is now possible because of the unprecedented ability achieved with these clocks (4).

So, they did the experiments in hopes of bringing an end to the "seemingly endless theoretical debate" over whether time dilation is real or not.

And at the end of their second paper, they concluded,
In conclusion, we have shown that the effects of travel on the time recording behavior of macroscopic clocks are in reasonable accord with predictions of the conventional theory of relativity, and that they can be observed in a straightforward and unambiguous manner with relatively inexpensive commercial jet flights and commercially available cesium beam clocks. In fact, the experiments were so successful that it is not unrealistic to consider improved versions designed to investigate aspects of the theory that were ignored in the predicted relativistic time differences (1). In any event, there seems to be little basis for further arguments about whether clocks will indicate the same time after a round trip, for we find that they do not.

Hafele and Keating were attempting to firmly establish that time dilation is real and it is not reciprocal. As one of the references in their first paper they used a letter published in the "Letters" section of the January 1972 issue of Physics Today. The letter is titled "The Clock 'Paradox' - Majority View." The article says that "There have perennially been a few physicists who have refused for philosophical reasons to accept" the easily demonstrated fact that a moving clock will run slower than a clock 'at rest'." The article also says,

The standard reason for rejection of Einstein's result is the feeling held by [Mendel] Sachs that a paradox would exist if Einstein were correct - that all reference frames should be equivalent and that the Lorentz rest-frames so basic to special relativity have no right to their special property, that of the simplest description of physical events.

That is certainly the "standard reason" I am given by mathematicians for their rejection of the time dilation experimental results. They claim it means that all reference frames are NOT equivalent, and the mathematicians believe all reference frames MUST be equivalent. They claim that Einstein didn't mean what he wrote.

The "majority view," according to the letter is that a moving clock does indeed run slower than a clock "at rest." And that "few" who disagree do so for philosophical reasons, not for any scientific reason.

I would tend to say they disagree for religious reasons, not philosophical reasons, since their minds seem closed on the subject and they recite their dogma as if they were quoting from some kind of Bible. Plus, there are certainly a lot more than just a "few" of them. And they seem to have taken over a large section of the education sector. They are teaching their beliefs in schools, and thereby increasing their numbers every day.

One major problem, as I see it, is that they are not identified by any name. They are just the "few" who believe that motion and time dilation are reciprocal. I have been calling them "mathematicians," even though all mathematicians certainly do not believe as the "few" believe.

As my arguments went on and on and on, I've been gradually seeing that the disagreement over whether or not motion and time dilation are reciprocal is at the heart of all the disagreements. And, if you try to change the mind of someone who truly believes that time dilation is reciprocal, a true believer will have absolutely no doubt that he is right, and he will just play games with you. He will change the argument to be about words. What does "stationary" mean? What does "reality" mean? And why don't you use the same words as in their dogma? Is it because you cannot understand the dogma terms? And, as I've said many times, their final argument always seems to be the same: "If you read the books I have read and take the college courses I have taken, you will then believe as I believe." Only they do not phrase things that way. Then tend to say, "If you read the books I have read and take the college courses I have taken, then you will understand why you are wrong."

The arguments I've been having on the sci.physics.relativity forum seem to have come to an end. I changed the arguments to be about experiments, and they do not care about experimental results. They claim all the experiments support their beliefs, but I cannot get them to name any such experiments. When I explain the experiments, they argue about word definitions.

I just wish this problem was better known. When I tell people that I am arguing with physicists about physics, and I am not a physicist, they will automatically assume that the "professional" is correct. If I try to explain to them that there are two groups of "professionals" that disagree with each other, they tend to assume that it can't be a very important issue or everyone would know about it. If I tell them that colleges are teaching nonsense, they simply do not believe it.

It is all very interesting for me, but it is also getting somewhat repetitious. I think I have all that I need to write a book on the subject. And, I think I should focus on writing that book. Otherwise, all that I have learned will just be lost.

Another reference that Hafele and Keating used in their first paper is a 1971 book titled "Time and the Space Traveller" by Leslie Marden. Here is the first paragraph from the Preface to that book:

This book was at first conceived as a review of the literature on the clock paradox in relativity theory. The wealth of material which exists on this controversial issue is widely scattered in numerous books and journals, with the result that each time the controversy flares up, the same arguments are put forward with the firm belief that they are original. It seemed desirable, therefore, with the phenomenon of time-dilatation rapidly becoming commonplace (in the laboratory, at least) to gather the material together 'under one roof' and to sort and to examine the arguments in a unified way. The clock paradox has long occupied the attention of the layman. as well as the practising scientist, and so it has been my aim to make the book self-contained and to keep the mathematics as simple as possible.

The arguments I would put forward in my book might not be "original," since they are basically Einstein's arguments, but maybe I can write them down in a way that will make scientists and physicists view them from a different angle and hopefully cause them to draw a "line in the sand" and identify who is on which side of the line. Maybe the mathematicians who believe Einstein's theories result in a "paradox" (i.e., "a statement or proposition that, despite sound (or apparently sound) reasoning from acceptable premises, leads to a conclusion that seems senseless, logically unacceptable, or self-contradictory") can be called "Paradoxers," and those who see no paradox can be called "Relativists."

If the two sides are routinely identified, then maybe colleges and universities wouldn't be hiring so many "Paradoxers" to teach their beliefs in physics courses. That is how I got onto this subject. I took a college physics course and the teacher taught what I considered to be total nonsense.

Added note: When I mentioned some of the above information on the sci.physics.relativity forum, someone responded that the mathematics-obsessed people who I was planning to call "Paradoxers" are commonly referred to as "Einstein Dingleberries." I did a Google search for "Einstein Dingleberries" and got 7 results, one of which referred to the guy who just mentioned the term to me. Then I did a Google search for the singular "Einstein Dingleberry" and got 1,100 results. Then I did a Google search just for "dingleberry" and got 337,000 results, but those results showed that "dingleberry" evidently has nothing to do with Herbert Dingle, it's a term that means

Dingleberry, a common name for Vaccinium erythrocarpum, a type of cranberry
Dingleberry, a slang term for a stupid or foolish person;
Dingleberry, a slang term for dried feces adhering to anal hair
So, I think I'll go back to using the term "Paradoxers." Or maybe "Einstein Paradoxers." That way no one can claim that I'm attacking them by calling them stupid or a chunk of dried feces.