Comments for Sunday, October 14, 2018, thru Saturday, October 20, 2018:

October 19, 2018 - Instead of working on my paper tentatively titled "Atomic Clocks and Time Dilation," I've been reading the book "Splitting the Second: The Story of Atomic Time," by Tony Jones. In a way, reading the book is part of working on my paper. It is research. The book will be a key source for material in my paper. It is a highly readable book, with virtually no mathematics and lots of very interesting details about how atomic clocks were developed, how they work, how they replaced astronomical time, and how time is measured. And it also gets into a few other areas of physics.

For example, this is from pages 146 & 147:

Several observatories around the world now make routine timing measurements of pulsars. The arrival times of pulses are recorded with atomic clocks to accuracies of a few microseconds, and these times are the raw data for numerous astrophysical investigations. By averaging over many years—and billions of pulses—the rotation periods can be determined to a few parts in 1014. ...

One consequence of this high accuracy is that pulsar observations are very sensitive to Doppler shifts. The speed of the Earth around the Sun, about 30 kilometres per second, causes slight changes in the apparent frequency of the pulses which show up very clearly in the timing data. When the Earth is moving towards the pulsar the pulses come more frequently than when the Earth is moving in the opposite direction. Pulsar astronomers correct their observations for the Earth's motion as a matter of routine.

The section I highlighted in red supports my paper on Einstein's Second Postulate, since it says that when the Earth is moving toward a pulsar, the light from the pulsar arrives at c+v where v is the speed of the Earth. And when the Earth is moving away from the pulsar, the light from the pulsar arrives at c-v. Many textbooks and nearly all the mathematicians on sci.physics.relativity would rabidly disagree with that obvious fact.

However, the book doesn't answer all my questions about atomic clocks. It doesn't seem to answer the key question: What is physically different within a clock atop a mountain and an identical clock at the bottom of a mountain that causes them to tick at different rates? Seeking an answer to that question (that I can quote) is the main reason I am reading the book.

The author also seems to go astray on at least one occasion. The book says this on page 134:

There are three relativistic effects we need to consider. The most famous of these is time dilation, summed up in the phrase, "moving clocks run slow". A clock in an aircraft, for example, would be seen to run slow as judged by an observer on the ground. (Equally, clocks on the ground would appear to run slow as seen from the aircraft, but we do not have space in this book to discuss the subtleties of relativity!) Time dilation only becomes appreciable at speeds close to that of light—indeed at light speed time stops altogether — but with the nanosecond accuracy now possible with modern atomic clocks, time dilation has to be taken into account whenever clocks are moved.

He doesn't explain why clocks on the ground would appear to run slow when viewed from an airplane, but the only explanation would seem to be a belief that velocity time dilation is reciprocal. And that belief stems from the absurd belief that motion is somehow reciprocal (#1 on my list of the 10 DUMBEST beliefs in physics). But, that belief doesn't change the fact that I think it is an excellent book. One flaw can be ignored, particularly since he doesn't dig into it.

Interestingly, beginning on page 136, the author also discusses three relativistic effects on time. 1. Gravitational time dilation. 2. Velocity time dilation. 3. The Sagnac Effect.

But his examples of the Sagnac Effect are Hafele-Keating-type experiments. And he says "the Sagnac effect is really time dilation in disguise." His view of the Sagnac effect seems a bit different from the "normal" view, but I don't think it can be described as "wrong." It's just not the "standard" view.

The book also provided an answer to one question I had about cesium atomic clocks. Such clocks contain an "oven" which heats up cesium atoms and shoots them out as a gas. I had a hard time visualizing that, since I tended to wonder how long the oven could do that before the supply of cesium atoms ran out. Do they have to add a new supply of cesium ever day? Every week? Every month?

On page 69, the book says,

Aside from unexpected breakdowns and interruptions for maintenance, caesium beam clocks eventually run out of caesium. It is boiled away at one end of the beam tube and transported to the other end. After running for a few years a caesium beam clock will need to be replenished.

So, that question is answered. The book also answered a lot of other questions I had. It just doesn't seem to answer the key question. But no other book or paper I've found does either.

Added Note: At 11:39 a.m. this morning I finished reading "Splitting the Second: The Story of Atomic Time," by Tony Jones.



I've already commented on how interesting the book is and how easy it is to read, so there's not much point in adding a full review here. What I have to do now is mull over what I learned from the book so that I can cite it in my paper.

October 17, 2018 - I've been working on a new scientific paper, which I have tentatively titled "Atomic Clocks and Time Dilation," but it is slow going. I keep getting distracted. Yesterday, I tried doing a different Google search in hopes of finding some article that explains a detail about atomic clocks that still puzzles me. The search found a Scientific American article titled "How does one arrive at the exact number of cycles of radiation a cesium-133 atom makes in order to define one second?" The article raised more questions than it answered, but there were a couple of interesting things in it. The first was this:

In a collaboration between Essen and Markowitz, the relative durations of the astronomical and atomic (cesium) seconds were measured over an averaging time of 2.75 years with a final determination that the cesium frequency was 9,192,631,770.20 Hz.

That was the first time I'd seen the cesium frequency with decimal places. More interesting, however, was the first part of the last paragraph:

The story of these measurements is nicely detailed in Splitting the Second: The Story of Atomic Time, by Tony Jones (Institute of Physics, 2000).

When I looked through my collection of physics books, I found I had that one in my collection. It is a 199 page book that describes the workings of atomic clocks in great detail, particularly cesium atomic clocks.

My first impulse was to visually scan through it to see if it answered the question I have. But I'm not sure what the question is that I have. Basically, it is just something I do not fully understand. Exactly what speeds up when an atomic clock is raised to a higher altitude? According to mathematicians, nothing speeds up, the two clocks just take different routes through a mathematical model of spacetime that the mathematicians concocted. But we know that if you have two identical atomic clocks in front of you, one higher than the other, the higher clock will tick faster. They can't take different routes through a mathematical model when you have one observer watching both clocks. So, the concocted mathematical model does not represent reality. Reality says that the higher clock ticks faster.

Here's an illustration and text from page 135 of "Splitting the Second":


Why even have a debate when one observer can view both clocks concurrently? All the use of different "inertial frames of reference" accomplishes in this instance is to complicate a very simple situation. High clocks run faster than low clocks. Period. Inertial frames are irrelevant.

That brings us back to my original question: Exactly what speeds up when an atomic clock is raised to a higher altitude?

If the entire clock speeds up, the quartz crystal microwave generator serves the same routine function at the higher altitude as at the lower altitude: it simply corrects for minor fluctuations in the quartz crystal oscillation rate due to minor unfixable imperfections in the design of the clock. If the oscillation rate of the cesium atom increases when the clock is raised, but the quartz crystal microwave generator continues to generate microwaves at the same frequency as at the lower altitude, then the change in the oscillation frequency of the cesium atom will cause the microwave generator to generate matching microwaves.

Which is it?

It seems to me to be an easy question to answer, but no one is answering it, probably because no one else is asking it. Here is a typical diagram for the workings of a cesium atomic clock: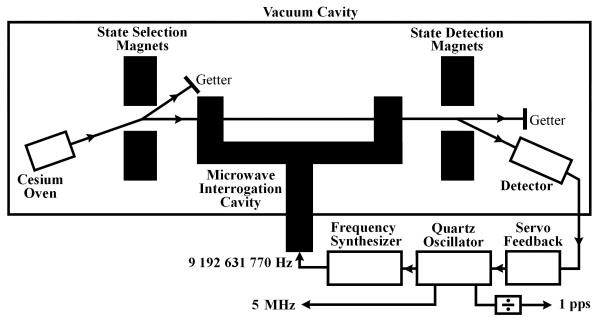 As I understand it from browsing through "Splitting the Second," the above diagram represents an atomic clock viewed from above. That means that the microwaves come in from the side and hit the cesium atoms at the same altitude where the microwave generator is located. The question I'm trying to resolve seems to be: If the microwave generator is at a different altitude than the cesium atoms would that affect the time shown by the clock? In other words, if the above diagram with the cavity "fork" pointed upwards was a side view, and if you flipped the image around 180 degrees to produce a second side view but with the cavity fork pointing down, will the two versions of the clock show different tick rates because the "Frequency Synthesizer" is lower than the "interrogation cavity" in one clock and higher than the "interrogation cavity" in the second clock?

There's probably a better way to phrase that question. I'll have to think about it before I ask the question again in my paper. And what I've done here once again is get sidetracked. I've spent nearly all morning writing this comment instead of working on my paper. But, it hasn't been totally wasted time, since this comment is a record of my thought processes, and I think I now have a better understanding of exactly what it is that I do not understand.

October 15, 2018 - The Flat Earthers are at it again. They had some kind of gathering in a park in Arcadia, California (a suburb of Los Angeles), over the weekend. I noticed a CBS news story about it when I was doing a check of the news as part of my morning routine.

Interestingly, this weekend's gathering seems to have involved a lot of women. Past gatherings seemed to consist exclusively of men. Or maybe it is just the fact that the CBS reporter was a woman, so she mostly interviewed women:

Netta Hagler, who arranged the meet-up of the Flat Earthers, questioned the fact that Earth is spinning through space at 1,000 miles per hour. "But we can't feel it. I don't believe I'm spinning right now. No," said Hagler.

Patricia Steere, who is one of what you might call the "stars" of today's Flat Earth movement (which mostly orbits around YouTube), told [CBS correspondent Brook] Silva-Braga, "Probably most people who hear of it will laugh at it, think we're idiots. But we're not idiots; we're intelligent people from all walks of life and all ages."

I keep wanting to compare the Flat Earthers to the Time Dilation Deniers. They all seem immune to scientific evidence, and they can rationalize away every argument against their beliefs. Here's more from the CBS article:

Did we really go to the moon? "No. We didn't go to the moon," said Steere. "And we don't have a rover on Mars. And we didn't do a fly-by of Pluto. We've never been to space. Period. End of."

In short, Flat Earthers don't believe much of anything unless they see it for themselves. They believe NASA is just part of a broad conspiracy.

According to Steere, "It's a giant game of chess. We, all of us in humanity, are the pawns. Part of the whole Flat Earth thing is keeping us locked down, not knowledgeable about who we are, who we really are as people, and what we're capable of."

National security expert Tom Nichols, who teaches at the Harvard Extension School, takes a dim view of Flat Earth. He told Silva-Braga he thinks something new is happening: "People have really become obsessed with the idea that, if it's not part of their direct experience, it can't be true.

And if they haven't personally observed time dilation, then it cannot be real.

It would seem that it should be easy to come up with an experiment that can determine which side is right. If you put a Flat Earther on an airplane and fly him around the world, how will he argue that he didn't really go around the world but went around a flat surface? Answer: It doesn't make any difference how he will deny it, he will deny it. So, no one is going to pay to fly a Flat Earther around the world to prove a point, when you know he won't believe the point. And nothing you can say or do will change his mind.

I keep coming back to the conclusion that it is all about which part of the brain they are accustomed to using. Do they use the part that works with logic, or do they only use the part that is driven by emotions? If they only work with emotions, no logic can change their minds. If you argue that they are wrong, they will view that as a personal attack and as a threat. And they will defend themselves to the death. If you then try using logic to change their minds, they'll just see it as an attempt to trick them in some way.

The only good part of arguing with them is that it makes people who use logic think more deeply about how things really work. You may never be able to change the mind of someone who only thinks emotionally, but the arguing may help you see things more clearly and understand things you never even thought about before.

October 14, 2018 - Yesterday, I decided to stop arguing with the mathematicians on the sci.physics.relativity discussion forum - at least for awhile. I felt I needed to work on a couple papers, one about how atomic clocks measure time dilation, and maybe another about simplifying Einstein's 1905 paper that introduced Special Relativity to the world. It's like all the arguments I've been having for the past couple years boil down to disagreements over those two subjects. According to the mathematicians, an atomic clock does NOT run faster when you raise it higher. They believe it takes a different route through "spacetime." And the mathematicians (and a lot of other physicists) are absolutely certain that if clocks ran at different speeds at different altitudes it would violate Einstein's First Postulate in his 1905 paper on Special Relativity, which they seem to view as the not-to-be-questioned word of God. In reality, Einstein's First Postulate is a postulate, which means it is something that is simply raised as the topic for discussion. And Einstein explained that it doesn't work at all the way the mathematicians believe it does. The whole paper is about how time moves at different speeds at different velocities.

I went to bed last night feeling good that the debates with the mathematicians were "on hold" for awhile so that I could work on those papers. Then, about 4:30 this morning I awoke when my subconscious mind suddenly threw a monkey wrench into the workings of my conscious mind. My subconscious was telling me that I have a logic problem in my understanding of how atomic clocks work.

It also made me realize that "logic problems" are probably behind all scientific discoveries. The universe is very logical, but you have to figure out the logic. One logical idea may work for awhile, until a discovery shows that there is something illogical about it. Then you have to resolve the logic problem. Mathematics only comes into play when you need to do measurements.

This morning I realized that my understanding of how an atomic clock works required that time be measured at two different speeds within one clock, and the clock adjusts one speed to match the other. But that IS how an atomic clock works. A feedback mechanism keeps the quartz crystal clock ticking at the same rate as the cesium atomic clock.

That poses the question: Would a quartz crystal clock by itself show time speed up when you raised it to a higher altitude? If not, why not? It should, but it might simply be incapable of showing such small changes in time without having the atomic clock attached. Plus, it would show a different number of ticks per second.

That poses another question: How many ticks per second do you get when measuring time with an atomic clock that uses a different kind of atom? That's an easy question to answer. According to one source:

All atoms have naturally consistent vibrational frequency (for strontium its about 430 trillion times per second) and the measurement of these movements is used to create the clock's "tick."

And according to another source:

All commercial rubidium frequency standards operate by disciplining a crystal oscillator to the rubidium hyperfine transition of 6834682610.904 Hz.

So, we have three different atom clocks ticking at three different rates:

6,834,682,611 ticks per second for rubidium


9,192,631,770 ticks per second for cesium
430,000,000,000,000 ticks per second for strontium

Quartz is not an atom. It is a molecule consisting of silicon and oxygen atoms. Its tick rate is related to the power source that causes it to tick.

So, a second is only 9,192,631,770 ticks of a cesium atomic clock. For every other kind of atomic clock a second is a different number of ticks.

In reality, of course, one second is 1/31,557,600th of a year. An atomic clock second is just an attempt to refine that number down into smaller increments in order to do very precise measurements of events unrelated to a solar year. After all, a year has a different length on every planet.

Which brings me back to the question that woke me up this morning. Does an entire atomic clock run faster when raised to a higher altitude, or do only the cesium atoms within the clock run faster, and the "feedback system" then causes the other parts of the clock to adjust to that faster rate?

The answer is that the cesium atoms run at one rate, and the feedback system causes the rest of the clock to adjust to that rate.

Mathematicians wrong in believing that the clock doesn't change tick rates at all, that it is just the rate of some "signals" from the clocks that change, making it appear that the clock changes rates.

That, of course, would mean that if you had two strontium atomic clocks in front of you, one six feet higher than the other, and if there was some way to display their tick rates down to 430 billions of a second, according to mathematicians the two clocks would always show the same amount of time has passed. Meanwhile, scientists say that the higher clock will show that time is passing at a faster rate than what the lower clock shows. And the mathematicians will argue that that is not possible, because it would violate Einstein's First Postulate.

Why hasn't anyone done such an experiment?!

The NIST did an experiment something like that, but, unfortunately, their atomic clocks were not stacked one atop the other so that one observer could view both clocks, the clocks were in different rooms. That means that "signals" were required to make any comparison. Sigh.

What I don't understand is why hundreds of scientists haven't addressed these same issues before. They seem to realize that there is an endless disagreement over the so-called "twin paradox" or "clock paradox." But no one seems to have ever tried to pin down the exact cause of the disagreement. Maybe it is because they do not want to get into opinion-versus-opinion arguments. If you tell someone that they are misinterpreting Einstein's First Postulate, that person will just say, no, YOU are misinterpreting Einstein's First Postulate, they are interpreting it correctly. And it seems nothing you can say will change it to a resolvable scientific argument. It will always remain just opinion versus opinion.

Performing experiments is supposed to be the way to resolve arguments. That is why Hefele and Keating did their experiments involving flying atomic clocks in different directions around the globe. They wanted to show that time dilation is real, and moving clocks really do run slower than stationary clocks. But the mathematicians will just smile and shake their heads in wonder over how anyone can be so stupid as to believe that time doesn't tick at the same rate everywhere.

In the process of discussing and researching these topics, I've accumulated nearly 500 physics books and close to a thousand papers and articles. While I've tried to keep them organized, they really aren't organized. I would put all the books and papers about Einstein's First Postulate in one place, books about the Second Postulate in another place, and books about time dilation in another place, but then I'll get into an argument about how atomic clocks work, and I have nothing that tells me which books have good material about that subject. What I'd do instead, is find new papers and books about atomic clocks, only occasionally finding that I already have some good sources about that subject.

Yesterday, while browsing through some of the books I have, I noticed several Richard Feynman books and realized I never checked them to see what they have to say about time dilation and atomic clocks. It says this on page 85 and 86 of my hardcover copy of Feynman's "The Character of Physical Law":

It is evident, is it not, that if you are in a space ship
going at 100,000 miles a second in some direction, while I
am standing still, and I shoot a light beam at 186,000 miles
a second through a little hole in your ship, then, as it goes
through your ship, since you are going at 100,000 miles per
second and the light is going at 186,000, the light is only
going to look to you as if it is passing at 86,000 miles a
second. But it turns out that if you do this experiment it
looks to you as if it is going at 186,000 miles a second past
you, and to me as if it is going 186,000 miles a second past
me!

The facts of nature are not so easy to understand, and the
fact of the experiment was so obviously counter to commonsense,
that there are some people who still do not believe the
result! But time after time experiments indicated that the
speed is 186,000 miles a second no matter how fast you are
moving. The question now is how that could be. Einstein
realized, and Poincare, too, that the only possible way in
which a person moving and a person standing still could
measure the speed to be the same was that their sense of
time and their sense of space are not the same, that the
clocks inside the space ship are ticking at a different speed
from those on the ground, and so forth. You might say, 'Ah,
but if the clock is ticking and I look at the clock in the space
ship, then I can see that it is going slow'. No, your brain is
going slow too! So by making sure that everything went
just so inside the space ship, it was possible to cook up a
system by which in the space ship it would look like 186,000
space-ship miles per space-ship second, whereas here it
would look like 186,000 my miles per my second. That is a
very ingenious thing to be able to do, and it turns out, remarkably
enough, to be possible.

I wish I'd found that quote while I was still arguing with the mathematicians on the sci.physics.relativity forum. But, they'd undoubtedly just argue that Feynman wasn't saying what he seems to be saying. He's saying that time and clocks tick at the same rate everywhere, it's just that I am misinterpreting what he wrote because I have some irrational idea that time and clocks tick at different rates at different altitudes and velocities. That would violate Einstein's First Postulate.