Comments for Sunday June 23, 2019, thru Sunday, June 30, 2019:

June 30, 2019 - After making about a dozen minor changes to the latest version (version #4) of my paper on Radar Guns and Einstein's Theories this morning, I submitted it to Vixra.org at 11:09 AM. It should be available on-line tomorrow morning. If so, I'll write a comment to that effect.

Since the theory described in the paper can be easily confirmed by experiment, I'm hoping someone will do so. I don't have the $1,195 needed to buy a Genesis GHD (Genesis Hand-held Directional), nor the $995 needed to buy a Genesis VPD (Vehicle Processing Directional), nor even $845 to buy a Decatur Scout radar gun. And, even if I did buy one of them, I seriously doubt that anyone would accept that I used the gun to prove my own theory. They will only accept validating results if they come from someone else. And, if other people want to help validate the theory, I say, "The more the merrier."

The revised paper suggests that any of those three radar guns made by Decatur Electronics, Inc., can be used in such an experiment. The primary basis I have for picking those three guns is because their user's manuals say the guns will not "work" if the guns are moving. I interpret that as meaning the guns will not show relative speeds as most other guns do, the three guns will show actual speeds. While "complex" radar guns will show a highway sign to be moving at 60 mph (it's relative speed) if the gun is pointed at the sign from a vehicle traveling at 60 mph, "basic" radar guns do not "work" that way. They will show the highway sign to be stationary, with an "actual" speed of zero.

All three of the guns have "directional" capability. That means there is a button on the gun that will tell you if the 60 mph reading the gun shows means the target is moving toward the gun or away from the gun. According to my paper, that also means that a gun used inside a truck can tell which way the truck moving at 60 mph. Point the gun at the front wall and the gun will tell you the wall is moving at 60 mph away from the gun. Point the gun at the rear wall, and the gun will tell you that the rear wall is moving at 60 mph toward the gun.

My revised paper also mentions the "cosine effect," which means that if you point the gun directly at the side wall of the moving truck, it will give no reading, but if you point it at an angle to the side wall, you will get what this diagram shows:



So, if you point the gun at a 70 degree angle to the interior side wall of a truck traveling at 100 mph, the gun will show the speed of the truck as 35 mph. That isn't anything specific to a "basic" radar gun, all radar guns will do that if used from a stationary position outside while pointed at traffic in the opposite lane.

The question that I'm asking myself right now is: What do I do next? When the paper is available, should I mention it on the sci.physics.relativity forum? Yes, I will probably do that. I'm not interested in arguing opinions with anyone there, but it might be interesting to see what kind of reaction it gets.

I'll probably also submit it to Academia.edu and delete the version they currently have.

What else? Should I mention it on other forums, like the Astrophysics and Physics Facebook group? It's a moderated group, but I'm a member, so I might give it a try. I might also start a new thread about it on my own blog.

Then what? I might try getting some well-known scientist to read it and give me his opinion. I might even try submitting it to Science or Nature. Science magazine will almost certainly just reply with a form letter saying "this is not the sort of work that we publish and we are thus not considering it for publication," but Nature might put it into their system to see what others have to say before they reject it. They did that with the version I sent them a year ago.

I could work on the Radar Guns and Wave Theory paper I had been thinking about, but now I think Radar Guns and Einstein's Theories says all I have to say about radar guns and wave theory. Since it explains how the theory can be confirmed via experiments, it is probably the most important paper I've written.

I could also spend some time revising other papers. Or maybe I'll just read another Janet Evanovich Stephanie Plum novel, then another, then another.

June 28, 2019 - Yesterday evening, I finished listening to the 11-hour 50-minute audio book version of "21 Lessons for the 21st Century" by Yuval Noah Harari.



When I borrowed the audio book from my local library and started listening to it on my MP3 player, I was mostly just thinking about how much I enjoyed Harari's previous book Sapiens. I expected 21 Lessons to be mostly a philosophy book, and it is that. But Harari also mentions Donald Trump fairly often in the book as Harari examines current events in order to project what those events likely mean for the future. Here's an example:

Unable to conduct a reality check, the mind latches on to catastrophic scenarios. Like a person imagining that a bad headache signifies a terminal brain tumor, many liberals fear that Brexit and the rise of Donald Trump portend the end of human civilisation.

And another example:

Whereas the major movements of the twentieth century all had a vision for the entire human species – be it global domination, revolution or liberation – Donald Trump offers no such thing. Just the opposite. His main message is that it's not America's job to formulate and promote any global vision. Similarly, the British Brexiteers barely have a plan for the future of the Disunited Kingdom – the future of Europe and of the world is far beyond their horizon. Most people who voted for Trump and Brexit didn't reject the liberal package in its entirety – they lost faith mainly in its globalising part. They still believe in democracy, free markets, human rights and social responsibility, but they think these fine ideas can stop at the border. Indeed, they believe that in order to preserve liberty and prosperity in Yorkshire or Kentucky, it is best to build a wall on the border, and adopt illiberal policies towards foreigners.

It was a very enjoyable book, but it also showed me that is not a good idea to be listening to or reading more than one book about a given subject at the same time. Somehow I found myself absorbing three books on similar subjects. The book I'm currently listening to on CDs when driving also gets into some of the same subjects as Harari does his book, and the book I'm reading on my Kindle during breakfast and lunch also mentions Donald Trump and the kind of thinking that put him into office. The books all generally agree that Trump is a disaster for America, but they do not fully agree on what lessons are to be learned from having elected a sleazy con-man liar like Trump to be our President.

So, this morning I spent some time sorting through the audio books I have available to make sure the next one I listen to on my MP3 player is not about politics or Trump.

Meanwhile, on the sci.physics.relativity UseNet discussion forum, Paparios is still reading my posts here and commenting about them there. In a post he wrote last night he repeatedly argued that I "missed to put this text in context" when I wrote about the way some manufacturers of radar guns use photons bounced off of the gun's radome for comparison to photons returned from the target, instead of using photons created by the LO (Local Oscillator). "As a consequence your conclusion is completely wrong" Paparios declares. Well, if I am wrong he'll be able to someday say, "I told you so." (I expect he'll be saying that whether I'm right or wrong.) But, until then, I'll be revising my paper on Radar Guns and Einstein's Theories with the hope of putting the new version on-line next week.

June 27, 2019 - I've finished reading Chapter 16 of Principles of Modern Radar: Radar Applications at least three times. I probably highlighted about a fourth of it, in different colors to represent differences in importance and accuracy. The two most important passages are this one from the bottom of page 762:

The S-5 is a homodyne radar system and requires a sample of the transmitted signal to serve as the LO. The radome is not totally transparent to the transmitted energy by design. Some of the transmitted energy is reflected back to the receiver side of the reflector. This transmitted energy serves as the LO that mixes with the returned Doppler-shifted signal.

and this one from the bottom of page 765 and the top of page 766:

The signal isolation between ports 1 and 2 can be as high as 50 dB if the turnstile junction is well designed for the exact frequency of operation. As a result, the LO signal required for homodyne operation is almost nonexistent, given the very low-level direct leakage from port 1 to port 2. Kustom [Signals, Inc.] developed a plastic radome that fit over the end of the horn to purposely reflect a small amount of RF power back into port 2 and create an LO reference signal at the required mixing level.

The acronym "LO" stands for Local Oscillator. It is a device inside a radar gun that creates the photons that the gun compares to the return photons to get the "beat frequency" that is equal to the speed of the target. The photons from the Local Oscillator oscillate at the same frequency as the photons the gun emits, and are therefore perfect for comparison purposes.

What the above passages say is that in some radar guns the LO is purposely not used, and, instead by design, the gun uses photons that bounce off the "radome," which is the cover over the transmitter/receiver. On a regular weather or military radar unit the radome looks like this:



On the front of a radar gun a radome looks like this: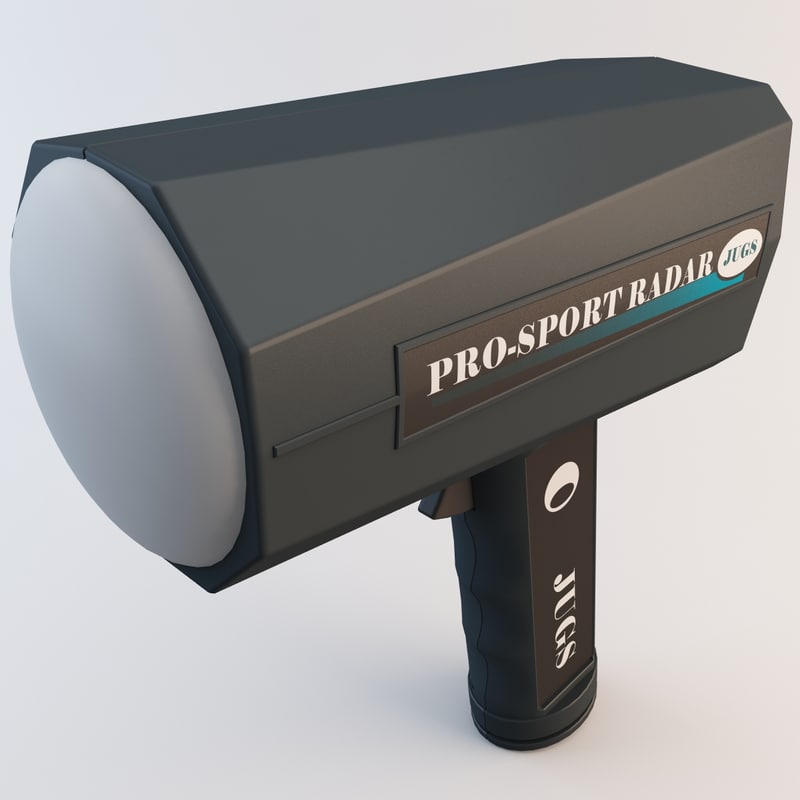 What this means is that the radar gun emits photons that bounce off the specially made radome at the front of the gun and return to the radar as the comparison photons. That is the same as if the gun had no radome but was inside a laboratory on a train and pointed at the front or back wall. If the wall (or radome) is moving relative to the ground outside, the gun will measure that movement and it becomes the speed of the gun. And when the gun measures the speed of a real target, the speed of the real target will be compared to the speed of the gun.

So, if the gun is moving at 60 mph and the target is a stationary highway sign, the gun will add its speed, 60 mph, to the speed of the highway sign (zero) and will compute the sign's speed as 60 mph. And if a target vehicle is going 80 mph, its speed relative to the gun is 20 mph, so the gun will add 20 mph to the gun's 60 mph speed and give a target speed of 80 mph. If the target is going 60 mph, the gun will show "no reading," since it only shows relative speeds over 10 mph.

This means that if the gun does NOT have a radome that reflects photons back into the receiver, the gun is what I call a "basic" radar gun that, when used from a patrol car traveling at 60 mph, will give "no reading" for a highway sign, and will show 60 mph if it is pointed at the back of a truck that is traveling at 60 mph.

And it probably means that the three Decatur radar guns that do not "work" when the guns are moving are most likely radar guns with radomes that do NOT reflect photons. So, they are what I have been calling "basic radar guns."

I'll be revising my paper on Radar Guns and Einstein's Theories to include this information, but I'll continue to look for experimental confirmation.

June 26, 2019 - While I've stopped arguing on the sci.physics.relativity discussion forum, the person who calls himself "Paparios" is still arguing his beliefs there in the same screwball way as before, only now he is responding to what I have posted on this web site.

In yesterday's comment I mentioned what the Radar Technology Encyclopedia says about Einstein's Second Postulate and how it fully agrees with what I and Einstein said. I then wrote:

It then explains how light (and all electromagnetic radiation) consists of photons, not waves.

In this post to the sci.physics.relativity forum, Paparios copied and pasted what I wrote and then he stated:

Unfortunately, you failed to copy the paragraph that follows your cite, which nicely clarifies what we have been discussing:

"With the advent of quantum mechanics, electromagnetic radiant energy is seen to be created, destroyed, and transported in discrete quanta or photons rather than through a continuous transfer of energy implied by electromagnetic waves in the classical representation of electrodynamics. Because the energy transported by large numbers of photons is, on the average, equivalent to the energy transferred in a classical electromagnetic wave, for macroscopic applications, including radar and communications, Maxwell's field equations are accurate and extremely useful tools."

Note that Paparios simply says the paragraph "nicely clarifies what we have been discussing," but he doesn't saw WHAT it actually clarifies. That's one of the reasons I stopped posting comments there. Paparios constantly posts links and says, in effect, "Here is confirmation of my beliefs." And he expects me to hunt through the information at the link to find the "confirmation" of his beliefs.

In this case, however, I had thought about quoting that same paragraph in order to explain what the paragraph is saying. I just didn't do it because I didn't have the time yesterday. It is saying that energy is created, destroyed(?) and transported in the form of individual photons, not waves. However if you look at the "average" amount of energy being transferred, you can view energy as "classical" waves and use Maxwell's field equations effectively.

In other words, although the math works for energy as waves, you are working with averages, not with individual quanta (a.k.a. "photons"). It says what I had been saying on the forum, that light consists of photons, not waves, even though the math for waves can also be made to work. Paparios was arguing that light consists of waves, and photons are just imaginary nonsense.

In that same post on sci.physics.relativity, Paparios next quoted what I wrote about Chapter 16 in the book Principles of Modern Radar, and he stated:

The book is for sure very useful in this discussion, particularly read section 16.9.1 in page764 and see figure 16-13, which reads:

"Turnstile Junction Used as a Duplexer for Simultaneous Transmit and Receive [GPRC]."

AGAIN, he seems to be claiming the book somehow supports his beliefs, this time his belief that radar guns transmit and receive at the same time, but he doesn't explain HOW it does so. He quotes from a caption to an illustration, but fails to see that the actual text says something very different:

While the TR-6 operated only in the stationary mode, it incorporated several technological breakthroughs. Kustom developed a simple, inexpensive, but very effective, duplexer that provided high signal isolation between the transmitter and receiver, and very good detection range performance. The TR-6 duplexer was a turnstile junction that allowed simultaneous transmit while receiving.

and

In the case of the turnstile junction used in the MR-7/MR-9, transmit power is applied to port 1. One half of the transmitted power goes into the circular waveguide port and is transmitted as a circularly polarized wave toward the target vehicle. Half of the remaining power divides equally between ports 3 and 4, with no power going to the receiver diode detector/mixer on port 2.

So, it appears to be saying the gun transmits half of its emitted energy to the target and then captures the other half within the gun. And while it is capturing that second half within the gun, it is receiving return energy from the target. So, it doesn't actually transmit to the target at the same time it is receiving from the target, it just doesn't have to turn the power off when receiving. Evidently that allows the gun to switch between send and receive more quickly. There is no "power up" and "power down" operation.

I still haven't found the time to study that chapter to see what else it says that could be of value. It is near the top of my to-do list.

Meanwhile, I sent an email to a small company that makes radar guns, asking if there was a copy of the user manual on-line anywhere. They replied,

User manuals are only provided to current customers.

That seems to be the case for some other manufacturers, too. And they only answer technical questions from "current customers." So, I'm still hunting.

June 25, 2019 - Now that I'm no longer involved in lengthy arguments on the sci.physics.relativity discussion forum, the idea of writing a scientific paper about Radar Guns and Wave Theory seems far less important. Clearly, it is much more important for me to find confirmation of the way I describe how radar guns work in my paper on Radar Guns and Einstein's Theories. To do that I need to determine which guns "don't work" when the radar gun is moving, and I need to verify exactly what "don't work" means. In yesterday's comment I mentioned 3 radar guns that, according to their user's manuals, "don't work" when the gun is moving:

1. Decatur Genesis VP Directional
2. Decatur Genesis GHD
3. Decatur Scout

The web site HERE indicates that there are a lot more "stationary only" police radar guns made by Decatur Electronics Inc. that should work (and "not work") the same way. Plus, there are other radar guns made by Applied Concepts Inc., Kustom Electronics Inc. and nearly a dozen other companies that might have user manuals available on-line for examination. And they might have email addresses where I could ask questions.

I might even revise my Radar Guns and Einstein's Theories paper to list the radar guns which should work the way I describe in the paper. People who have access to such radar guns might then experiment with them and advise me of the results.

Meanwhile, in my research I came across two interesting books:


The Radar Technology Encyclopedia confirms my interpretation Einstein's Second Postulate on page 468:

Albert Einstein's special theory of relativity, introduced in 1905,
showed that all the experimental results could be explained
within the context of his theory; there was no need of the
aether. Light, Einstein held, and all electromagnetic radiation,
travels in space at a constant speed of approximately 3 x 108
m/s, independent of the speed of the source.

It then explains how light (and all electromagnetic radiation) consists of photons, not waves. I should definitely use it as a reference in the next version of my paper on Radar Guns and Einstein's Theories.

Principles of Modern Radar: Radar Applications has an entire chapter on police radar guns that begins on page 749 and ends with a list of papers for "further reading" on page 778. I just need to find the time to dig through it to see if it contains anything that can help resolve arguments. It looks like it could be very helpful, and would probably also be a good reference to use in my paper.

June 24, 2019 - Yesterday, I ended my participation in the most recent discussion I had started on the sci.physics.relativity UseNet group. It had turned into a total waste of time. The people I was arguing with were simply playing the same games that Donald Trump plays. They were turning every attempt to discuss facts into an opinion versus opinion argument. They were also claiming I said things I never said in order to put me on the defensive. They were posting links which they claimed supported their arguments, but didn't say where in the link it did such a thing, forcing me to hunt for support for their arguments. They were claiming that NASA was lying or incompetent when I provided links to NASA sites that supported my arguments. And they repeatedly claimed that Richard Feynman and Albert Einstein didn't know what they were talking about when they stated that light consists of particles, not waves. And on and on and on.

The final argument was that all ten of those links I provided yesterday showing that radar guns do not transmit and receive at the same time proved nothing, since they were mainly about large, powerful radar devices, not low-power radar devices like radar guns. They claimed that low-power radars work different from high-power radars. And since none of the links mentioned photons, they claimed that meant that radars emit waves, not photons.

After I posted my last message to the thread, I did some research and found Patent #US5525996, which is for "Police Traffic Radar for Calculating and Simultaneously Displaying Fastest Target Speed." It uses the illustration below to describe how the duplexer works, only it says it will use the term "turnstile" instead of "duplexer." A "turnstile" normally allows one person or object at a time to pass through a barrier. Is that what is meant? Or was the inventor thinking of a "revolving door" which usually allows people to enter a building at the same time others are leaving the building. The illustration seems to show "signals" being transmitted and received at the same time.

The patent says on page 47 of the pdf file:

Referring to FIG. 2, there is shown a block diagram of the
antenna unit such as antenna unit 10. A conventional micro
wave horn 20 having a conventional corrective lens 22 emits
coherent microwave energy toward moving and non-moving
objects in the scene in front of the antenna. Some of the
microwave energy bounces off the moving and non-moving
objects in the scene and returns as microwave energy 24.
This energy is collected and concentrated in horn 20 and fed
to a turnstile duplexer 26 (hereafter turnstile). The function
of the turnstile 26 is to provide isolation between the
transmitted and received microwave energy. Turnstiles are
known and are described in Montgomery et al., PRIN
CIPLES OF MICROWAVE CIRCUITS TK6553. M637
which is hereby incorporated by reference. Basically, the
turnstile is designed to allow the transmitter and receiver
circuitry to share the same antenna.

Note that the patent uses the term "microwave energy" instead of "microwaves" or just "waves." Unfortunately, it doesn't use the term "photons" at all. So, the only illustration of "microwave energy" in the entire patent is the two jagged arrows (#24) which could be photons but definitely are not continuous waves.

There's no point in showing this patent (and other patents for other radar gun components) to the people on sci.physics.relativity, since they will just argue that the phrase "provide isolation between the transmitted and received energy" does not mean that the radar gun cannot transmit and receive at the same time. And that means they will want me to somehow prove it does mean that. So, it becomes just another idiotic opinion versus opinion argument.

Meanwhile, yesterday I also found user manuals for a couple more radar guns. The Genesis VP Directional police radar user's manual says this on page 16:

Q. Will my radar work while my vehicle is moving?
A. No, the Genesis-VPD radar gun is a stationary only models, so
your motor vehicle should be parked. You need to hold the radar
steady while operating it.

And the user's manual for the Genesis GHD & Scout police radar guns says this on page 33:

Q. Will my radar work while my vehicle is moving?
A. No, the GHD and SCOUT radar guns are a stationary only models,
so your vehicle should be parked. You need to hold the radar
steady while operating it.

But, what do they mean when they say that the gun does not "work" when in a moving vehicle? I seriously doubt that it means the gun turns itself off if it detects it is moving. It is much more likely that it means that if the gun is moving it will not show results that can be used in court. Unfortunately, it appears that the only way to find out is to call them. But, since I'm not about to pay $900 for a radar gun just to prove how it works, I can't claim to be a customer. Interestingly, both of those guns are used by the Pennsylvania State Patrol.



But I don't think there is any chance of me getting any information from the Pennsylvania State Police about using those radar guns while moving. I think I need to find out why they are only allowed to use radar guns that "work" only when stationary. Since it is a "law" of some kind, there should be some explanation somewhere for why the law was passed. But, how likely is it that the law was passed to avoid discussions of Einstein's Second Postulate? Not very.

June 23, 2019 - It looks more and more like I need to write another scientific paper. As I stated in previous comments, this one would be about Radar Guns and Wave Theory. The arguments I've been having on the sci.physics.relativity discussion forum are just plain crazy. When I quoted Richard Feyman's statement that electromagnetic energy consists of particles, not waves, Paparios responded:

You should be aware that Feynman was not an engineer nor a radar specialist, so your quote is totally irrelevant to the subject.

Huh?

The people on the forum all endlessly and repeatedly argue that a radar gun transmits and receives radio waves at the same time. And Paparios inexplicably posted TWO links which clearly show that radar guns do NOT transmit and receive at the same time, and he claimed the articles support his beliefs. (Click on links ONE and TWO to access that information.) The articles explain that there is a electronic device called a "duplexer" which switches between transmit and receive.

Using "radar gun" and "duplexer" as a Google search argument, I found eight additional sources which say that radar guns CANNOT transmit and receive at the same time. Click on THREE, FOUR, FIVE, SIX, SEVEN, EIGHT, NINE, and TEN to access those eight sites. And there are many many more.

Link four says:

Duplexer is a microwave switch, which connects the Antenna to the transmitter section for transmission of the signal. Therefore, the Radar cannot receive the signal during transmission time.

Similarly, it connects the Antenna to the receiver section for the reception of the signal. The Radar cannot transmit the signal during reception time. In this way, Duplexer isolates both transmitter and receiver sections.

Link six says:

While the antenna is transmitting, it cannot receive—and vice-versa.

Link seven says:

The antenna rapidly switches back and forth between transmitting and receiving by means of a duplexer.

Link eight says:

an antenna cannot receive whilst emitting, and vice-versa. A piece of hardware known as a duplexer switches the antenna between these two roles.

Yesterday, I posted all eight links and the quotes from them, and yet Paparios this morning asked:

Do you have any reference stating that the radar gun switches the output and the input?

What does that mean? I'll have to ask. Switches the output and input??? I have references which say there are controls that prevent radars from transmitting directly into the receiver. That would blow all the circuits. A radar transmits a very POWERFUL signal. It gets back very weak signals, because most of what was transmitted went off in other directions and never returns to the radar. If you transmitted directly into the receiver .... kablooey!

Yesterday, I finally told them that I wasn't going to argue any other subjects until this one subject was fully discussed. The fact that a radar cannot transmit and receive at the same time shows a lot of their other claims to be nonsense. It clearly says that a radar gun cannot emit a continuous wave for as long as the trigger is pulled. When the trigger is pulled, the gun immediately shows the speed of the target. It couldn't do that if it was only transmitting and not receiving. So, the gun must be switching back and forth between transmit and receive. Link number eight above says,

usually, antennas emit radio waves for a few thousandths of a second, then wait for reflections for up to several seconds at a time before transmitting again. This is because an antenna cannot receive whilst emitting, and vice-versa.

That particular quote isn't about radar guns specifically. There is no need to "wait for reflections for up to several seconds" with a radar gun, because the target will always be less than three miles away (2 miles is about the maximum range for a radar gun), and because the photons from the gun can travel to a target 3 miles away and back again in less than 1/31,000th of a second. Most of the time that is required for the gun to show the target's speed is spent in waiting for the electronics in the gun to perform their functions.

Clearly the best way to argue this matter is to write a paper about Radar Guns and Wave Theory where I can use illustrations to show that the illustration below is nonsense:




It shows waves being transmitted from the police radar transmitter while waves are coming back from the moving car. So, the gun must be transmitting and receiving at the same time.

Plus, aren't waves supposed to flow around an obstacle as shown in the diagrams below?



So, wave theory says that sometimes light (and all electromagnetic energy) acts like a wave, and sometimes it acts like a particle. And wave theory evidently also says that waves sometimes reflect back from and obstacle and sometimes flow around an obstacle. It seems to me you have to be NUTS to believe wave theory.