Comments for Sunday, August 23, 2020, thru Monday, Aug. 31, 2020:

August 31, 2020 - Yesterday afternoon, I finished reading another library book on my Kindle. It was "The Art of Her Deal: The Untold Story of Melania Trump" by Mary Jordan.



It's an okay book, providing a lot of detail about Melania Knauss's background and how she became Mrs. Donald Trump and America's First Lady. I found it interesting that the code names the Secret Service use for them is "Muse" and "Mogul," with Melania being the "Muse," of course, probably because she's always thinking about the best way to do things while "Mogul" doesn't seem to think at all. Here's the first passage I highlighted in the book:

To a remarkable degree for a couple, Melania and Donald Trump have always lived quite separately; they are often in the same building but rarely in the same room. That, however, is part of their deal, and it suits both of them.

Some people have called Melania a "gold digger," but she comes across as a better "deal maker" than her husband. It often seems their relationship is some kind of "deal." Here's another quote from the book:

Asked years ago if she would be with her husband if he were not rich, she shot back, "If I weren't beautiful, do you think he'd be with me?"

She was a fashion model before meeting Trump, doing well, but she never really hit the "big time," even though she got a lot of fame when she appeared on a 9-story high billboard for Camel cigarettes on New York's 42nd Street.




The impression you get from reading the book is that she's primarily interested in making sure her son Barron gets his fair share, just like Trump's other kids from previous wives. Plus she tries to keep Barron from being tainted and corrupted by his surroundings. Barron is now 14 years old, and appears to be the tallest member of the family. Melania comes across as intelligent (she originally planned to be an architect and took architecture in college), and it's clear she doesn't agree with her husband about many things. From time to time, she's even caused him to change his mind. While I totally detest her husband, I think Melania keeps him from being even worse than he is. That puts her on the correct side, as far as I'm concerned.

August 30, 2020 - I've been doing a LOT of research into the history of radar guns, particularly into the history of Kustom Electronics of Chanute, Kansas, the company which claims to have invented the first radar gun that can be used while moving.

It seems the company has many names: Kustom Electronics, Kustom Signals, Kustom Amplification, Kustom R&D, and Kustona Signal, Inc. It evidently began as Kustom Electronics in 1964, when it was founded by a musician who taught himself how to make better music amplifiers than anyone else made. His name was Charles "Bud" Ross. The company he founded made electric guitars, electric basses, amplifiers and other musical equipments. Evidently, Bud Ross was assisted by electronics consultant, Fred Berry, who had previously assisted in the development of the now obsolete Dominator radar gun for another company. The Dominator had a display that looked like this: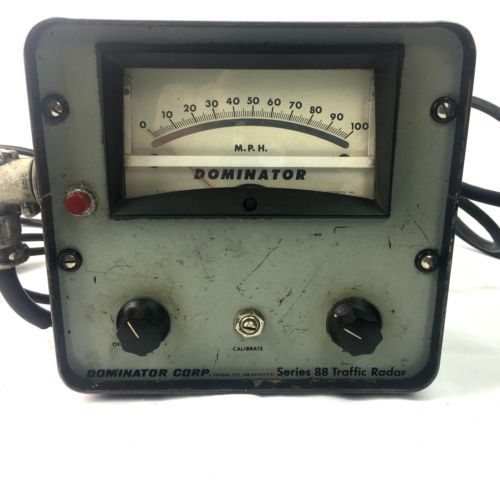 The gun itself looked like a spotlight attached to the roof or side of a police car.

Fred M. Berry appears to have just one radar gun patent. It's for a "Method and Apparatus for Digitally Determining the speed of a moving object." It was filed on April 24, 1970 and the original assignee was "Kustona Signal, Inc." of Chanute, Kansas. The patent was granted on September 5, 1972, and appears to be for using a crystal clock which can digitize a reading by a radar gun, enabling the gun to be far more precise than just viewing an analog wiggling arrow on a meter like the one shown above for the Dominator. I don't see much else of interest in the patent.

What I was looking for was a patent that shows how

Kustom developed a plastic radome that fit over the end of the horn to purposely reflect a small amount of RF power back into port 2 and create an LO reference signal at the required mixing level.

The quote above is from page 766 of the 2014 book "Principles of Modern Radar, Volume 3: Radar Applications" edited by William L. Melvin and James A. Scheer. It allows a radar gun to measure its own speed.

The problem is that I can find no patent that even mentions the radome. The key Kustoms Electronics patent, #3,936,824, is titled "Method and Apparatus for Digitally Measuring Speed." It's dated February 3, 1976. It just says that the gun being patented is somehow able to measure the "closing speed" of a target. "Closing speed" is what mathematicians believe radar guns measure. It's a single number representing the speed of the gun plus the speed of the target. Example: 110 mph.

The patent says,

The incoming Doppler signal, which in the moving mode, represents both speed of the radar platform and speed of an approaching target vehicle, is separated into two signal components by selective filtering. One component represents the sum of the ground speeds for the radar platform and approaching vehicles.

That is already nonsense. If pulling the trigger on your radar gun gives you the combined speed of the gun and the target, there is no way to automatically separate one number into two numbers by "selective filtering." You have to know some other way what at least one two of the numbers actually is.

Later in the patent description it attempts to explain how the "selective filtering" works:

The radar signal component representing the ground speed sum for the radar platform and the approaching target vehicle, and the component representing radar platform speed are combined. The radar platform speed is subtracted from the combined component, resulting in a digital count representing approaching target vehicle speed. In the stationary mode, there is no radar platform doppler pulses in the radar return and consequently, the returning pulses may be processed directly and no subtracting function is performed.

The part I highlighted in red is just double-talk which can be summarized this way:

A total of the radar gun's speed and the target speed is further combined with the radar gun's speed. The radar gun's speed is then subtracted from the combined number to produce the speed of the target.

That, of course, makes no sense. It just results in getting a combined speed once again. Plus, they do not say how they got the "radar platform speed." It seems clear that they get it by bouncing photons off of the radome, but they do not want to mention that. Is it because mathematicians (and possibly the patent clerk) will think that is totally impossible and therefore unpatentable? Everything would be explained if they just stated how they get the "radar platform speed." Instead, they seem to be saying that they get a combined speed of 110 mph from the gun, and then through "selective filtering" they magically subtract 50 mph from that to get the target speed of 60 mph.

The part I highlighted in red can almost certainly be stated correctly this way:

The radar gun's speed is combined with the target speed, and then the radar gun's speed is subtracted from that combined speed to get the target speed.

That way you get a correct answer while demonstrating that you have at least one of the numbers before you begin the mathematics. You have the radar gun's speed because you got it by bouncing photons off of the radome. It is determined first because the radome is the nearest target, and the return signal is always the same strength, so there is no question as to what is being measured.

Maybe there's something I'm missing, but it's like they've forgotten how they got the patrol speed (i.e., the "radar platform speed") by bouncing photons off of the radome. Or they do not want to admit or tell anyone how they got it. They hide things with the term "selective filtering" which explains nothing.

I think I need to find another way to research this.

August 28, 2020 - Hmm. When I went for a walk to get some exercise on Wednesday evening, I walked mostly through the nearly empty parking lots of a couple strip malls. It was after normal business hours and the stores were mostly closed. When I passed the Dick's Sporting Goods store, I was puzzled to see that they were boarding up the windows. I wondered if they were going out of business. But why would they board up their windows if they were going out of business? Besides, the place looked fully stocked. It was a puzzle. But, I didn't think much more about it.

Then, this afternoon, I had to go to Piggly Wiggly to buy some groceries. It's in a different strip mall about 2 miles north of the Dick's. As I walked toward the Piggly Wiggly from my car, I saw that there were three stores next to the Piggy Wiggly that were also boarded up, but with front doors that seemed to be open for business. I walked to the nearest one to see if there was some sign that might explain things. The only signs on the door were to give the hours, to say the store was open, to say that only five customers were allowed in the store at one time, and to say that masks were required. As I was reading the signs, someone who looked like she worked in the store came up from behind me. I asked why the stores were all boarded up. She replied that it was because of the rioting and looting and the burning of a lot of stores in Kenosha over the past week.

Of course. I should have guessed that. But there had been no rioting in Racine, as far as I was aware of, and I was at least 12 miles from the part of Kenosha where the riots happened. Plus, all the stores that were burned and looted in Kenosha were in business districts where there was only a sidewalk between the street and the store windows. I don't recall ever seeing a crowd or an individual walk through a large parking lot to get to a store window he planned to break. Evidently, however, the mall store owners felt it was better to be safe than sorry. I don't know how much it costs to board up store windows, but it is almost certainly cheaper that rebuilding the entire store after it has been burned down. But, if there were going to be riots in Racine, why would they take place in that part of Racine? There's a business district about a mile to the east of the strip malls and a bigger one a mile beyond that. Yet, for all I know, the business district places more likely to have riots are already boarded up.

As I was writing this comment, I checked the news and found a story titled "Rumors Of Jacob Blake Protests In Racine Are 'False': Cops." The article is dated today and begins with this:

Racine police say they've been inundated with rumors about Jacob Blake-related protests happening in Racine, but they've been "all false."
...
Several business in the Highway 20 corridor in Racine and Mount Pleasant have been taking precautions this week. Earlier, Festival Foods shut down early and workers were seen boarding up the front doors of Kohl's Department Store at the intersection of Highways 20 and 31.

And here's the picture they used:



Hmm. Kohl's and Festival Foods are in the strip mall that is kitty-corner from the one I visited. So, the boarding up is mostly "better safe than sorry" but maybe with a dash of panic added in for flavor.

August 27, 2020 - I spent most of yesterday studying and researching the patents behind radar guns that can be used while moving. There seem to be basically six of them. Most of my time was spent creating versions of the abstracts that I could highlight and easily read. Then I began studying the first one, which is patent #3,118,139 by Gerald Durstewitz of Pompton Lakes, NJ. The patent was issued January 14, 1964, and it is for a "Speed Measuring Apparatus" which definitely cannot be called a "radar gun." The transmitter is a big box that sits atop the police car's roof, and there are two large receivers fixed to the car's front bumper, one to measure the return signals from the target and the other to measure return signals from the ground. This is the first paragraph of the patent description:

This invention relates to apparatus for measuring the speed of a body relative to a surface over which it is moving, and more particularly, to such apparatus which is mounted on a second body adapted to move over the surface and operates on the Doppler principle to measure the speed of the first body with respect to the surface while the second body is moving.

I found it because it is referenced in a Kustom Signals patent issued in 1976. While studying it, I noticed that it mentions a "discovery" that is very interesting and is the basis for the patent. However, the patent description also includes what I think is a false assumption that is based upon that discovery. The assumption conflicts with Einstein's Second Postulate. Now I have to figure out if that false assumption is repeated and utilized in later patents. It's tedious work, and I assume that everything I find will be disputed by mathematicians. But it's like a clue that I need to follow to see where it leads.

Meanwhile yesterday afternoon, when I checked the status of my "hold list" and my "wish list" at my library, I found that a book on my "wish list" was available to borrow. So I borrowed it. (Books on my "hold list" are automatically borrowed when they become available, but you can only have 10 books on that list. You can have 5,000 books on your "wish list." I currently have less than 10.)

The book I borrowed was an audio book, "Journeys in English" by Bill Bryson.



When I downloaded it, I was surprised to see that it was just 2 hours and 45 minutes long. So I listened to the entire "book" yesterday evening. It appears to be a series of BBC radio 4 broadcasts, so there is no print version. It's a discussion of English with lots of interviews with people who are experts on the history of the English language. While English is spoken in more countries than any other language, and it's the primary language of the Internet and aviation, Spanish and Mandarin Chinese are the primary languages of more people. English is a second language for most people. Most interesting to me, however, is the fact that English is constantly expanding and growing, adding new words every year. When other languages add new words for the same things, they typically just use the English word. There is no reason to have a hundred different words that mean "I-Pad" or "Internet."

It was 2 hours and 45 minutes well spent.

August 25, 2020 - After writing my Sunday comment on Sunday morning, I tried to work on organizing all the patents and information I have regarding radar guns, but it isn't something I could write a comment about -- not yet. First I'd have to work on a paper about it. I needed to get my thoughts in order.

But, then I just couldn't get started on a science paper. So, instead, I started listening to an audio book I'd obtained from the library some time ago. The book was "One Summer: America, 1927" by Bill Bryson.



Bryson is one of my favorite authors, but this book wasn't on my priority list. I think I started listening to it because it was a history book, and listening to "The Dollop" podcasts had gotten me into the mood for listening to history stories. "One Summer" grabbed me right away, and last night I finished listening to the 17-hour, 3 minute audio book. That means I listened for over 8 hours per day.

As the title indicates, the book is about the summer of 1927 and all the things that were taking place at that time, particularly in America. The centerpiece is Lindbergh's flight from New York to Paris which began at 7:22 a.m. on May 20, 1927. That summer, a lot of other pilots died trying to do what Lindbergh did with such apparent ease. Today it is difficult to understand how wildly popular and famous Lindbergh became. He didn't even expect to have anyone waiting for him in Paris. But there were hundreds of thousands waiting. Lindbergh was in parades almost every day after he returned to the USA. Streets, parks and buildings were named after him. But 1927 was also a time of deep racial hatred, antisemitism and growing Nazism. Lindbergh was pro-Nazi and, in time, all those streets, parks and buildings had their names changed back.

1927 was also the time when baseball players Babe Ruth and Lou Gehrig were breaking records of all kinds. So were fighters Jack Dempsey and Gene Tunney. TV made its first appearance that summer, with a screen the size of a Post-it note. The first sound movie, The Jazz Singer, was released. Radio was the big new invention that everyone listened to. New York City had twelve daily papers, and almost all other cities worthy of the name had at least two or three. Al Capone was at his peak in Chicago because Prohibition was at its peak. Work on Mount Rushmore was beginning. The musical Show Boat premiered in New York. Writers F. Scott Fitzgerald, Ernest Hemingway, William Faulkner, James Joyce, Virginia Woolf, T. S. Eliot, Gertrude Stein, Dorothy Parker and Ezra Pound were at their peak. Anarchists were setting off bombs all over the country. Sacco and Vanzetti were executed for a crime they probably didn't commit. "A madman in Michigan blew up a school and killed forty-four people in the worst slaughter of children in American history. Henry Ford stopped making the Model T, and promised to stop insulting Jews." And on and on and on.

It's the details that really make the book interesting. Al Capone was at his peak, but he was only 28 years old. He died in Florida at age 48, not in Alcatraz, where stories about him end. There were 1,100 different railroad companies in the U.S. in 1920. Hollywood was producing some 800 feature films a year, 80 per cent of the world's total output, plus some 20,000 short features. Movies were America's fourth largest industry, employing more people than Ford and General Motors put together, and generating over $750 million for the economy – four times more than was earned by all sports and live entertainments combined. Twenty thousand cinemas sold 100 million tickets a week. On any given day, one sixth of all Americans were at the pictures.

Here are some details about Henry Ford:

FOR A MAN who changed the world, Henry Ford travelled in very small circles. He resided his whole life within a dozen miles of his birthplace, a farm at Dearborn, just outside Detroit. He saw little of the wider world and cared even less for it.
He was defiantly narrow-minded, barely educated, and at least close to functionally illiterate. His beliefs were powerful but consistently dubious, and made him seem, in the words of the New Yorker, 'mildly unbalanced'. He did not like bankers, doctors, liquor, tobacco, idleness of any sort, pasteurized milk, Wall Street, overweight people, war, books or reading, J. P. Morgan & Co., capital punishment, tall buildings, college graduates, Roman Catholics or Jews. Especially he didn't like Jews. Once he hired a Hebraic scholar to translate the Talmud in a manner designed to make Jewish people appear shifty and avaricious.
His ignorance was a frequent source of wonder. He believed that the earth could not support the weight placed on it by skyscrapers and that eventually cities would collapse in on themselves, as in some kind of biblical apocalypse.

And on and on. Interesting stuff if you enjoy history, and I do.

August 23, 2020 - Hmm. I exchanged emails with my sister last week, and in one email she mentioned that people with Type-O blood are less likely to get Covid-19. I hadn't heard or read that before, so I researched it. I found many articles from April which stated that people with Type-O blood are less likely to get Covid-19 and are less likely to get a severe case of Covid-19. This morning, when I did the search again so I could write this Sunday comment, I couldn't find those April articles, but I did find an article from June which says,

Now a team of European researchers have found that people with blood type A had a 45% higher risk of catching coronavirus and developing "COVID-19 with respiratory failure," compared to people with other blood types. On the other hand, people with type O blood had a 35% lower risk for this more serious form of COVID-19.

A Harvard Medical School article from July, however, says:

Blood type is not associated with a severe worsening of symptoms in people who have tested positive for COVID-19, report Harvard Medical School researchers based at Massachusetts General Hospital.

Their findings, published in the Annals of Hematology, dispel previous reports that suggested a correlation between certain blood types and COVID-19.

and

The study did find, however, that symptomatic individuals with blood types B and AB who were Rh positive were more likely to test positive for COVID-19, while those with blood type O were less likely to test positive.

"We showed through a multi-institutional study that there is no reason to believe being a certain ABO blood type will lead to increased disease severity, which we defined as requiring intubation or leading to death," said senior study author Anahita Dua, HMS assistant professor of surgery at Mass General.

"This evidence should help put to rest previous reports of a possible association between blood type A and a higher risk for COVID-19 infection and mortality," Dua said.

Hmm. So, people with Type-O blood are still less likely to get Covid-19. My dogtags say I have O-Positive blood. My sister also has Type-O. It's good to know that we're less likely to get Covid-19, but, of course, that is still no reason to take chances.

Meanwhile, in last Friday's comment, I mentioned that an audio book I'd just finished listening to while driving was written by two comedians, Dave Anthony and Gareth Reynolds, who also have a podcast. Their Podcast is called "The Dollop" and, although I'd never heard of it, it appears to be very popular (a "cult hit" according to an Australian source). Anthony and Reynolds have been doing the podcast since April 2014, and, as of this moment there are 443 episodes on-line. Feeling I needed to learn more, I searched around, found a web site which lists what that site considers to be the best episodes, and I downloaded 31 of them into my laptop. I then transferred 7 to my MP3 player. On Friday evening I listened to 3 of them: #60 "The Comet Panic", #401 "The Bridges of Milwaukee"and #271 "Uber," which the web site lists as the #1 best episode.

I had no idea what to expect, and it took awhile to figure things out. On Saturday I found that they also put their more recent podcasts on YouTube, which helped explain things further. The show consists of Dave Anthony reading notes from his I-Pad, as shown in the screen-shot below:




That explains the strange pauses in the show. Evidently they occur when Dave Anthony (on the left in the image above) is thumbing through his notes looking for the next thing to read. When he finishes reading some short passage, he and Reynolds (on the right) then discuss it. The notes are evidently from what Anthony has previously read and researched about the topic of the day. And it is all totally new to Reynolds, who knows nothing about the topic of the day until he hears what Anthony reads to the audience.

"The Comet Panic" was about the appearance of Haley's Comet in May 1910 and the total panic it caused. Anthony and Reynolds then discussed and joked about how totally clueless people where in those days. Millions were told (and fully believed) that the comet's tail contained cyanide and would poison everyone as the Earth passed through the tail. One scientist predicted that the comet would become so bright it would blind everyone on earth.

Unexpectedly, the 51-minute podcast was very interesting and very enjoyable.

The next episode I listened to was "The Bridges of Milwaukee." It was 1 hour and 29 minutes long, and it was also very interesting and very enjoyable. It was about a weird feud that took place in 1845 between different settlements on two sides of what is now the Milwaukee River. Wikipedia even has a page about it, and they call it The Milwaukee Bridge War. The podcast was evidently done in front of a live audience at Turner Hall in Milwaukee. I recall hearing about the Milwaukee Bridge War before, but never in such graphic detail.

The episode about the ride-share service Uber was not only very interesting, it was absolutely mind-boggling. It's 1 hour and 39 minutes long. It's about how Uber operates. In the podcast it's described as a legal "scam." Riders aren't scammed, but the drivers are and the stockholders may be. The drivers aren't employees, so they get no company benefits. It's the world's least profitable company, yet it is worth $70 billion. Saudi Arabia is a huge investor. The whole thing seems to be a sinister plot to run regular taxi companies out of business so that the Uber company can take over as a monopoly and jack up their prices. It's like the ultimate evil corporation.

Listening to podcasts (and audio books, and reading from my Kindle) takes my mind off of the problem I now have in finding a new way to show how radar guns work. Whatever I find, it almost certainly won't be as dramatic as showing how a radar gun can measure the speed of a box truck from inside the truck.

I'm once again studying patent #3936824 to see if Kustom Electronics (or is it Kustom Signals?) provides any quotable information about how they created radar guns that can be used while moving. The patent is for "digitally measuring speed." I've got a copy that I've highlighted, but is it also the patent for moving radar? It has a lot of stuff in it I can use in arguments, but it also has stuff in it that others can use for counter arguments. Maybe some idea will occur to me as I continue the research. There has to be some easy way - besides using an actual radar gun - to convincingly explain how radar guns measure the speed of the gun in addition to measuring the speed of a target.