Comments for Sunday, October 23, 2022, thru Mon., Oct. 31, 2022:

October 30, 2022 - This is another one of those Sunday mornings when I have absolutely nothing prepared for my Sunday comment. I've been writing a Sunday comment every Sunday morning since January of 2015, and I don't want to break the pattern. It's not that there's nothing to write about, it's that I don't want to repeat myself, and I don't want to write about something that no one else in the world is interested in.

But sometimes it seems like the only things that interest me are things that do not interest anyone else in the world. This morning I started thinking once again about podcasts. I'm certainly not the only person in the world who listens to podcasts, but I'm the only person who I know listens to podcasts. Somehow, that caused me to do a Google search for "top podcasts," and that search led me to a web site which has an article titled "The Best Podcasts of 2022 (So Far)." Hmm. I paged through the 27 or 30 podcasts they list, one by one, and saw absolutely nothing of any interest to me at all - until I got to the 10th one on the list. (None of those after #10 seemed interesting either.) Number 10 on the list is a podcast called "Let's Make a Sci-Fi."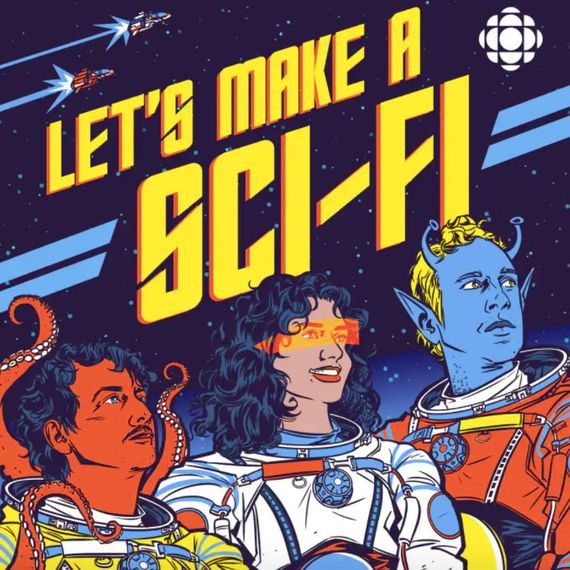 Hmmm. Now that definitely seems interesting. It turns out it is a series that is only ten episodes in length, including the introductory podcast which is less than 3 minutes long. The rest are mostly about 30 minutes long, with one episode that is slightly over an hour.

It is what it says it is: It's a series about the creation and writing of a sci-fi TV episode or show. The episode that is over an hour long is the sci-fi show. Here's a blurb for the podcast:

Can three comedians create a legit sci-fi show? Comedians Ryan Beil, Maddy Kelly, and Mark Chavez are going to find out. Over eight episodes, they'll try to write a serious, and seriously nerdy, pilot script. When they run into trouble they'll consult Hollywood experts who have worked on things like Star Trek, Star Wars, and Firefly and science fiction superstars like Neil deGrasse Tyson, Rainn Wilson, Emily VanDerWerff and Neill Blomkamp. And in the final episode, professional actors will read their script, bringing it to life — for better or worse.

Needless to say, I immediately started downloading the entire series onto my backup hard-drive. In doing so, I had to listen to brief parts of the beginnings and endings of most episodes while the "save as" downloads were taking place. That was enough to make me want to start listening immediately, so I copied the files onto my MP3 player, and I'll start listening to them as soon as I finish typing this sentence and upload this Sunday comment to my site.

October 28, 2022 - Last night, just about every late night talk show talked about McDonald's bringing back the McRib sandwich "for one final time." If you Google it, you will find dozens of news stories about it. Most of them, like the Washington Post, do not believe McDonald's will discontinue the McRib permanently. They see it as just a publicity gimmick to generate sales.

One reason I'm mentioning it is because yesterday, while browsing through past episodes of the Everything Everywhere Daily podcast, I noticed there was a 7-minute episode dated January 9, 2021, that was about the McRib sandwich. Instead of downloading it to my MP3 player, I just listened to it. It says,

In 2011 an article titled "A Conspiracy of Hogs: The McRib as Arbitrage" analyzed the appearance of the McRib between 2005 and 2011, and found that its appearance coincided with dips in pork prices. Basically, when pork is cheap, the McRib has a good chance of appearing. It can't stick around for too long because if it did, it would cause pork prices to rise.

Moreover, the McRib is probably either a very low margin product or a loss leader for McDonald's. It is the only sandwich on the menu in most locations that isn't round, requires a different type of bun, special packaging, and handling.

Hmm. That seems more reasonable than any conspiracy theory.

I can't remember if I've every bought a McRib or not. I don't think I ever did.

Meanwhile, I'm trying to reduce the number of Everything Everywhere Daily podcasts that I listen to. Yesterday, I listened to an episode of Sean Carroll's Mindscape podcast titled "What Aliens will be Like." His guest was Dr. Arik Kershenbaum from Cambridge University. The episode was over an hour and 20 minutes long, and it contained some very interesting comments, particularly near the end. Here's one quote:

you can argue all you like about whether or not to send messages to aliens, but we've been doing it for 100 years without meaning to, so any alien civilization that has anything like the technology necessary to come and visit us already knows that we're here, I mean there's no hiding, absolutely not. We've been looking for alien civilizations with our primitive technology and haven't found any, but you can imagine that anyone is out there who knows what they're doing would be able to find us, so I think the cat's out to the bag.

And another:

if there are technologies that will allow an alien civilization to travel from one star system to another, they are so technologically advanced and they have so much energy at their disposal, why would they bother harming us? Our preconceptions and our fears of alien civilizations are entirely based on human behavior and entirely based on human colonialism, where we needed to go to another country to take all the gold, or to take all of the slaves, because we didn't have enough stuff here. But if you can travel from one star to another, you can make as much stuff as you want, you can make as much food as you want, and really planet earth isn't giving you anything.

And one more:

Technology seems to be highly, highly damaging to civilization, so you can imagine that anyone has reached that point that has managed to get over all of the disastrous social plagues that we have here, climate change and wars and racism and any civilization that can get past that and survive to the point of becoming technologically advanced, they're probably pretty nice guys.

Hmm. That sort of suggests that, if some aliens were to visit Earth tomorrow, they'd just shake their heads and move on to the next world in their itinerary. And their parting words might be something like, "You guys need to learn how to get along and work together. Send us a message when you've done that, and we might come back for a longer visit."

October 26, 2022 - Yesterday, I downloaded another 30 episodes of the Everything Everywhere Daily podcast into my MP3 player. That means I've downloaded a total of 204 of the 842 podcasts they have available, and I've listened to 174 of them. Today's episode is titled "The History of Recorded Sound." It's 17 minutes long, which makes it one of the longest episodes on the site. It also looks like a very interesting episode. I listen to CDs in my car every day, I'm listening to jazz music from cassette tapes as I type these words, and I have a stack of LP records in a cabinet in the other room. Tapes replaced LPs, CDs replaced tapes, and MP3 replaced CDs. It's hard to imagine what might replace MP3, since they eliminate all the problems with prior formats, and they are incredibly simple to produce.

But, MP3 files come with their own problems. Sometime back, I copied all of my music cassette tapes onto MP3 files, but I still listen to the tapes, because when I turn on my tape player, it starts playing from where I was when I turned off the player. When I turned on an MP3 player to listen to music, it always started at the beginning of the collection. So, I would end up listening to the same thing every day, and I never got to 95% of the collection. When I listen to audio books on my MP3 player, the individual MP3 files may not be in the correct order. If I'm not careful, when a 80-minute MP3 file ends in the middle of Chapter 3, the next MP3 file might begin in the middle of Chapter 10. So, I mostly listen to audio books in my car, because I burned the CDs in order and numbered them.

Meanwhile, I keep wanting to comment on the political situation. Last night on one of the late night talk shows, they had a long segment about Kari Lake, who is running for governor of Arizona. Wow! Her lunatic rants may be even crazier than Donald Trump's! And yet there's a very good chance that she might win the election.

The problem is that you cannot argue with someone like that. Arguing assumes that logic and reason will show who is right and who is wrong. But if you're arguing with someone who doesn't care about logic and reason, someone who just states his or her beliefs and declares that those beliefs are superior to any logic or reason, what do you do? It seems that the only thing that can be done is to let the person endlessly rant and hope that the voting public sees that it is just mindless ranting and not what is needed in a democracy.

That highlights another problem: What percentage of the voting public prefers mindless ranting to logic and reason? In just about every political race it appears that the percentage is so close to 50% that no one - except the lunatics - can make a confident prediction.

October 23, 2022 - I'm still spending a lot of time listening to Everything Everywhere Daily podcasts. Yesterday, while listening to some of their recent podcasts, they started advertising a different podcast: Profoundly Pointless. I'd never heard of that podcast before, and it seemed worth checking out. I tried searching for it using Google, but Google would only show web sites where you have to pay to listen to the podcast. Then suddenly some pieces fell together in my brain. When they talked about the podcast, they said you could find it on the pay-to-listen sites "or wherever you get your podcasts."

When I searched for free podcasts in the past, I'd noticed that most of them had https://www.podbean.com/ as the first part of their web address. So, I went to that address. It's just a bunch of advertising, but at the top of the page is a place to do a podcast search. I typed in "Profoundly Pointless", hit enter, and I was taken to a page with the search results. There was just a picture for the Profoundly Pointless site. I clicked on it, and it took me to https://www.podbean.com/podcast-detail/f7nsm-1b7614/Profoundly-Pointless-Podcast where all of the 223 episodes of Profoundly Pointless are available for free downloading.

That made me wonder if other host sites work the same way. I looked through my list of my favorite podcasts and found a second host at https://podbay.fm/ which is very similar to podbean.com. It also has a place to do a search. There appear to be others, but mostly the others advertise the podcasts they host and provide free access to them without providing a way to search for ones that they do not advertise (if they have such a thing).

What I'd like to find is a host that provides the ability to download a podcast without going through the rigamarole of starting to play the podcast while forcing you to "right click" on the screen and then click on "save page as" to get the screen where you tell it where to download the file. If the download is slow, you have to listen to the podcast while you wait, even if you know how to speed things up a bit. I'd like to find a host where they provide a means of downloading the MP3 file without having to listen to parts of it first. If you are downloading a show that is only 7 or 8 minutes long, and the download is slow, you're going to hear a significant fraction of it before you finish downloading it.

Yesterday, I downloaded and listened to 2 episodes from Profoundly Pointless, a 1 hour 9 minute episode about cryptocurrency and a 1 hour 16 minute episode about money laundering. I don't really understand how anyone would get involved with cryptocurrency, and listening to the episode just made it seem more ridiculous to me. It seems the people who trade in cryptocurrency simply do not trust the government, so they invest in a non-government currency that could become totally worthless at any moment. And somehow they consider that to be a "good idea." The episode on money laundering didn't provide any information that was totally new to me, it just explained things more carefully than they've ever been explained to me before.

There's also an episode on boredom research that looks interesting. Or maybe I should say it doesn't look like it would be boring.