Comments for Sunday, May 14, 2023, thru Sat., May 20, 2023:

May 17, 2023 - While eating lunch yesterday, I finished reading another book on my Kindle. The book was "The Comedians: Drunks, Thieves, Scoundrels, and the History of American Comedy" by Kliph Nesteroff.



It was a fairly interesting book, but not as funny as I had expected. The book is more about the struggles to earn a living as a stand-up comedian, starting in vaudeville and nightclubs and then on radio and TV. Here's an interesting quote from the book:

Albee-Keith-Orpheum had seven hundred theaters and twenty-five thousand performers under contract in 1929. Weekly attendance was an estimated twelve million. The moguls funded a widespread propaganda campaign to warn about "the dangers of radio." They funded newspaper editorials bemoaning the hearing loss radio caused and the house fires started by receiver sets. Vaudeville financed aggressive lies, but it was no use. RCA had developed the all-electric receiving set in 1925 and a year later released the "perfected radio tube," which operated with alternating current. "This was a revolutionary advance," said radio columnist Ben Gross. "It did away with the need for those cumbersome acid-seeping batteries which had disfigured millions of American living rooms. Radio now was so simple that even a child could tune it in without fuss, mess or bother."

Another:

Criticism of the Nazis was not allowed on American radio prior to 1941. Powerful radio sponsors frowned on anything that might offend German consumers. "One sponsor would own the whole show, so therefore he was very powerful," said radio writer Sol Saks.

And another:

The American Tobacco Company had been wary of its client Eddie Cantor ever since he raised eighteen thousand dollars to help five hundred Jewish children escape Nazism in 1935. When Cantor spoke out against Hitler in 1938, American Tobacco wanted to cancel his show. Fascist sympathizers harassed Cantor in his own studio audience.

The book mentions just about every comedian you ever heard of, from George Jessel to Bob Hope to Jon Stewart. Much of the book is also about narcotics and how nearly every comedian got involved with drugs sometime in their career. And that meant getting involved with gangsters, which was hard to avoid because so many gangsters ran the clubs where comedians performed.

It was an interesting book, but it's much more serious than funny.

May 16, 2023 - A couple days ago, someone sent me an email with this as the subject: "Good description of the Religious CULT around Trump." The brief text included a link: https://threadreaderapp.com/thread/1657594715670298624.html. The page at the link begins with this text:

These comments from Roger Stone at the Pastors for Trump/ReAwaken event at Trump's Doral resort this week are very important. For those who don't speak "Independent Charismatic," allow me to translate. Stone is claiming a prophetic destiny based on a prophecy from Kim Clement.

I never heard of Kim Clement before. Researching him, I found there's an hour-long video titled "Prophesy of Trump" with this description: "The case for Donald Trump being a modern day Cyrus the Great is shown through bible prophecy." And Kim Clement has also produced Tik Tok videos praising "The Lord Trump."

Clicking on the link in the email, I was connected to a brief Tik Tok video of a talk by political lobbyist and former Trump advisor Roger Stone, in which Stone claimed to be "a soldier in the army of the Lord." The video now seems to have been deleted, but while it was available to me I transcribe some of what Stone said. Here is the part I transcribed:

Make no mistake, what we see before us is not just a struggle between Republicans and Democrats. Or between liberals and conservatives. This is a fight between Light and Dark. This is a struggle between Good and Evil. This is an epic fight between the Godly and the Godless, and we dare not lose, because, should we lose, America will step off into a thousand years of darkness.

Hmm. When talking with Trump supporters it is frequently like talking with members of a religious cult. There is no logic or reasoning behind what they say, it is all emotion and beliefs. They don't usually talk of Trump as being a "savior" or "God," but they seem to believe in Trump with that kind of intensity. And they seem to view Trump's arrest and investigations as if they were religious (not political) persecutions. They view Trump as someone who can do no wrong, even if what he did is recorded.

It's very scary. It might even explain some acts of mass violence where a killer shoots many people and fully expects to be killed by police. I wonder how many of them view themselves as martyrs.

May 15, 2023 - A few days ago, I was listening to podcasts, and an episode of RadioLab came up. It was from May 5th and is titled "Ologies: Dark Matters." Part of the description of the episode is as follows:

In this episode, we introduce you to one of our all-time favorite science podcasts. Ologies. A show that's a kindred spirit to ours, but also… very different. In each episode, Host Alie Ward interviews a brilliant, charming ologist, and wanders with them deep into their research, quirky facts they've learned throughout their career and their personal motivations for studying what they study. "It's all over the map," she says. And we love it.

Ologies?? I'd never heard of that podcast before! It was a science podcast and the description made me curious, so I set aside the RadioLab episode and downloaded 8 episodes of the Ologies podcast into my MP3 player. The site has been producing episodes since September of 2017, and they currently have 322 episodes to choose from. I picked some new ones about Geology, Scotohylology and Domicology and some old ones about Volcanology, Paleontology and Cosmology. The first episode I listened to was the first part of a two-part discussion of Cosmology. The episode is from December 12, 2017. Wow! What a terrific discussion! Since I'd never listened to any episodes of that podcast before, I didn't know what to expect. Here's the description:

Stars. Black holes. THE GAWDANG UNIVERSE. Astrophysicist and cosmologist Katie Mack (@astrokatie) joins to tell us her most embarrassing moments as a cosmologist, to debunk some physicist myths and give the nuts + bolts of everything form particle physics to gravitational waves and existential mysteries. Walk away with cocktail party comprehension of everything from the itty-bitty quarks that make you to the neutron stars banging together across the cosmos. More than anything, get perspective about your life on this, our little pale blue dot.

What made the episode so great was the fact the host of the show, Alie Ward knew almost nothing about cosmology, so her guest, astrophysicist Dr. Katie Mack, had to explain a lot of basics. And Alie Ward was totally fascinated by it all. There's a lot of laughing in the episode, since it's all so new to Alie and is evidently unlike anything she ever dreamed of. It seems she never heard of black holes before, nor the Big Bang. It's truly a enjoyable discussion, every minute of the 1 hour and 38 minute episode. It's like all the things that amaze me about cosmology are being explained to someone else for the first time, and that person is tickled pink that the universe is amazing beyond her imagination.

And I like the way Ward inserts brief explanations into the conversation whenever she feels one is needed. I really enjoyed the episode. The next day I listened to the Volcanology episode from 2017. It was another great episode. I listened to the entire hour and 3 minute show.

May 14, 2023 - Once again I've been pondering how to begin the latest version of my book about Logical Relativity. For weeks I've had only one sentence completed, and I've been staring at it. The sentence is:

Relativity is very logical and is fairly simple when viewed logically.

Yesterday I began to wonder if the key to viewing things logically isn't actually visualizing them. We can start by visualizing an electron. The problem is that, when you research what an electron looks like, you get mumbo jumbo claiming it looks like a point. Here is what one source says:

An electron looks like a particle when it interacts with other objects in certain ways (such as in high-speed collisions). When an electron looks more like a particle it has no shape, according to the Standard Model. In this context, physicists call an electron a "point particle," meaning that it interacts as if it is entirely located at a single point in space and does not spread out to fill a three-dimensional volume. If you find the concept of a fixed amount of mass being contained in the infinitely small volume of a single point illogical, then you should. But you have to realize that the electron is not literally a solid ball. This means that the electron's mass is not literally squeezed into an infinitely small volume. Rather, in certain cases where the electron looks somewhat like a particle, it interacts as if it were completely located at a single point. Therefore, in the sense of particle-like interactions, an electron has no shape.

So, if you were to visualize an electron, you'd see a "ball" that consists of the particle and its oscillating electric and magnetic fields. The particle itself is much much smaller than the "ball," and the "ball" is just the outer limits of where the fields oscillate. Here's an image which shows three electrons as part of a lithium atom. Each electron is viewed as a sphere (as is each proton and neutron).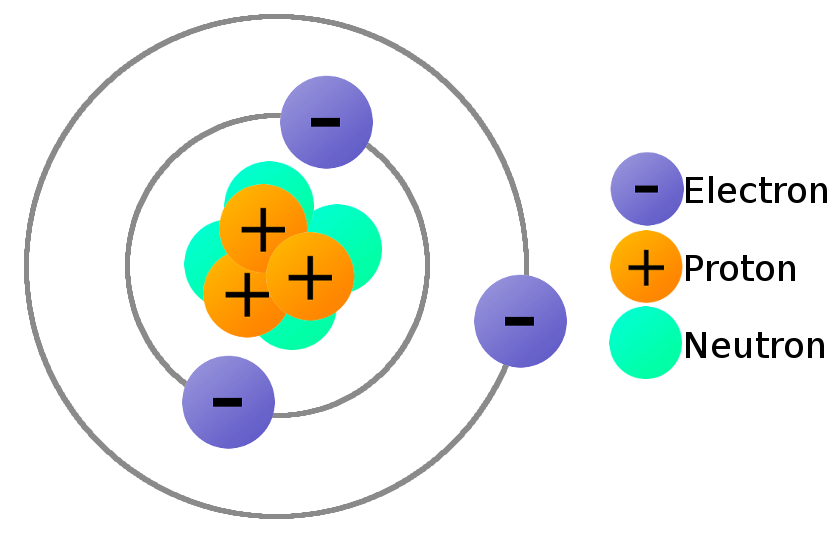 Each electron (and each proton and neutron) is actually a very tiny particle that is at the center of each of the spheres shown above. The spheres are oscillating electric and magnetic fields surrounding the particle at the sphere's center. The particle has mass, so it cannot move at the speed of light. It can be viewed as a point with a fog surrounding the point, a fog that consist of oscillating electromagnetic fields.

Then we have atoms. A lithium atom is illustrated above. Unfortunately, it's a 2-dimensional illustration, which makes it appear that the electrons orbit the center just like planets orbit the sun - in a flat plane. In reality, the orbits of the two inner electrons could be a right angles to the orbit of the outer electron - or at any angle.

I think I better end this comment at this point, otherwise I might end up writing a book instead of a comment.