Comments for Sunday, March 15, 2020, thru Saturday, Mar. 21, 2020:

March 21, 2020 - Yesterday afternoon, I finished reading a physics book on my Kindle. I didn't just read it during breakfast and lunch. I sometimes sat down and read it for hours at a time, finishing the 200 page book in about 5 days. The book was "The Structure of Scientific Revolutions" by Thomas S. Kuhn.



It's really an eye-opening book. It looks at science from a different angle than anything I've ever heard about or read about before, and it makes perfect sense. Here's part of what an Amazon review says about the book:

The Structure of Scientific Revolutions is indeed a paradigmatic work in the history of science. Kuhn's use of terms such as "paradigm shift" and "normal science," his ideas of how scientists move from disdain through doubt to acceptance of a new theory, his stress on social and psychological factors in science--all have had profound effects on historians, scientists, philosophers, critics, writers, business gurus, and even the cartoonist in the street.

I read it at exactly the right time, too. I feel I've finally put all the pieces together in my understanding of Einstein's Relativity, and this book explains the conflicts over how others interpret Relativity.

The key term in the book is "paradigm," which is defined in the Cambridge dictionary as:

a model of something, or a very clear and typical example of something

I would tend to say it is more like a cornerstone for understanding or the basis for a theory. Thomas Kuhn defines it as "an accepted model or pattern." The key point is that, if a flaw is found in the paradigm, then the whole understanding needs to be reevaluated. Here's a quote from the book:

To be accepted as a paradigm, a theory must seem better than its competitors, but it need not, and in fact never does, explain all the facts with which it can be confronted.

I've got 40 pages of underlined notes from the book. But they are mostly very convoluted musings that seem indecipherable when taken out of context. Here's a quote that might be decipherable by itself:

Discovery commences with the awareness of anomaly, i.e., with the recognition that nature has somehow violated the paradigm-induced expectations that govern normal science. It then continues with a more or less extended exploration of the area of anomaly. And it closes only when the paradigm theory has been adjusted so that the anomalous has become the expected. Assimilating a new sort of fact demands a more than additive adjustment of theory, and until that adjustment is completed—until the scientist has learned to see nature in a different way—the new fact is not quite a scientific fact at all.

Another:

Once a first paradigm through which to view nature has been found, there is no such thing as research in the absence of any paradigm. To reject one paradigm without simultaneously substituting another is to reject science itself. That act reflects not on the paradigm but on the man.

And this one particularly strikes home for me:

Almost always the men who achieve these fundamental inventions of a new paradigm have been either very young or very new to the field whose paradigm they change. And perhaps that point need not have been made explicit, for obviously these are the men who, being little committed by prior practice to the traditional rules of normal science, are particularly likely to see that those rules no longer define a playable game and to conceive another set that can replace them.

When Einstein came up with his Theory of Special Relativity, he was a patent clerk, not a practicing physicist. He hadn't spent all his life devoted to experiments that verified some model of the universe (a.k.a. "paradigm"). He had nothing to lose in coming up with a very different view of reality. A typical physicist, on the other hand, works within known rules. So, he is unlikely to do anything that will violate the rules. According to the book:

In so far as he is engaged in normal science, the research worker is a solver of puzzles, not a tester of paradigms. Though he may, during the search for a particular puzzle's solution, try out a number of alternative approaches, rejecting those that fail to yield the desired result, he is not testing the paradigm when he does so. Instead he is like the chess player who, with a problem stated and the board physically or mentally before him, tries out various alternative moves in the search for a solution. These trial attempts, whether by the chess player or by the scientist, are trials only of themselves, not of the rules of the game. They are possible only so long as the paradigm itself is taken for granted. Therefore, paradigm-testing occurs only after persistent failure to solve a noteworthy puzzle has given rise to crisis. And even then it occurs only after the sense of crisis has evoked an alternate candidate for paradigm. In the sciences the testing situation never consists, as puzzle-solving does, simply in the comparison of a single paradigm with nature. Instead, testing occurs as part of the competition between two rival paradigms for the allegiance of the scientific community.

Physics books tend to explain the history of physics as one discovery after another that inevitably leads to current understandings, like finding new bricks to add to what is already built in order to complete the structure. In reality, physics has consisted of a lot of tearing down of old collapsing structures in order build new ones that seem more sturdy.

I'll write more about this tomorrow, in my Sunday comment. It won't be about Kuhn's book, it will be about the conflict of paradigms that we are currently experiencing in physics.

March 20, 2020 - Yesterday afternoon, I finished listening to another audio book on my MP3 player. It was "A is for Alibi" by Sue Grafton.



It's a very well-written private detective novel featuring a female detective named Kinsey Millhone, the first in a series of at least 25 books. I picked it because it was the first in the series. I'm not sure if I'll be listening to any more or not, since I prefer the Stephanie Plum books by Janet Evanovich. They're much funnier, and I have a stack of at least 15 of them awaiting my finding time to read them. I also think I prefer reading private eye novels instead of listening to them. It's easier to keep track of all the characters and the investigative details when you are reading. When listening, my mind sometimes wanders to all the scientific problems I'm working on. That can't happen when reading.

And I need to focus on those scientific problems, particularly now that all the pieces seem to have fallen together. I just need to figure out what to do next.

March 19, 2020 - Yesterday afternoon, while driving home from getting a fill-up at a gas station, I finished listening to CD #16 in the 16 CD set for the audio book version of "Enlightenment Now: The Case for Reason, Science, Humanism, and Progress" by Steven Pinker.



Wow! What a great book! However, I'd recommend reading it instead of listening to it, since it contains a lot of graphs. I had to obtain a epub copy in order to view the graphs and save quotes from the book. I saved more quotes from this book than from any other I've ever read or listened to. Here's the first quote I saved, it's from page 7:

What is enlightenment? In a 1784 essay with that question as its title, Immanuel Kant answered that it consists of "humankind's emergence from its self-incurred immaturity," its "lazy and cowardly" submission to the "dogmas and formulas" of religious or political authority. Enlightenment's motto, he proclaimed, is "Dare to understand!"

The book is about how humans have progressed over the centuries, wiping out diseases, educating virtually everyone, living longer and healthier, while at the same time endlessly complaining about how terrible things are and how they used to be much better. Another quote:

The belief in an absence of progress has been fortified by the recent history of the universe we do live in, where Donald Trump rather than Hillary Clinton was the beneficiary of the American electoral system in 2016. During his campaign, Trump uttered misogynistic, anti-Hispanic, and anti-Muslim insults that were well outside the norms of American political discourse, and the rowdy followers he encouraged at his rallies were even more offensive. Some commentators worried that his victory represented a turning point in the nation's progress toward equality and rights, or that it uncovered the ugly truth that we had never made progress in the first place.

Another:

Nothing captures the tribalistic and backward-looking spirit of populism better than Trump's campaign slogan: Make America Great Again.

Another:

The ideal of Knowledge—that one's opinions should be based on justified true beliefs—has been mocked by Trump's repetition of ludicrous conspiracy theories: that Obama was born in Kenya, Senator Ted Cruz's father was involved in John F. Kennedy's assassination, thousands of New Jersey Muslims celebrated 9/11, Justice Antonin Scalia was murdered, Obama had his phones tapped, millions of illegal voters cost him the popular vote, and literally dozens of others. The fact-checking site PolitiFact judged that an astonishing 69 percent of the public statements by Trump they checked were "Mostly False," "False," or "Pants on Fire" (their term for outrageous lies, from the children's taunt "Liar, liar, pants on fire"). All politicians bend the truth, and all sometimes lie (since all human beings bend the truth and sometimes lie), but Trump's barefaced assertion of canards that can instantly be debunked (such as that he won the election in a landslide) shows that he sees public discourse not as a means of finding common ground based on objective reality but as a weapon with which to project dominance and humiliate rivals.

I wish I could repeat all the passages about Trump that are in the book, but there are too many, and it would just give the impression that the book is about Trump. It isn't. It's a book about how science has improved the human condition over the centuries, and how some people cannot see that. Another quote:

Recriminations over the nature of science are by no means a relic of the "science wars" of the 1980s and 1990s, but continue to shape the role of science in universities. When Harvard reformed its general education requirement in 2006–7, the preliminary task force report introduced the teaching of science without any mention of its place in human knowledge: "Science and technology directly affect our students in many ways, both positive and negative: they have led to life-saving medicines, the internet, more efficient energy storage, and digital entertainment; they also have shepherded nuclear weapons, biological warfare agents, electronic eavesdropping, and damage to the environment." Well, yes, and I suppose one could say that architecture has produced both museums and gas chambers, that classical music both stimulates economic activity and inspired the Nazis, and so on. But this strange equivocation between the utilitarian and the nefarious was not applied to other disciplines, and the statement gave no indication that we might have good reasons to prefer understanding and know-how to ignorance and superstition.

One passage was of particular interest to me. The quote:

The most commonly assigned book on science in modern universities (aside from a popular biology textbook) is Thomas Kuhn's The Structure of Scientific Revolutions. That 1962 classic is commonly interpreted as showing that science does not converge on the truth but merely busies itself with solving puzzles before flipping to some new paradigm which renders its previous theories obsolete, indeed, unintelligible.

As soon as I heard that passage, I researched the book and found a Kindle copy. I then stopped reading the travel book I had been reading during breakfast and lunch and started reading "The Structure of Scientific Revolutions" instead. It really clarifies why so many physicists simply cannot comprehend that some of their beliefs about Einstein's Theories of Relativity are just plain wrong. Their work involves acceptance of the incorrect versions. To change their minds would require a "paradigm shift" in the way they understand things.

March 18, 2019 - Yesterday evening, I finished listening to another audio book. It was "The Black-Eyed Blonde" by Benjamin Black.



It's a 7-hour, 56-minute audio book, and I finished it in two sessions, half on Monday evening and half on Tuesday afternoon and evening.

It was an enjoyable book, but a little too bloody for me. I don't recall any of Raymond Chandler's books being quite so graphic in their descriptions of people getting beaten up. And, too, it was supposed to take place in the 1940s, but it sometimes got details wrong. At one point, Marlowe talks about someone being as tight-fisted or as miserly as Bob Hope, but it was Jack Benny who was noted for being miserly, not Bob Hope. This morning I had to check the "look inside" option on Amazon to see how "The Cahuilla Club" was spelled. It's mentioned at least a dozen times in the book.

But, it did take my mind off of the coronavirus pandemic for awhile. I think I may be doing a lot of daytime reading and nighttime listening in the next month or two. All they seem to have on TV these days is reruns. Last week, Stephen Colbert had talked about doing his show without an audience, and that's the way he did his Friday show, but this week it appears they are just doing reruns instead. "Full Frontal," Samantha Bee's Show on TBS was done without an audience last week, and it looks like she'll do it again this evening. I've got my DVR set to record it. The show she did last week about the coronavirus was terrific. I hadn't thought about how racists would react to the virus.

Fortunately, I have a large collection of movies and TV shows on DVD and Blu-Ray, so I am not dependent upon what happens to be showing on TV. The big chore I worked on for the past few days was to update the spreadsheet I maintain, and I produced new listings for the collections. I not only printed a new listing for the entire movie collection in alphabetical order, I also printed a listing in order by the last date I watched each movie, everything though 2010. I find that if I last watched a movie like "Salvador" on Sept. 3, 2006, it is almost like watching it for the first time when I view it again nearly 14 years later. Plus, I rank the 3,100 movies in my collection, so I can view just my favorites if I want to. Here are my favorite 17 movies (rank = A1) followed by the first 25 of my 2nd favorites (rank = A2) in alphabetical order:



While I want to work on some papers (and maybe on a book), it's hard to focus with so much else going on. These are definitely interesting times. I've never seen anything quite like it. Since my gym is closed, I dug out some 5-lb weights that my brother-in-law gave me for Christmas about 20 years ago. I'll be working out with them, and maybe going for a walk.

I should be finishing another audio book this afternoon, a 17-hour book on CDs that I began listening to while driving about a month ago. I plan to drive to a gas station for gas. That should give me enough driving time to finish the book. If so, I'll write a comment about it tomorrow.

March 17, 2020 - Hmm. There was an email in my inbox this morning advising me that my gym will be closed "through March 31, 2020." I was kind of surprised that they were open yesterday. I go in the afternoons, but I think the peak times are in the evening and early morning.

So, where am I going to walk 1.6 miles in 30 minutes four times a week, and where am I going to ride a bike for 3 miles in 20 minutes? My purpose for going to the gym is to remain fit and healthy. They've now made that more difficult.

What really bothers me, however, is the trend that is starting in California. According to today's Los Angeles Times,

Gov. Gavin Newsom on Sunday called for 5.3 million senior citizens and others at risk to stay home in an effort to slow the spread of coronavirus.

"People should conduct themselves around their grandparents as if they have it." Newsom said.
What?! It's my understanding that the elderly are no more likely to catch the virus than younger people, it's just that the elderly are more likely to get truly sick and die, particularly if they are already sick with something else. What I don't need is to have everyone look at me as if I was a carrier.

On the other hand, trying to look at the positive side, it gives me more time to work on science papers. I really feel as if all the pieces have finally fallen together, and I fully understand why there can be no merging of Quantum Mechanics and Relativity. So, instead, since practitioners of Quantum Mechanics are in the majority, they are just going to take over and squelch arguments from Relativists --- unless the Relativists can show how stupid Quantum Mechanics can be when it is applied to our visible universe instead of just to the subatomic world where there is currently no better way of doing things.

March 16, 2020 - It's very difficult to focus on scientific questions when there is so much else going on. So, instead I decided to work on other things for awhile, labor intensive chores that I've been putting off. I was also wondering how things would be at the gym this afternoon, but things turned out to be close to normal. There were probably fewer people than the average, but far from the fewest people I've ever seen there. I stopped at the Walmart Neighborhood Market on my way home, and they were still out of bread, buns and bagels, but they had the three items I needed. All schools and libraries are closed until mid-April. Yet, things seemed close to normal as I drove around this afternoon.

March 15, 2020 - Last week, I worked a bit on a major revision to my paper about "Radar Guns vs Wave Theory" to include the experiments I did with my microwave oven door and through my balcony screen door. But, when I did research to find out exactly how the wire mesh on the microwave oven door stops microwaves from escaping, I couldn't find any clear explanations. I even studied several patents for microwave oven doors, but they don't really explain anything.

The oldest patent I found was #2,958,754, dated Nov. 1, 1960, for "Electronic Ovens." It begins this way:

It is a general object of the invention to provide an improved door for an electronic oven which permits viewing of the interior of the oven and provides a closure which is substantially leak-proof to microwave radiation.

Another object of the invention is to provide an improved viewing window for an electronic oven which permits a high degree of visibility of the oven interior while effectively barring the passage of microwave radiation.

About the only helpful passage in the patent is this one:

It has been found that a relatively fine screen having approximately 150 openings per square inch and providing approximately 50% clear opening permits good visibility of the interior of the oven under normal conditions

150 openings per inch means about 12 or 13 aluminum wires per inch. But how do the wires stop the radiation? Do they reflect it back into the oven, or do they absorb the radiation to prevent it from escaping? They don't say.

Another patent, #4,051,341 for "Microwave Oven Door Screen" contains some interesting details in the patent abstract:

A structure of a microwave oven door screen which facilitates the observation of the inside of a heating cavity and enhances the safety against the electromagnetic wave leakage and durability. A door screen of this type generally comprises a pair of transparent plates and
an electromagnetic wave shielding material interposed therebetween. The present door screen uses a punched metal plate as the electromagnetic shielding material made of aluminum having a thickness of 0.1 to 0.35mm, an aperture diameter of 1.2 mm or less and a ratio of the aperture diameter to a center-to-center distance of an aperture of 0.67 to 0.85, these parameters being chosen such that an aperture rate of more than 40% is assured and the electromagnetic wave leakage through the door screen is effectively prevented (to meet the Regulations of U.S. Department of Health, Education, and Welfare) and a strain due to continuous mechanical treatment of the punched metal plate is minimized.

So, it has a punched metal plate instead of wires. That's what my microwave oven has. The plate is made of aluminum, and the holes are 1.2 mm in diameter or less). But why 1.2 mm? And why aluminum? Searching the patents to see if the door mesh reflects or absorbs microwaves finds nothing.

My research then stumbled upon a Faraday bag.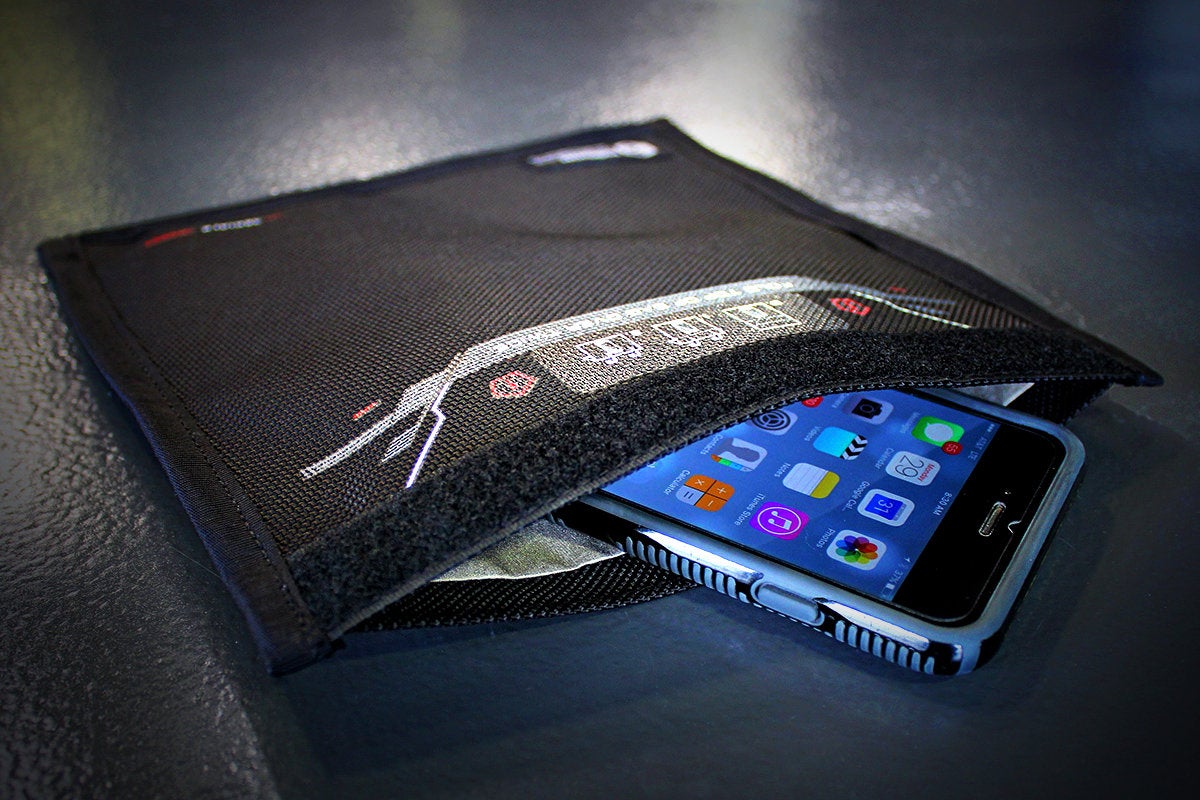 It's a bag used to prevent a cell phone from being hacked. Law enforcement officers use them when they seize phones from criminals and want to be certain that other criminals do not remotely access the phone and erase information. The bag has wire mesh that prevents cellphone radio wave photons from getting in or out. Since the bag is not an electrical device, that strongly suggests that the bag simply prevents photons from escaping or entering by "reflecting" them, i.e., by absorbing photons and then emitting the photons away from the bag. It is, in effect, a mirror for photons in microwave and radio wave frequencies.

That makes a lot of sense. It implies that photons in a microwave oven bounce off the door mesh and help cook the food, instead of the mesh absorbing the photons and leaving one side of the food uncooked.

And it means that microwaves generated by the oven are mostly reflected back into the oven by the mesh on the door because of the large wavelength of the photons. Shorter wavelength photons from a radar gun, however, will go through the mesh on the door almost as if the mesh wasn't there. Why? How?

A photon from my radar gun has a wavelength of 2.5 centimeters. A photon generated by my microwave oven has a wavelength of 12.2 centimeters. Clearly, neither could get through a 1.2 millimeter hole sideways, and no one seems to know the height of the photon waves. If I assume they have the same height, say 2 millimeters, that seems to mean that the photon with the longer wave length is stopped because its electric field is extended about 5 times longer and is therefore about 5 times more likely to encounter the wire mesh as it attempts to pass through. If a longer wavelength also means a greater height for the electric field, then the longer wavelength photon is even more likely to be stopped.

It would be nice if I could find some explanation somewhere that illustrates how some photons are stopped by a wire mesh but other photons are not. It appears no one will do such an illustration because it would show electromagnetic energy as consisting of photons, not waves. Evidently, many physicists believe it is better to leave things as an unexplained mystery than to explain things in a way that is contrary to established dogma. Grumble grumble.